The Moonlighters Collective bought there highly successful Edinburgh show to Liverpool's Black-E theatre space. This show entitled 'I Am Not Your Woman' was a culmination of writers, actors and creatives attending their graduating year at the Liverpool Institute of Performing Arts.
Written by Hannah Rose Lewis and Directed by Sian Wakefield. This show explores sensitive themes around sexual assault. I always love to see new theatre that challenges societal view and this definitely hits this mark. It makes you feel uncomfortable yet offers moments that are peppered with comedy and laughter.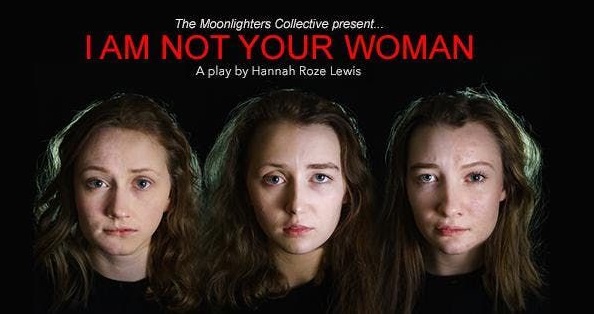 The piece itself had moments of vocal chorus (coached by Alice Way and Pete O'Keefe) and movement (Choreographed by Sophie Koumides). We saw the story of Cate (Hannah Rose Lewis), Jess (Elissa Cooper), Kim (Jessica Armstrong) and Ben (Pete O'Keefe) who had their lives turn upside down from one bad night. The piece was using real voices that are often unheard off within society and had taken inspiration from the #metoo campaign.
Upon watching the show the simplicity of the set meant you could focus entirely on the stories portrayed by the actors. I felt so much empathy to these stories that were told and so much anger towards those who carry out these awful acts that cause hurt to the women and those close to them.
Towards the end of the production there is a simple message that in an hour 11 people have been sexually assaulted whether that's men or women. That's precisely the length of this show.
My advice on this show is that it should tour and show that more audiences can see this thought provoking piece. It h he certainly had an effect on myself and I know it needs to be seen by wider audiences. It's hard to criticise something when there is very little to. I'd maybe offer that the cast mingle with the audience as if they are audiences themselves and have the vocal chorus keep going the cast are sat in their places of stage. However, what is very clear is why it gained 5 star status.
Reviewer: Luke Stephenson
Reviewed: 19th September 2019
North West End Rating: ★★★★★