Box of Tricks Theatre present Under Three Moons, is a story of friendship, exploring themes of growing up and the ties that remain after growing apart. A unique look at male relationships in the modern world, this is a refreshingly honest piece of theatre, which is astounding in its simplicity.
We first meet Mike (Kyle Rowe) and Paul (Darren Kuppan) on a school trip camping in France. Paul is desperately trying to dry out his sleeping bag and get rid of Mike, who refuses to leave, or stop talking. Talking into the night, they discuss everything from girls to university to their families, and it quickly becomes clear that neither of them are the person the other thought they were.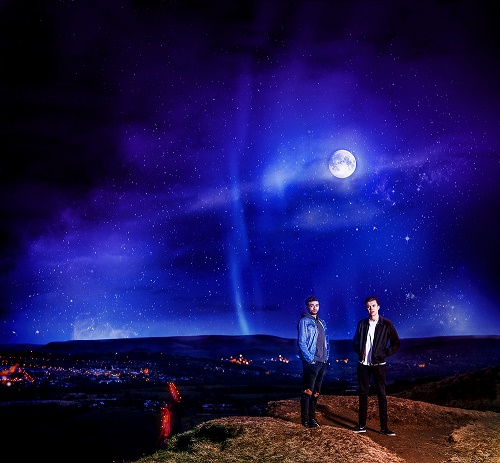 We then follow them into their twenties, on a weekend away in a ramshackle surf shack in Pembrokeshire. Their lives have completely transformed from the previous night, and their friendship is pushed to the limits and back again.
The conclusion takes us to a Christmas night in their thirties. Marriage and fatherhood are prevalent concerns in the lives of the two friends who have drifted away from each other, physically and mentally. Emotionally taut, the closing scenes take us right back to the start, and the very core of the relationship between the two men.
Director, Adam Quayle has utilised a beautifully simple set consisting of a round wooden performance area lit up by a moon and small twinkling star like lights. All props and costumes are kept in three bags surrounding the stage, which are seamlessly incorporated into the performance. This adds a certain claustrophobic feeling to the play, with Mike and Paul being forced to be close to each other in the limited space, even when there is no one else they want to be further from.
The play follows the dark days and the joys of Mike and Paul's lives in an original and intelligent way. By following them through three nights, hope, nostalgia, joy and pain unite is a lovely way which produces plenty of laugh out loud moments and thought-provoking dramatic tension.
The issues so many people face in their lives, from the misery of being bullied at school, to the pressure felt when everyone around you is being whisked down the aisle, Under Three Moons is a beautiful look into the lives of two men, and a peek into the intimacies of true friendship.
Under Three Moons is on tour until 2nd November 2019. Tickets are available here https://boxoftrickstheatre.co.uk/production/under-three-moons/
Reviewer: Donna M Day
Reviewed: 9th October 2019
North West End UK Rating: ★★★★★