This new work-in-progress play wrong-footed me. I expected a 'worthy', earnest issue-based youth theatre piece; what I got was a profoundly compelling and moving personal monologue – and an electric performance from actress/writer Abby Melia, based on her own experience of witnessing her mother's abusive treatment at the hands of her partner.
Kitchen Sink Live are presenting this piece; as a new Liverpool company dedicated to making 'authentic' theatre with and for young people, we see what could've been a soap opera scenario become so much more and given emotive veracity.
Sophie and her Mum live together, with responsible Sophie taking the part of househusband, doing chores while mum works. Sophie craves more time spent with her mum but when mum's new boyfriend Phil moves in and starts behaving in heavy handed paternal ways, Sophie feels increasingly alone and alienated. Witnessing screaming matches and wanting to protect her mum, Sophie gives her an ultimatum.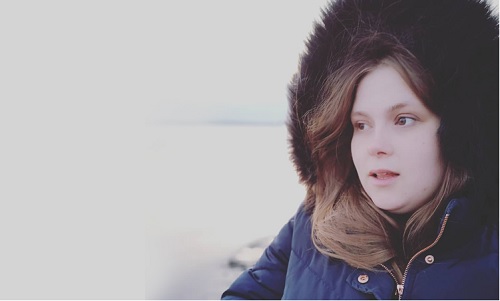 For such a young performer, Melia exudes an inner power; her character is not a victim but, although vulnerable, is a fighter with a keen sense of injustice, loudly protesting when things start to go wrong under her roof. She will not stay silent and exposes her feelings, so it is all the more crushing – for the character and the audience – when her mother makes a shocking choice. If you're a parent, you may find yourself contemplating if you've sometimes made the right choices by your child.
Melia populates the stage all by herself, fleshing out the other characters and relaying Sophie's mum, her nan's & Philip's words and behaviours, with Philip's coerciveness and controlling behaviour deftly played out in just a few scenes. You're completely invested in her – and on her side – and her character exhibits a maturity in the face of poor and compromising parental decisions. The importance of grandparents who often step into the breach when the nuclear family breaks down or hits trouble is underlined here; nan proves to be a lifeline and almost the saviour of the piece.
At just over an hour long and a work in progress, the monologue feels slightly abruptly truncated, and I wanted to see more of Sophie, learn more about her life as a survivor and to see her relationships – with her family and with others – develop.
Julia Samuel's tidy and efficient direction allows what could have been a choppy piece with time and location jumps, a fluidity and holistic neatness, and musical director Bradley Thompson deftly employs song to bridge, open up and develop individual scenes.
The piece had its genesis in 20 Stories High's Young Writer's Group and was developed with the help of dramaturg Philip Osman, and unusually for a new work by an unknown writer and a new company, this one-off performance was sold out. It has proved so popular that the show returns to the Unity on November 13th
Real-Eyes is refreshing, affecting and ultimately upbeat. It proves that you can't keep the will, spirit and resilience of the young down, but it's the specificity and the detail of Melia's story and a barnstorming performance from her which singles this tale out. I'd urge you to get a ticket to catch this writer-performer at the start of her promising career.
Reviewer: Tracy Ryan
Reviewed: 29th October 2019
North West End UK Rating: ★★★★