Pique Niche's first production, Picture This, under the direction of Donna M Day, presents three plays which explore relationships and family life in Liverpool with links to art and photographs.
Ferry Tales, by Alex May, is a half-hour piece following two couples in separate stories set on the iconic Mersey ferry. Betty (Geraldine Moloney Judge) and Warren (Alan Kenny) discuss life and love, revealing their different outlooks on people and society, whilst Keith (Michael Fry) and Candice (Nicola Sullivan) show how a throwaway remark can change a relationship forever.
Judge and Kenny played well off each other although the piece too often became a lecture as a variety of topical issues were spelt out to us, a theme that was unfortunately to continue throughout the evening. Fry and Sullivan's relationship saga became a little overplayed and lost believability as a result. It is worth developing as a longer piece or focusing on one aspect – strain; break-up; reconciliation – and exploring that alone.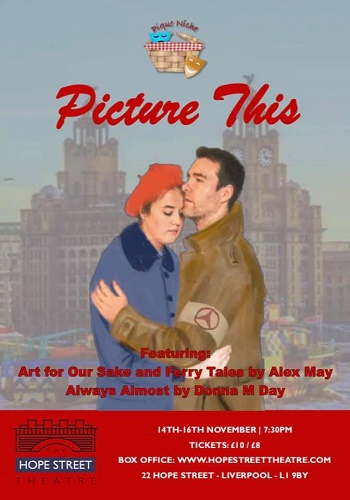 Always Almost by Day is a 15-minute monologue where Gina (Gillian Paterson-Fox) explores what it means to be successful in life as a prolific, best-selling novelist whilst musing on her experience of infertility. There were some interesting themes here although I found the repeated social media references at odds with the timeline of the back story. It's not a reflection on the acting or the writing but it somehow lacked energy and as a result was a little flat; knowing Day as a prolific writer I wonder whether it would just work better in the written form.
Following a short interval we were presented with Art For Our Sake, also by May, the longer piece of the evening – although no one in the audience could have anticipated its length at one hour and forty-five minutes – that follows Simon (Terence Conchie) and wife Judy (Rebecca Pegasiou) who discover a painting he has always hated may be worth a fortune. Should he share the good news with his sister Barbara (Annie Charnock) or keep quiet and use the money to save his business? Meanwhile in Liverpool 1939 a young woman Peggy (Ellie Giblin) meets a German man Karl (Nathan Benjamin) who is fighting against the rise of fascism while pursuing his passion for art. As war approaches, will they find a way to be together? There are supporting roles for May, Moloney Judge, and Mike Sanders.
There was an interesting story here that sadly got lost in the intricacies of too many convoluted and self-serving scenes with my disappointment further echoed by the quality of a cast that are capable of so much more. It contained numerous ideas that could be wrung and explored fully in their own right as long as that old adage is kept in mind: show don't tell. Unfortunately, we were lectured again – art; history; union relationships to name but a few – with the too many resultant short scenes inevitably broken up by scene changes of a not dissimilar length. My eye was naturally drawn to the perfect detailing of Giblin's costume including drawn on hosiery seams that stood in stark contrast to that worn by others.
Given its length, this play should have presented as a standalone piece with its own interval; with a comprehensive edit it could have been the opening half of this trio, although the back story, seen all too briefly through the talented Benjamin and Giblin, is deserving of a play in its own right. Sanders shone, as he always does, and I was pleased to discover the expressive Charnock and impressive Giblin, and I look forward to their future work.
Reviewer: Mark Davoren
Reviewed: 14th November 2019
North West End UK Rating: ★★★