Despite its long run in theatres I have to admit that I have never actually seen this very popular musical based upon the book of T.S. Eliot and with music by Andrew Lloyd Webber. Although familiar with a couple of the songs I have no idea of the storyline so I was very much looking forward to this production with the youth of the Rainhill Musical Theatre Company. The stage is set as a junk-yard and sets the scene for the whole show with just minimal additions. The Purr-fect playground setting for our feline friends which include the delightful names such as Grizabella, Rum Tum Tugger, Mr Mistoffelees and Deuteronomy!
The brief synopsis states the story is about' a tribe of cats called the Jellicles on the night they make the Jellicle and deciding which cat will ascend to the Heaviside Layer to come back to a new life'. Confused? Well so was I but hoped that as the show continued I would be able to follow the plot. The whole musical consists of songs throughout and each of the cats gets a moment to shine with their stories, hoping to be picked by their old leader Deuteronomy.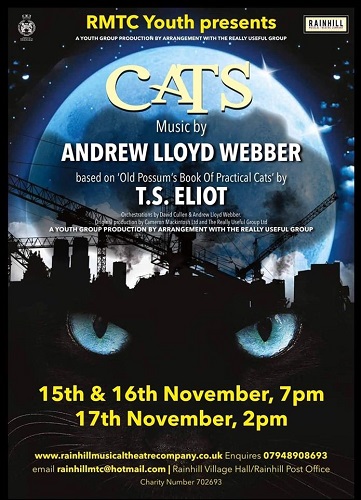 Firstly there were numerous sound issues which greatly affected the story as many of the lyrics were lost and making it quite difficult to follow. Fortunately my husband was with me and has seen Cats and was able to explain who was who as that was also something I had difficulty distinguishing. There were a lot of first night nerves which were not helped by the sound issues and there was more than the odd glance at the production staff, who were neatly concealed in a skip at the front of stage, for guidance. Choreography was good and you could see a lot of hard work had gone into that, although some of the younger cast were often distracted, guided into position by other cast members before suddenly realising they were supposed to smile and Cheshire cat grins suddenly appearing. Looking out and waving to their families just made these kitties all the more endearing and it was lovely to see them enjoying themselves on stage. I would have liked to have seen some of the cats on stage act a little more cat like as they watched the others perform, maybe a scratch here and there, a roll on the back or a paw washing their faces?
Individual songs were hit and miss on sound levels which I felt did knock the confidence of some of the performers. Fortunately 'Memory' sung by Rhiana Mc Ewan had no problems and she performed it flawlessly. Together the cast were strong but I do feel individual performances need a little more polishing and practice because the talent is there but lacking in self-belief. There was a great song and dance routine by Mungo Jerry (Iris Wall) and Rumpleteaser (Maisie Riley) and I really enjoyed their performance. As previously mentioned I am unsure of all the characters and forgive me if I am wrong but as the white cat in the original musical is 'Victoria' (I researched!) I am presuming that the white cat in this is too, although she does have some singing parts in this role unlike the original. An excellent performance was given by Poppy Trigwell if she is indeed the white cat, she was very expressive and danced beautifully but again hit by microphone issues. Maybe names and photos in costume in the programme would help identify, as once in costume and make up, appearances differ greatly. Lilly Spencer as Rum Tum Tugger also featured a lot in the show and deserves special mention for her credible performance. Sadly costumes or lighting didn't inspire but I am assuming that is down to budget.
Overall I enjoyed the show despite the problematic first night sound and nerves, I'm still unsure of the storyline but overall enjoyed seeing the young performers.
Reviewer: Lorna Weekes
Reviewed: 15th November 2019
North West End UK Rating: ★★★