Back by popular demand – and you can see why – Teatro Pomodoro's Cabaret From The Shadows is performed as part of the Angel Fields Festival at Liverpool Hope University.
Based around the clever premise that they will read the audiences minds and play with our thoughts, this satirical dark comedy bursts onto the scene with characters as colourful as their costumes and dances us playfully through a series of eclectic vignettes to the accompaniment of live music. From the political to the personal to the perverse – yes, thanks Andrew – and through the surreal silhouette of sex, sin, scandal, and shame, no subject is off limits in this quite unique theatrical experience that brings the anarchic qualities of clown and bouffon very much to the fore.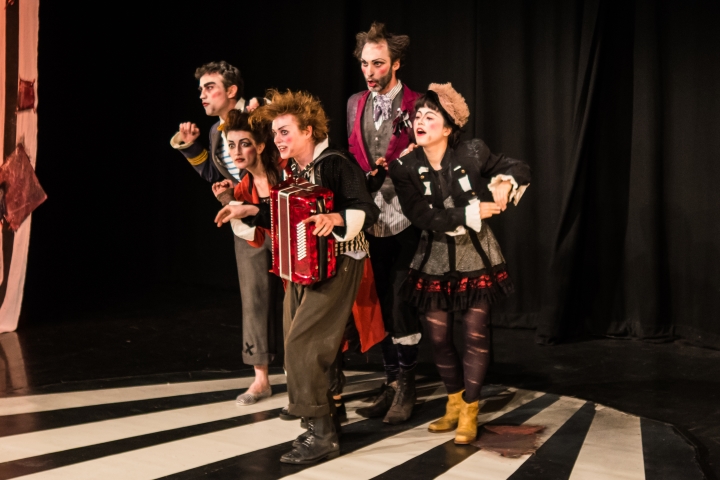 There can be a fear among audiences about productions that suggest performance interaction and unsurprisingly the seating filled up from the back, yet this sold-out production drew us in comfortably and quickly to the extent that it was not long before we were all clamouring to be involved because as much as it held up a mirror to us, it was clearly not at anyone's expense. There's a certain skill in being able to do that which in itself deserves the highest acclaim.
Although the original idea was developed at The Lantern Theatre some five years ago, it is continually refreshed to remain topical and relevant with its vibrant themes instantly identifiable. It is difficult to go into too much detail because I wouldn't wish to present any spoilers but in the current climate you can imagine that politics, religion, and royalty are definitely not off the agenda.
Is it controversial? Only as much as you want it to be as it presents us with scenarios to provoke us, to make us think, but how we choose to react or respond, well that's very much our business. And that's where it is clever originality shines through as it can serve the needs of any audience. The thrill of performing it I imagine must lie not only in its pure entertainment value but also in the different reactions to it. I couldn't find anything not to like in last night's performance but I could also recognise that in its structure, one could easily sit back and skip over a piece that didn't resonate as we were presented with hit after hit in quick-fire succession through wonderfully choreographed full-cast pieces to crazy individual performances in this energetic and engaging production that seamlessly threads the anarchic and absurd into the cathartic whole of a theatrical delight.
Teatro Pomodoro comprise Carmen Arquelladas, Duncan Cameron, Leebo Luby, Miwa Nagai, and Simone Tani, all of whom met at the celebrated École Phillipe Gaulier in Paris before moving to Liverpool in 2015 where they have dedicated themselves to creating cutting edge theatre with the support of producer RJ Lloyd further supplemented tonight with lighting design from Mel Paget and set design from Victoria Saville. Further details www.teatropomodoro.com
This is the second year of Liverpool Hope University's Angel Field Festival which runs from 6th – 14th February 2020. Further details http://www.thecapstonetheatre.com/angelfieldfestival/
Teatro Pomodoro can next be found with their shipwrecked odyssey, Sirens, Men and Crabs, a surreal blend of clown and dark comedy, performing at Unity Theatre 23rd – 25th April 2020. Further details https://www.unitytheatreliverpool.co.uk/whats-on/sirens-men-and-crabs/
Reviewer: Mark Davoren
Reviewed: 7th February 2020
North West End UK Rating: ★★★★★