Mahler's extensive use of folk songs throughout his symphonies made it entirely fitting that the performance of his 2nd symphony was prefaced by these three songs, sung beautifully by the soprano Miah Persson and artist-in-residence mezzo-soprano Jennifer Johnston, and the hush after the final note of Johnston's heart-rending performance of Ich bin der Weit abhanden gekommen had died away followed by the tumultuous applause was an indication that the audience knew this evening would be something special.
And so it proved. Petrenko commented on the problems Mahler had in deciding the final form of the symphony, its evolution from the symphonic poem Todtenfeier (Funeral Rite) to symphony, and how the structure of the symphony with the long break after the first movement reflects the break Mahler took before composing the remaining movements, as if searching for the answers to the existential questions he posed in the first, as well as Mahler's decision to use an increasingly larger orchestra.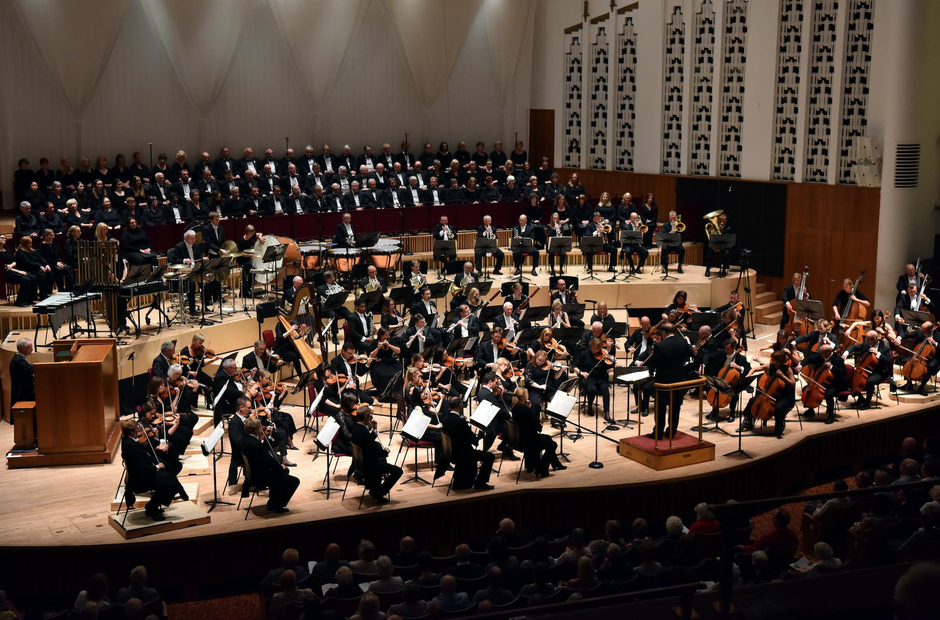 Indeed, Mahler himself, shortly after completing the symphony commented that "The term 'symphony' means creating a world with all the technical means available," and he certainly seemed determined to ensure that he explored the possibilities of the symphony as far as possible with the massive orchestra, as well as soloists and choir, even extending the physical reach in the fifth movement, with trumpets and horns playing off stage to enhance the sense of the music reaching beyond the confines of the concert hall.
The funeral march of the first movement is announced with an ominous tremolo from the strings followed by the low rumbling from the basses, and after the plaintive line from the woodwind, the violins enter with a lyrical melody in a major mode establishing the alternation between heroic and tragic. The second movement offers a complete contrast, with another use of the Ländler while the scherzo in the third, based on the song Des Antonius von Padua Fischpredigt , according to Mahler, is intended to convey butter humour, and the vanity and uselessness of all human endeavour, with swirling melodies and restless energy and a cry of despair to convey the moment of death in musical form. However, in the fourth movement, the song, Urlicht (Primeval Light) provided another opportunity to hear Johnston's celestial voice pointing to the possibility of eternal life beyond the suffering of this world.
The monumental fifth movement showed the full range of the orchestra with a whirlwind of sound before the choir entered softly and then the solo voices offered a reminder of the hope of eternity, followed by the bells and fanfares of the jubilant finale. The standing ovation was testament to a remarkable piece played by a remarkable orchestra. The concert is repeated on this Sunday and offers an experience not to be missed. https://www.liverpoolphil.com/whats-on/classical-music/petrenkos-mahler-ii/3390
Mahler Songs
Mahler Symphony No.2 'Resurrection'
Vasily Petrenko conductor
Miah Persson soprano
Jennifer Johnston mezzo-soprano
Royal Liverpool Philharmonic Choir
Reviewer: Johanna Roberts
Reviewed: 27th February 2020
North West End UK Rating: ★★★★★