Manchester Collective's latest offering offers heart-breaking intimacy and musical desolation as their UK-Netherlands tour kicked off in style following an introduction from Managing Director Adam Szabo, as the stripped away orchestra left us with a string quartet - Caroline Pether (Guest Director and Violin 1); Doriane Gable (Violin 2); Ruth Gibson (Viola); Jack Bailey (Cello) – facing each other, allowing us only a glimpse into their world into as they self-orchestrated music that will move you if you let it, that will scare you and inspire you.
We opened with some of Gesualdo's intensely expressive and sacred Renaissance madrigals that contain joyful elements that almost play with you before being punctured by the deeper melancholy of demons experimenting with harmonic progression, dissonance, and violent rhythmic contrast in this haunting piece from a dark and disturbing musical genius, hundreds of years ahead of his time.
Britten's String Quartet No.1 conjured some amazing imagery with the sombre tones of the first and third movements occasionally offering a glimmer of hope that delightfully erupted in humorous responses in the second and fourth movements. There was such a richness in the performance of this piece that when I closed my eyes it was hard to imagine it was only the four of them playing; on opening my eyes, I was greeted by four musicians clearly revelling in playing with and off each other that they were often jumping out of their seats. A wonderful way to close the opening half.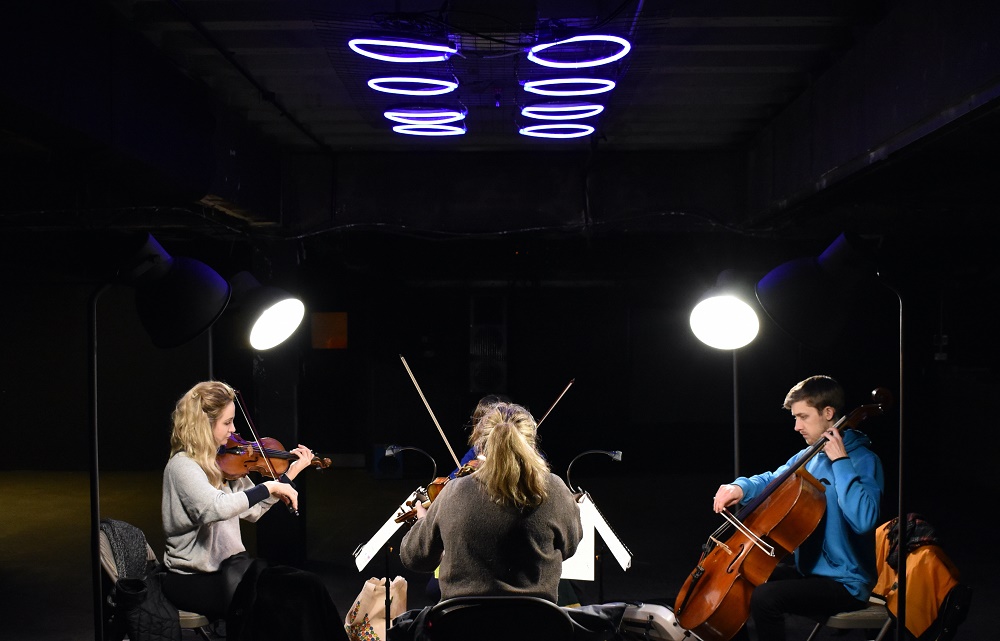 Act Two opened with Widmann's String Quartet No.2 'Choralequartett', inspired by the seven last words of Christ on the cross with string music augmented by unsettling sounds of rubbing and scratching designed to evoke skin and bone on wood. It is also a piece that knowingly or otherwise fully embraces the Japanese concept of 'ma': the silence between the notes that makes the music, yet equally adds so much more as our imagination runs wild on the emotions of this exhilarating and emotional piece, whose undoubted technical challenges were expertly mastered by this talented quartet.
The closing piece of the evening was Shostakovich's String Quartet No.8, a biographical scream written over three days in 1960 and dedicated to the victims of fascism and war. His DSCH motif is used throughout with the opening movement reflecting a slow, sad theme whilst very much offset by the faster frenzy of the third movement, in a piece that offered a touch of the klezmorim, hinting at joy before the inevitable haunting, hollow lament. The quartet played off each beautifully in this incredibly moving piece that captures every human emotion.
It was a pleasant shock to discover that the quartet – who had never played together before – only sat down to work on these pieces FOUR days earlier. It is an acknowledgement of their accomplished skill and expertise that they delivered not only on a technical level – and these are challenging pieces – but that they wrought every emotion from them too. Bravo and encore!
The Invisible Wind Factory is 'a cultural theme park of the future' – an ever-developing destination for visitors, artists, and tourists. Further details at http://thekazimier.co.uk/
Manchester Collective's mission is to create radical, human experiences through music, for everyone. They achieved that again this evening.
Music that will move you…that will scare you and inspire you.
This was the opening night of the Cries and Whispers UK-Netherlands tour:
8th March - The Netherlands / Parkstad Limburg Theater Heerlen
10th March - London / CLF Art Cafe, Block A, Bussey Building
12th March - Leeds / Leeds Town Hall
13th March - Manchester / The Stoller Hall
14th March - Salford / The WHITE HOTEL presents
Further information at https://manchestercollective.co.uk/
Reviewer: Mark Davoren
Reviewed: 6th March 2020
North West End UK Rating: ★★★★★