With ratings for shows such as The Walking Dead declining and having been over a decade now since Shaun of the Dead and its horror comedy kin came out, you would be forgiven for thinking that the zombie genre was in decline. However, nobody told Fat Rascal that and they deliver a rip roaring and belly laughing masterpiece in their new show "Tom and Bunny save the world".
The show revolves around two polar opposites bumping into each other in the zombie apocalypse and their journey up to Yorkshire to find a good brew! The entire show from start to finish was absolutely hilarious, in particular the satirical opening montage namedropping famous figures left right and centre with flawless impressions. The character work from the entire cast throughout the piece was sensational and really had me engaged in the piece, eagerly waiting for the next gag to come along.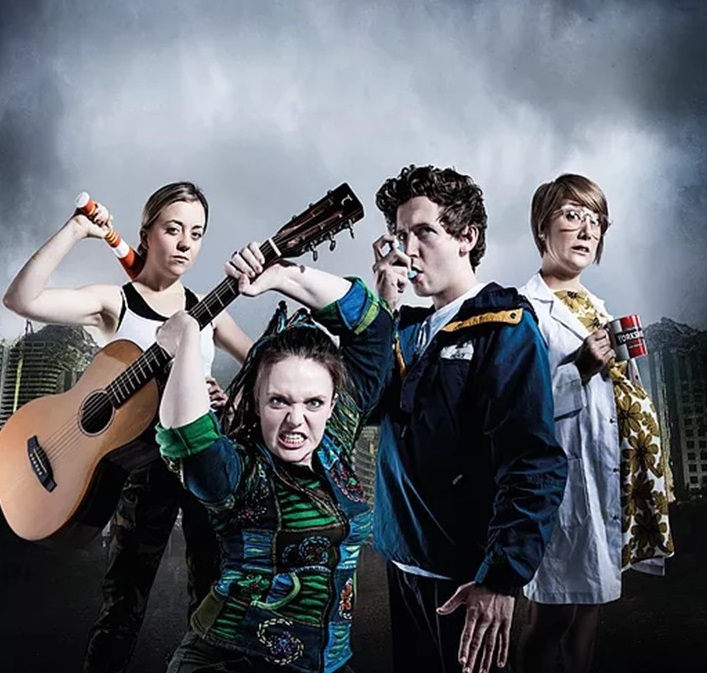 James Boyd as Mike was vocally strong and played well in this actor-muso role. Luke Dunford as Gareth was charismatic and engaging on stage, with his trauma at finding out he was turning being one of my favourite moments in the show. Allie Munro and Katie Wells were both good as Pearl and Kai respectively, however both could have done with a touch of polishing on the vocal side and were a bit hard to hear at times when speaking. Jamie Mawson was fantastic in the role of Tom and portrayed the nerdy bundle of energy down to a tee. He oozes excitement on stage and although I feel he rushed a bit too much at times he was great. However, the standout performance of the night has to go to Robyn Grant as Bunny, the straight talking Yorkshire lass who's not afraid of what she's facing. Grant was hilarious in the role and her facial work was some of the best I have seen in any production. This is a performance that needs to be seen!
Although the show could have benefitted from some microphones for the cast, I think it otherwise worked really well with its simplistic set and low budget tech. The only negative I can pick is that I think the ending was very rushed; one second I was immersed in the piece and following their journey around the UK and then suddenly the show is over and the cast are bowing. The way it ended didn't allow for any real closure for the characters in my opinion and made me leave feeling on a bit of a down on what was otherwise an excellent night. Nevertheless I would absolutely recommend that you go out and grab a ticket for this show before they are gone, this is a piece not to be missed!
Reviewer: Adam Craddock
Reviewed: 6th May 2018
North West End Rating: ★★★★