Twenty-one years ago Notre Dame De Paris premiered at the Palais des Congres, Paris. In 2000-2001, the show moved to London with a run of 600 performances, before continuing around the world performing in 23 countries and translated into 9 languages. Almost two decades later, Luc Plamondon and Richard Cocciante's show based on Victor Hugo's 1831 novel is back in London for its French revival.
Given it is such a short run at the London Coliseum – seven shows only – you'd be forgiven for thinking the staging may be bordering on the minimal. It is not. The staging, and the set, are equivalent to what you would expect of a West End show.
The story of Quasimodo, the deformed hunchback bell ringer of Notre Dame, is one of those stories you think you know because it's been around for so long it becomes part of fairy-tale lore. But perhaps what surprised me the most was the obsessive, sometimes bordering on creepy, lust that every man on the stage appeared to have with Esmerelda (Hiba Tawaji), a young bohemian girl who bewitches all the men in town.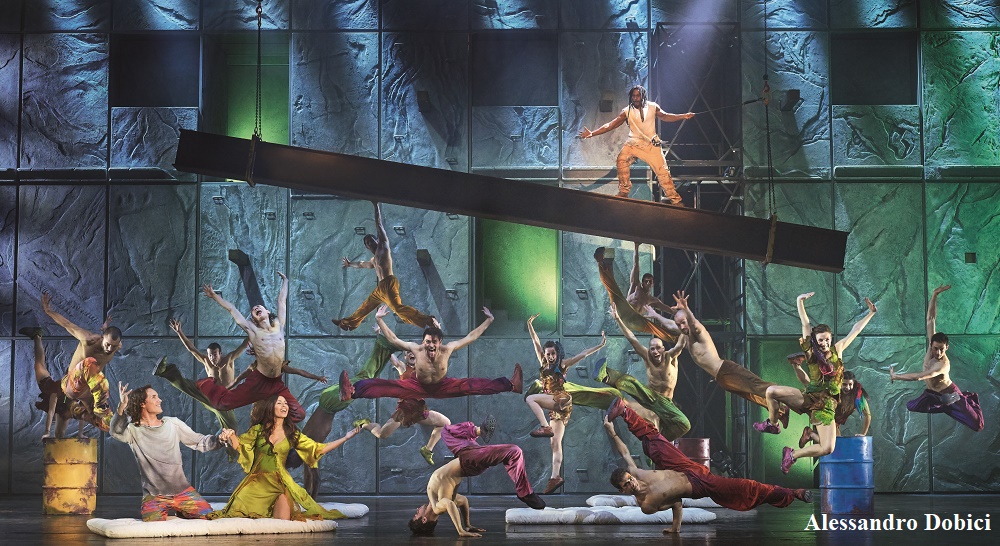 Perhaps it's the prevalence of the #metoo movement, but there were several scenes that felt very uncomfortable in today's climate. This was further reinforced by some of the dialogue which seems out of touch and dated. I did remind myself the show was based on a novel published over 180 years ago – and that, at that time, had been set in the late 1400s, but still, the world has moved on and the line between desire and depravity is exceptionally thin.
Leaving aside these concerns, this musical production of Notre Dame De Paris is more of an acrobatic dance show than a dramatic theatre production, and the choreography and creative talents of Martino Muller are in full view – this is a visually stunning and energetic show.
I have been left conflicted with regards my view on Notre Dame De Paris. The dancers are incredible – and some of the creative work to display emotions through movement and lighting is really dazzling. However, while the singing is strong – as to be expected - the dramatic tension and story-telling is lacking. Overall, I can see the popular appeal of this show; it is entertaining and touches on the well-worn themes of love, beauty and desire. However, to remain relevant with audiences today, it needs some work on the portrayal of deeper issues if it is to last another two decades.
Reviewer: Samantha Collett
Reviewed: 23rd January 2019
North West End Rating: ★★★★