People's dreams are delicate things, and 17 year old Cora Bissett's dream was to break out of her small Scottish town and ride a wild pony to a new life. Cora idolises Patti Smith and the rock chicks she inspired, and aspires to follow in their footsteps and become a singer in a band.
Fast forward many years and we meet Cora, alone and clearing out the loft in her family home. She needs to reconnect and discover herself again, and using her teenage diaries as an aide memoire, so begins a gorgeous, fun and moving look back over the highs and lows of Cora's real-life experiences as part of Fife-based-four-piece band Darlingheart.
The stage is set as if for a gig, and the coloured lighting and effects genuinely give the impression of being at a rock gig in a cool, sweaty venue where condensation is running down the walls and the atmosphere is pure electricity. The use of levels make the stage appear bigger than it is and allows the cast to remain on stage throughout without it seeming cramped or busy.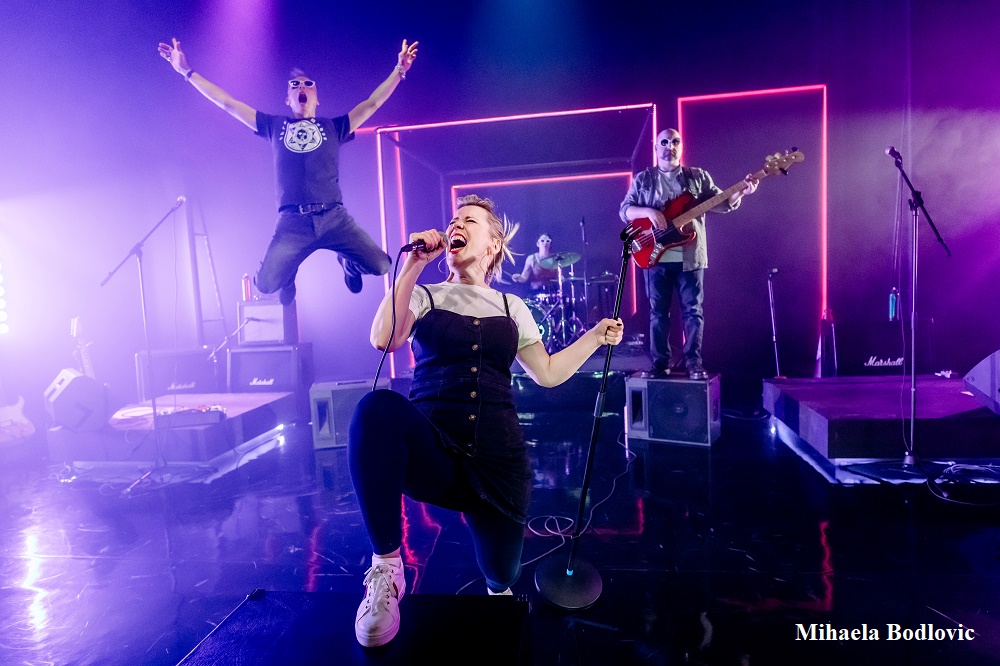 The musical performances are all absolutely on point, and totally brought me back to my 90s indie girl roots. As someone who has idolised Shirley Manson of Garbage from a young age, Darlingheart would definitely my vibe had I not been a few years too late, and I wish I had been bouncing away in the front row of their Astoria gig!
As a narrator, Cora is warm and engaging, and the soundtrack that accompanies her story is delightfully nostalgic. Her supporting cast is also pretty special, with Emma Smith as a superb and sweet drumming school-friend and Simon Donaldson and Harry Ward, who move between characters and personas in a way that manages to be over the top yet completely believable and real as well as laugh out loud funny. Some real highlights for me were manager Dirk, Radiohead's Thom Yorke, Damon Albarn from Blur and Cora's stoical, no nonsense mum.
Cora herself gives a superb and heartfelt performance. She accurately conjures up the feelings of excitement and bubbling potential tinged with insecurity of your late teens and early twenties, as she navigates the world of NME, A&R and rock and roll and tries to find her own lines and terms.
As well as life in the band, Cora also reflects in a moving and poignant way on her relationship with her parents, her band mates and later her relationships and her longing for a child. She tells her story with such passion and raw honesty that I found myself welling up more than once, laughing and nodding along in solidarity and recognition and completely captivated throughout.
What Girls are Made Of won a Scotsman Fringe First award and a Herald Angel award during it's 2018 run, and I can totally understand why. You can catch it at the Soho Theatre until 28th September, and I definitely encourage you to do so. https://sohotheatre.com/shows/what-girls-are-made-of/
Reviewer: Zoe Meeres
Reviewed: 12th September 2019
North West End Rating: ★★★★★