The Border tells the story of a 13 year old girl, Julia (Jazmine Wilkinson) from East Oolia searching for her missing dog, Stranger (who isn't actually a Stranger). Meanwhile East Oolia is closing its border with West Oolia, and Julia races to find Stranger before the border is closed for good.
This Brechtian style play consisted of a cast of four, always on stage, and using just six sponge blocks and one large sponge disc to make up the set, alongside very limited but effective props. Plaudits must go to the Director (Natalie Wilson) for the use of set and props, and to the Designer (Alice Hallifax) for the convenience of them, it was complex in its simplicity, and worked well. The play also included two original songs by Ted Barnes, which were both comical and effective.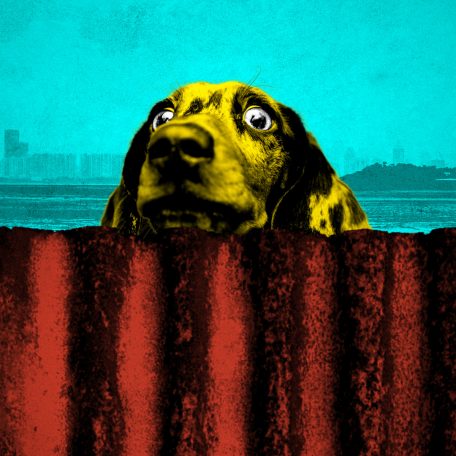 Joining Wilkinson was Lucie Capel, Matt Littleson and Rujenne Green, each playing several roles. I enjoyed their individual performances, but more importantly they are clearly a very well-oiled team - I thought the decision to have them on stage playing a classic team-building game before the show was testament to this (very impressed with 124 keepy-ups!)
The story explores the lines we draw political debate, and how we often find it difficult to obtain a view from either side of the line. This was portrayed at its very best by the line drawn through the family. Everyone had their reasons for their political views, and each was justified in having them, but Julia was the only character able to view this from the perspective of others.
The use of social media influence, and propaganda was also pivotal, as we saw Julia piled under pressure on a Twitter-like profile. This is an ever-growing topic, and was explored incredibly well. The social media propaganda was used to show how our views can easily be influenced, in this case regarding immigrants, and segregation thereof. The Writer (Afsaneh Gray) has perfectly addressed this in her writing of this piece.
In the final scene, everyone in the play has to live with the decision that has been made, whether good or bad. I found this incredibly relatable to our own current political situation, or perhaps the opposite.
A live debate was also used, breaking out of the action mid-scene, encouraging the audience to consider their own political views, and perhaps that of others - the latter was perhaps less successful, there was even mention of not allowing 'old people' to vote at all. This was handled superbly by the cast leading the debate.
A thought-provoking and enjoyable experience, 'The Border' continues to tour UK schools and community theatre spaces for the remainder of the autumn, proving that TIE is not necessarily just for children.
Reviewer: Andrew Lee
Reviewed: 1st October 2019
North West End UK Rating: ★★★