Since its first opening night 50 years ago 'Death of a Salesman' has become an icon of great American theatre. It's a massively intense and powerful play that has survived much interpretation and iteration across the world. The 1949 classic was generally considered a major attack on the American Dream, however in recent years has failed to uphold the test of time with the narrative struggling to translate into modern theatres. It is exciting therefore that this new production (a transfer into the West End from the Young Vic) brings to the stage a story that is not only much more about mental illness, isolation and trauma but also introduces us to a Willy Loman that experiences racism and inequality as key elements of his family's daily struggle, compounded by a reliance on handouts from white neighbour, Charley (Trevor Cooper) and the shame and humiliation of begging young, privileged white boss for easier work.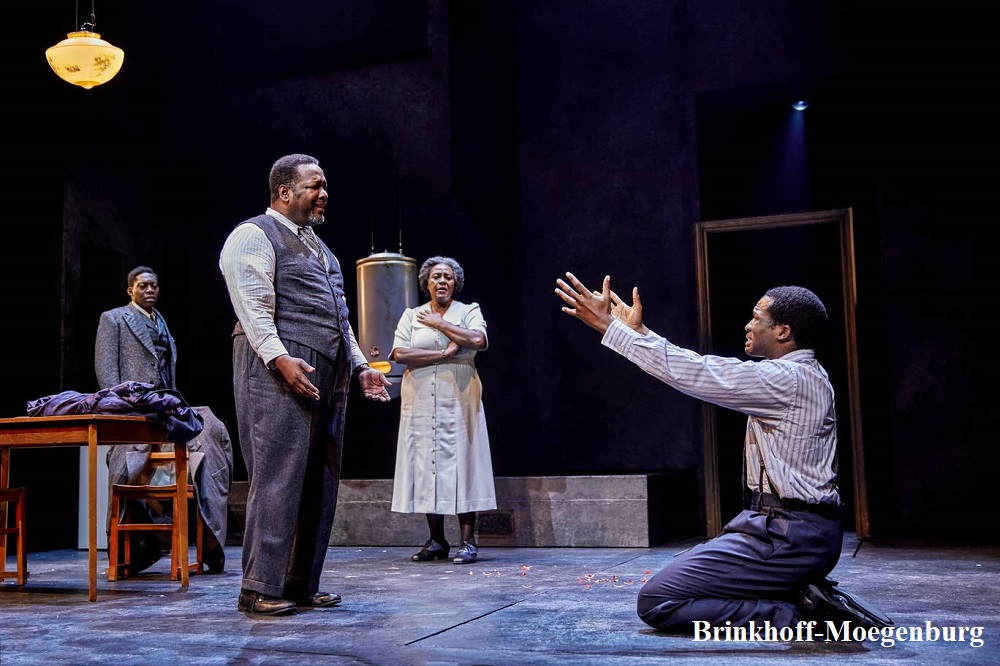 Directors Marianne Elliott and Miranda Cromwell are taking a big risk by ignoring Salesman's long and weighty history. Of course Elliott recently, successfully reinvented and refreshed another great American classic: Stephen Sondheim's 'Company', by gender-swapping the lead character, but the reinvention of this well-known play doesn't necessary translate to the same level. Of course, presenting a classic that is powered by a black-led cast leaves the performers free to make new and bold choices and Wendell Pierce's Willy Loman is a big character who is both frail and damaged one moment, only to explode in anger and rage the next. The Director's has added in an extra element of "victim" and Pierce handles this with style, showing the audience that his vulnerabilities are no longer just a product of his own shortcomings. The standout element of this production is Pierce's interpretation of Willy's memories and flashback sequences that punctuate Miller's script. The scenes are staged with jagged, jerky and almost hip-hop like movements and at times appear to fast forward and rewind across Willy's different states of altered reality.
'Death of a Salesman' is about the ties that bind a family and most importantly in this play the painfully difficult relationship between a Father and his Sons. The Loman Sons in this production are particularly well played by Sope Dirisu (Biff Loman) and Natey Jones (Happy Loman) and perfectly compliment Pierce's Willy Loman blow for blow.
As Linda Loman, Sharon D. Clarke has the unenviable task of holding this production (and her family) together. This she does with such subtlety and quiet assurance however Clarke does get to sing at intervals which provide a brand new dimension to what is often thought as an understated role.
The large supporting cast, are all exceptional. Of particular note, Cooper has an impact as Charley making the size of his role seem much larger than it is.
Anna Fleischle's design is both powerful but also delicate; big bold staging pieces are extenuated by skeletal door and window frames that float in the air like sculpture in a gallery. Set pieces float in and out of the scenes like ghosts from the past, they all build upon the concept that this play is about the fragility of reality and impermanence of life and home.
The production is beautifully highlighted by a musical score created by Femi Temowo who has designed a delicious mix of cultural and era appropriate religious pieces, blues and guitar music. In additional there are gospel vocals throughout that assist with bringing this new production into a completely new cultural dimension.
At three hours and ten minutes (with twenty minute interval), 'Death of a Salesman' is a big commitment from audiences, but definitely one worth taking and one worth seeing. The production runs until January 2020 and tickets/information can be found at: https://www.youngvic.org/whats-on/death-of-a-salesman-west-end
Reviewer: Alan Stuart Malin
Reviewed: 4th November 2019
North West End UK Rating: ★★★★