Joe DiPietro and Jimmy Roberts' 'I Love You, You're Perfect, Now Change' premiered off-Broadway in 1996 before running for 5,000 performances to become the second longest-running musical in Off-Broadway history until it closed in 2008. It's since been translated into multiple languages and performed all over the world before being substantially re-written in 2017. Chiswick Playhouse has the pleasure of bringing this new version to the UK for the first time and it is guaranteed to spread happiness to anyone who is lucky enough to see it. It's funny, it's quirky but most important it is completely joyful to watch and leaves audiences feeling fully connected to the content as they identify with at least one of the characters presented within the musical revue styled production.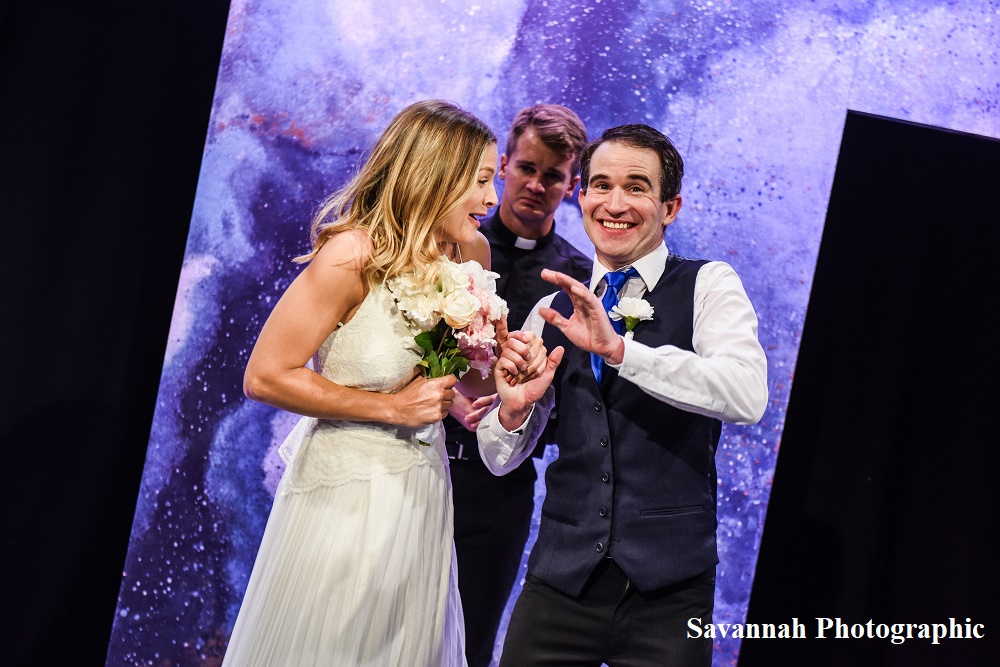 The new slick, British production is presented as a unique collection of short sketches (similar to a television comedy sketch show) that are not really connected but all based entirely around dating, relationships and romance in all its forms (the beautiful, the saucy and the ugly sides of the human condition). This new production has been completely modernised with references to social media, gay dating apps and same-sex coupling throughout the show that demonstrate the re-write was completely necessary.
Charlotte Westenra's skilful direction facilitates smooth transitions between scenes and ensures that the audience are able to connect with the characters and that the delivery of the comedy is impactful and effective. The production has been given a British twist with many regional accents and references throughout that helped the London audience to feel part of the comedy.
The cast of four are well matched physically, theatrically and vocally and bring a wealth of experience and talent to the many roles they take on across the wide range of monologue sketches, duets and group numbers including, but not at all limited to: Dominic Hodson as the "lad" who weeps at rom-com movies, George Rae the "inexperienced geek" who doesn't know how to date, Laura Johnson, "always a Bridesmaid… never a bride" and Naomi Slights as "divorced and looking for love". All four took on their characters with expertise and vigour and demonstrated complete maturity and craftsmanship throughout the 90 minute performance.
This version of 'I Love You, You're Perfect, Now Change' is completely perfect and has no need to change. It is highly recommended and deserves a longer run in a bigger playhouse once it finishes in Chiswick on 30th November. Definitely one that shouldn't be missed as you will walk away feeling like you've just had dinner with your oldest best friend! Ticket information is available on the Chiswick Playhouse website: www.chiswickplayhouse.co.uk
Reviewer: Alan Stuart Malin
Reviewed: 5th November 2019
North West End UK Rating: ★★★★★