'Can I help you?' is, at its most basic, the story of a police officer named Francis who is living with personal unnecessary guilt, and being reminded of it in his every day work situations. As he heads to a Beach Head to commit suicide, he is saved by the introduction of Fifi, a lady of Ghanaian heritage, who offers an ear of support and stories of her own.
As the narrative unfolds, with flashbacks and reflections on personal loss, it becomes apparent that Francis is not the only one who needs saving. A feeling of fate is in the air, as a grieving mother and a grieving son come together to fill a void of irrational guilt in the lives of the other - over the course of one night both are shown a new hope in the other.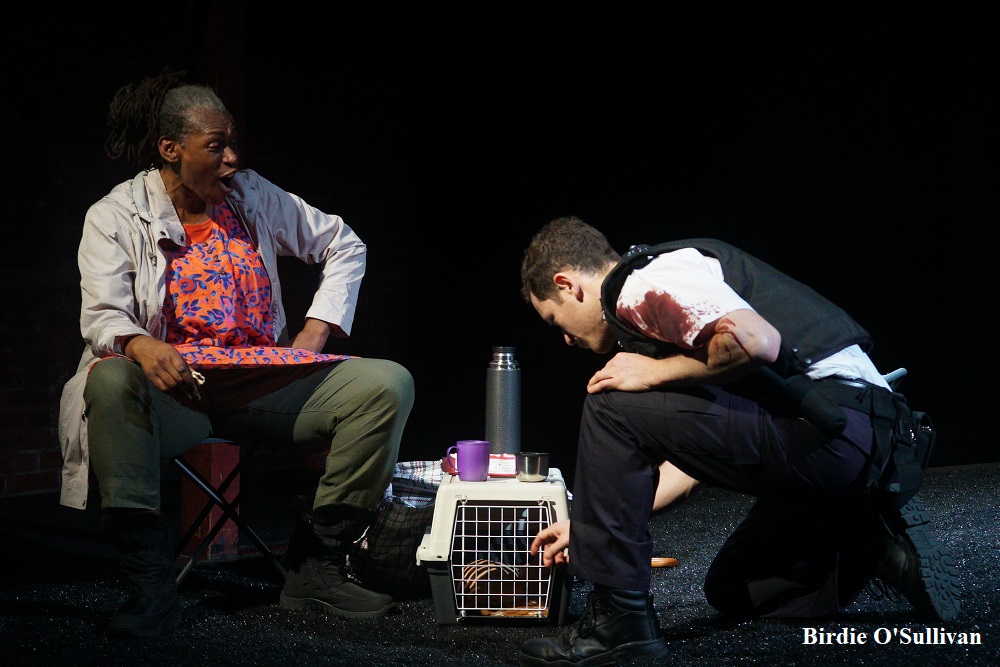 The late Philip Osment has truly left us a gem, with comedy and feeling coming tick and fast in equal measure- dialogue was poetic and flowing, with powerful use of pauses, and the inclusion of African chants (delivered by the actors with haunting quality) all made for a fantastic script. The exploration of grief, guilt, and mental health, coupled with how this transcends gender, race, generation and culture is magnificent. This play is something we all need right now.
Direction by Jim Pope is nothing short of terrific. The play is emotional, funny and powerful in equal and perfect amounts, aided by well developed characters, strong staging and a clear concept. In a space like this, most directors are happy with transitions that avoid distraction, however I found the transitions in this play not only to be seamless, but to bring so much support to the narrative and conceptual world of the play. Congratulations to Pope on a sensational piece of work, and to Ian Scott (Lighting) and Max Pappenheim (Sound) for their part in the tremendous transitions, as well as Designer Sue Mayes for the aesthetic support of Pope's concept.
Gabriel Vick (Francis) and Susan Aderin (Fifi) have both produced tremendous portrayals of the two lead characters, both are believable and relatable. Vocally and physically, clear choices were made when switching between characters for flashbacks and dreams. The acting was truly of the very highest quality.
Congratulations to the whole team involved with 'can I help you?' - it is a great triumph.
Thank you, as ever, to the Omnibus, and to Playing On for their kind hospitality.
Can I help you? is playing until 21st March at the Omnibus Theatre, Clapham, and is an absolute must-watch for any theatre fan in south London. https://www.omnibus-clapham.org/can-i-help-you/
Reviewer: Andrew Lee
Reviewed: 5th March 2020
North West End UK Rating: ★★★★★