When one hears the name 'Shakespeare', you can't help but automatically think of some of the Bard's best-known, and well-loved, tragedies – Romeo and Juliet, Hamlet and Macbeth, to name just a few.
Ere this review, I had very limited knowledge of 'Antony and Cleopatra', the tale of ill-fated lovers perfectly framed against the backdrop of war, destruction and duplicity.
With one foot firmly based in historical fact, the story follows general Mark Antony – one of the 3 rulers of the Roman Empire – who is currently embroiled in a tumultuous affair with the beautiful yet beguiling Egyptian queen, Cleopatra. Torn between his civic duty and his love for his mistress, Antony marries another for the sake of his country, and therein sends Cleopatra into a jealous rage. However, such is their love that not even the imminent threat of war can keep the lovers apart, as they fight for a love that they hope will transcend all obstacles.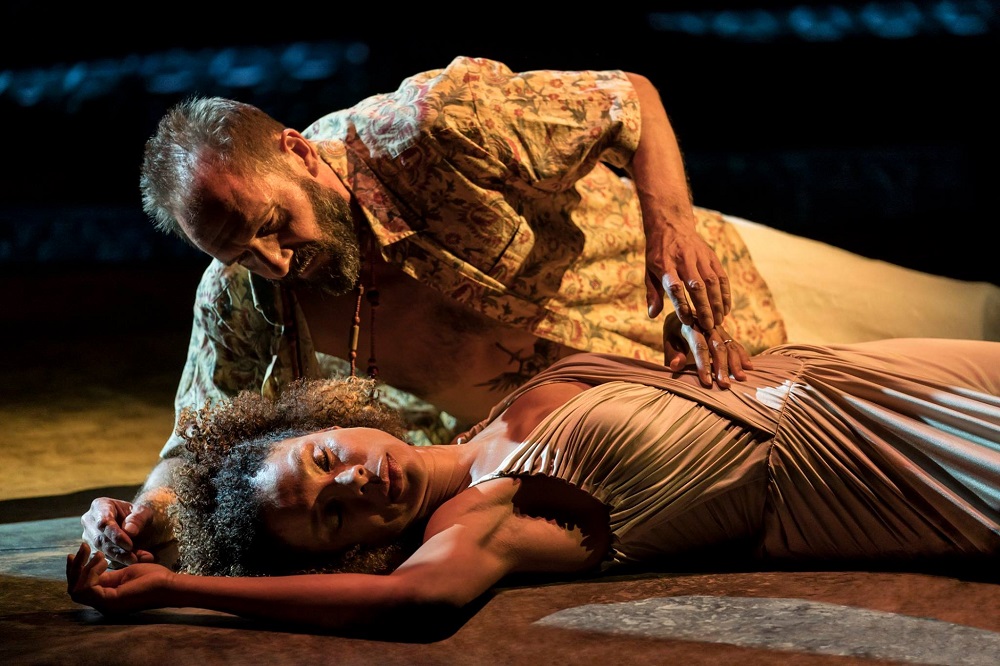 Filmed by National Theatre Live in their famous 1,150-capacity Olivier Theatre, this production opens on a curved stage – which we later find out revolves to seamlessly switch between scenes – and the lights rise on arguably the most dynamic and well-executed pieces of Shakespearean theatre I have seen to date.
From the first, the duo of Antony and Cleopatra were electrifying, both together and apart. Antony, played seamlessly by the Academy Award-nominated actor Ralph Fiennes (best known for the titular role in the 1994 film Schindler's List), did a great justice to the dynamic and complex male protagonist, who he played mesmerisingly throughout. He had the wonderful Sophie Okonedo to play off as the Queen of Egypt – and his tempestuous mistress – Cleopatra, who together made the most formidable partnership.
Okonedo, herself an Oscar nominee for her portrayal of Tatiana in the 2004 film Hotel Rwanda, could more than stand her own against Fiennes' magnetism, matching him almost blow by blow.
In the scenes where the titular couple were together on the stage, it was hard to look away. As expected, Fiennes was a natural during Antony's many soliloquies – he had a natural physicality that perfectly encapsulated the nuances of natural speech and movement, yet had more than a spark of electricity that kept you engrossed to the end.
The chemistry between the leads was almost palpable at times, and you couldn't help but fall for their turbulent love story hook, line and sinker. One minute they were star-crossed lovers professing their deep and passionate love for one another, and the next they were in the throes of a passionate argument – but whether in adulation or anger, the pair were mesmerising.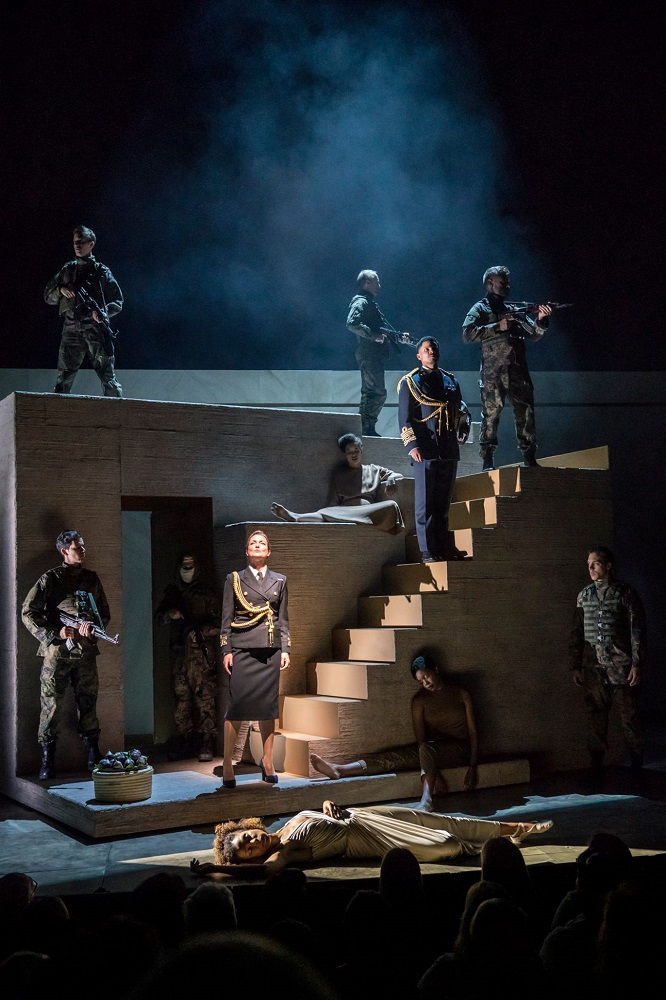 While I did think that Okonedo's delivery of the multifarious Shakespearean dialogue was stilted and overdone in times of neutrality, she did come into her own when the tempestuous Cleopatra was irked into righteous anger. When she had the flame of battle in her eyes, both Okonedo and her character shone, to the point that you often forgot there was anyone else on the stage with her. In moments like this, you can see why Sophie Okonedo was the perfect choice for such an iconic role – and the slight suggestions of over-delivery faded into insignificance. In short, she played the scorned wife (or, in this case, mistress) to a tee.
Naturally, with two such stellar titular characters in play, it was hard to shine the spotlight on other areas of the production. However, credit must be given to almost all aspects of this retelling – not least the secondary cast, who were the perfect accompaniment to the star-crossed lovers.
Praise must be given particularly to Tunji Kasim's depiction of Caesar, who in more than one scene was dangerously close to stealing Fiennes' thunder. Both Antony and Caesar played off each other wonderfully, building up a superb repartee that often manifested itself in subtle power play. In so doing, it was a stunning show of thespian theatricality, which really brought these characters to life.
The staging was masterful – an artful mix of opulence for the scenes in Egypt compared to the simplistic staging for the scenes set in Rome. However, my only gripe with the world that set designer Hildegard Bechtler and director Simon Godwin concocted was that they fell into the trap that many a Shakespearean interpreter fall into – trying to fuse the old and new together.
The scenes in Egypt were perfect – you really felt like you were in an Egyptian palace, complete with water features and opulent furniture. Yet, inexplicably, in the Roman scenes, you were met with characters in almost modern military dress, as well as modern technology like laptops, sonar radars and things of that ilk.
Ever since the ill-fated Leonardo DiCaprio film version of Romeo + Juliet back in 1996, it has always been a gripe of mine when modern creatives try to merge two completely contrasting worlds. For me, it's always been a difficult juxtaposition to process against the antiquated dialogue and the traditional staging and costumes. Luckily for me, these modern elements were few and far between in this production, leaving most of the staging free of unneeded modernities.
Aside from this, director Simon Godwin did a fantastic job throughout this piece, blocking the movement of the characters seamlessly and interpreting the complex dialogue with real zeal and energy. My only wish from a such an experienced theatre director – currently presiding as The Shakespeare Theatre Company's Artistic Director – is that he would have allowed more focus on the comic relief, giving the audience a little more time to respond to the frequent comedic elements in the piece.
As the pithy pastoral comedy "As You Like It" (and my personal favourite, "Much Ado About Nothing") can attest, Shakespeare is one of the greatest comedic writers of his generation – so this should be celebrated more, especially in intense dramas like this one, where comic relief should be recognised and appreciated when the opportunity arises. The comic elements are much-needed in a tragic story such as this, and are already few and far between, so I'd have liked to have seen Godwin pick these moments out to better effect.
My final gripe with an otherwise seamless production is its running time. At 3 hours and 8 minutes' duration (not including the intermission), the play seems unduly long. That said, as the original play is 42 scenes in duration, one cannot blame this production for largely staying true to the original.
Perhaps the performance felt longer due to the vastly changed viewing conditions – while a 180-minute theatrical masterpiece would not faze the most avid lovers of Shakespeare, I felt that I struggled to stay completely engaged when watching it in my own home.
In the modern day, the allure of Shakespeare lies in the uncanny ability to be transported to a bygone era, during which time the audience is allowed to enjoy a complete (and uninterrupted) suspension of reality – encouraged get lost in the language and romanticism of time gone by, free from the distractions of the modern world.
However, for me, despite the spectacular show of theatricality unfolding in front of me, I just couldn't lose myself in the story in the same way as I undoubtedly would have in a theatre environment.
Nonetheless, this was a stellar performance from an equally stellar cast that portrays the romance and heartbreak as only a Shakespearean play can. I just wish I could have enjoyed it as The Bard of Avon intended it to be enjoyed – on the stage.
You can watch this performance on YouTube, courtesy of National Theatre Live, until Thursday 14th May. https://www.youtube.com/watch?v=lWc6_aCTqI0
Reviewer: Hannah Wilde
Reviewed: 7th May 2020
North West End UK Rating: ★★★★★