Having seen the Finborough Theatre's wonderful production 'But it Still Goes On' written by Robert Graves in July 2018, I was intrigued to see their production, written by the Finborough Theatre's Artistic Director Neil McPherson, about the life of war poet Charles Sorley.
Captain Charles Hamilton Sorley died on 13th October 1915 at the tender age of 20, after fighting in the trenches, he was killed in action at the Battle of Loos. Robert Graves described Sorley as "one of the three poets of importance killed during the war", alongside William Owen and Isaac Rosenberg. Sorley's poem 'When You See Millions of the Mouthless Dead' was found in his kitbag after his death.
Being only 20 when he died, Charles Sorley had a short life, like many young men who fought in the First World War. The play packs a lot into its hour and a half, and the wonderfully intimate setting of the theatre's auditorium, presents a challenge to visually create a timeline that the audience can easily understand. The director Max Key and his team managed to fit in Sorley's time in Germany, his parents' home and his own central narrative; into the stage set allowing Alexander Knox (Sorley) to move easily between the three without disrupting proceedings.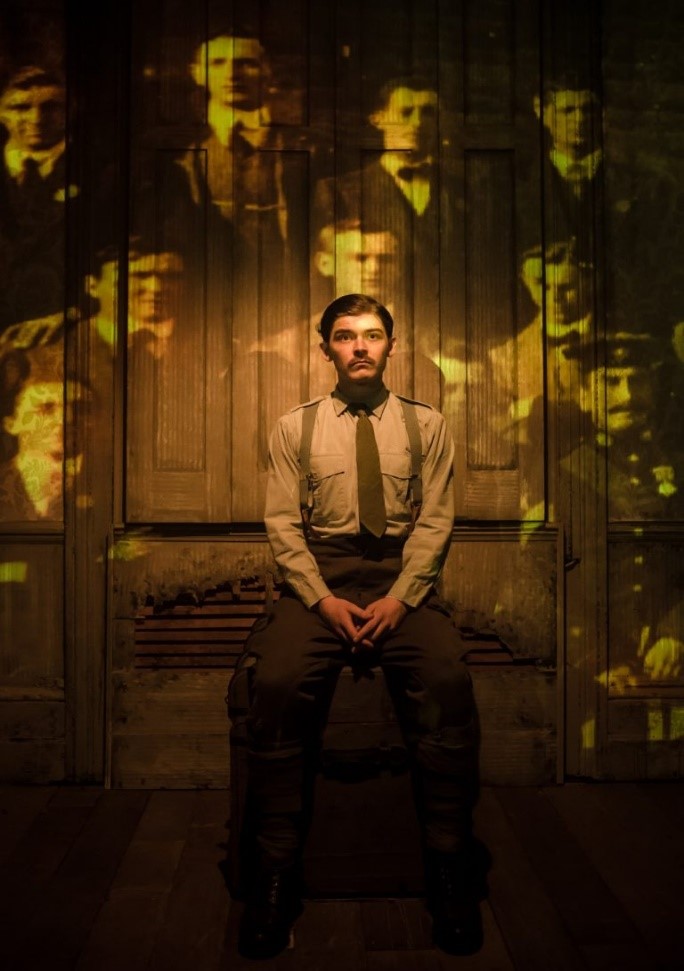 The set design created by Phil Lindley and costumes designed by Charlotte Espiner help to transport us to early twentieth century England and Germany.
The script allows us to take a peep into this young poet's life, but also gives us an idea of how he felt. The play is based upon the letters, poems and the life of Sorley; which allowed the playwright to gain some inside knowledge of how Sorley perceived the war, from the letters he wrote to his parents.
Sorley spent time in Germany and was there when the war broke out. He may have had a slightly different perspective on Germany as a country, due to him getting to know their way of life and living with a German family for a while. To assist with the timeline, the major historical events are projected onto the back wall of the stage, along with historical pictures including photographs of life in the trenches. Accompanied by a background of sound effects, (designed by Nathan Hamilton), this helped to bring together the dramatic feeling of being in a war zone in World War 1. Getting the lighting right was so important (designed by Rob Mills), as it created zones on the stage which meant there was no need for the actors to exit, they merely staying in position, which allowed the play to continue at pace.
Finally, the addition of tenor Hugh Benson, singing songs from the period was a wonderful touch.
The standard of plays produced at the Finborough Theatre is always high, and it remains at the heart of London theatre. Even though it only seats 50 people, the plays are always challenging and never mediocre. Please remember when watching this play that this theatre needs donations to be able to continue producing such high-quality productions, and it would be huge loss to the London theatre scene, if this theatre had to close its doors for good. To watch the play please go to https://www.youtube.com/watch?v=pp4UViAliLM and to donate go to https://finboroughtheatre.co.uk/support-us/
Reviewer: Caroline Worswick
Reviewed: 7th May 2020
North West End UK Rating: ★★★★★