As soon as I heard that Akram Kahn's World Premiere of Giselle was performing at the Palace Theatre I jumped at the opportunity to watch my first ever ballet performance. If you will patiently allow me to elaborate for one second I shall and explain that I actually found out that the English National Ballet were in town only six hours before I actually saw it. I hastily set about searching for a trained ballet dancer to accompany me and provide the knowledge of ballet which has so far in my life utterly escaped me. Alas my ballet dancer expert friend had inconveniently scarpered to Whitby for the week with her mother so I was forced to brave my first ballet alone.
My tribulations did not end there, as I got to my seat in the Theatre without aforementioned ballet expert, I decided I would need a programme (an essential accessory for any self-respecting critic) to fill the vast cavern that is my knowledge of both the story of Giselle and of the art form in general. There then ensued a battle of epic proportions between myself and the labyrinthine corridors of the unfamiliar Palace Theatre leading me back out onto the street through several theatre bars. I would call it a battle of wits but sadly none were to be found…
So programme safely acquired I took my seat and familiarised myself with the story of Giselle and learnt how Akram Kahn contextualises the 1841 French ballet by adapting the major themes of "imbalances of wealth, power and labour" to imagine Giselle and the other Outcasts as migrants broken by the loss of their jobs as their factory is closed down by the all powerful Landlords. Into this situation is weaved a love triangle which transcends the boundaries of class so visibly defined by this performance. Such intelligent and sensitive use of context by Kahn highlights, in all its ugliness, the reality of modern economics arguably in this country but certainly from Kahn's familial roots in Bangladesh. Its factual nuggets such as this which make having a programme crucial.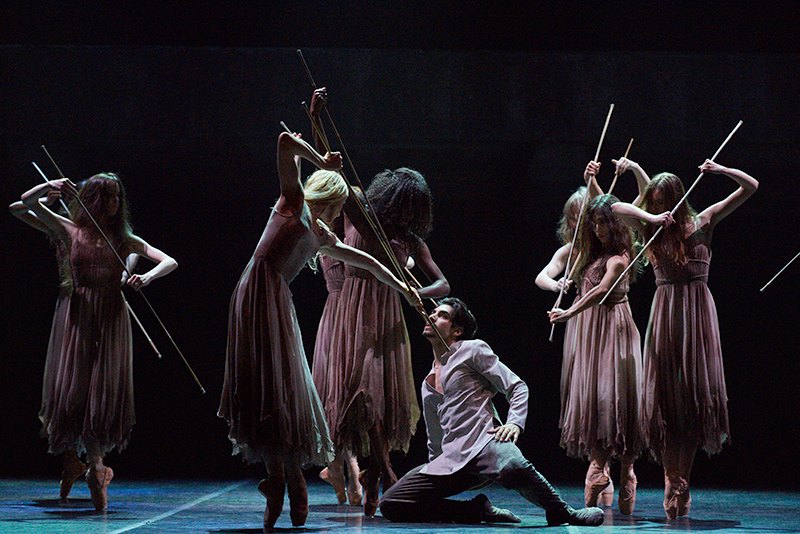 With a full orchestra, though I suppose you'd expect nothing less from the English National Ballet, conducted by Gavin Sutherland we hear a powerful score as the curtain rises revealing the Outcasts in shadow. This beautiful collaboration between lighting design by Mark Henderson and Akram Kahn's direction and choreography allows for some incredibly imaginative metaphorical devices being used. At one point Giselle, performed by ENB's Artistic Director Tamara Rojo (I'll talk more of her later) literally leads James Streeter's Albrecht out of the shadows into the light of upstage. There are plenty more examples of utter cleverness in the lighting and indeed set design which both deserve ample applause.
This cleverness actually runs throughout the entire production as so many times our attention is drawn precisely to where the Director wants it to be to allow things to happen secretly whilst in plain view. We look at one thing only to see something materialise in front of our very eyes. I approve heartily.
Why, you may ask, does a chap with limited knowledge of ballet come along and write a review following his first experience of a full ballet production? It's a bit presumptive isn't it? The answer is that there is so much creativity that can be taken from this wonderful performance and fed into the world of plays from whence I have come. There is so much intimate dance work between the lead couple of Rojo and Streeter which remains sensitive and trusting without ever becoming overtly sexual. This lends those scenes more power as a result of that decision. The entire company demonstrates a masterclass in communicating meaning through silence, something I would love to do with actors who annoyingly insist on talking all the way through plays.
From direction, to set, costume, lighting, orchestral score and performance from the entire company one gets the feeling, despite my layman knowledge of ballet that these people are at the very height of their powers and confidence in what they are producing as one of Britain's biggest ballet companies.
I am indeed one of those who companies such as the English National Ballet want to attract if only to break down the stereotype of ballet being an inaccessible, high-brow art form, indeed if I'm attending then that surely breaks the latter stereotype. If they'll have me back then I'll go again on the strength of this production. I will try and take my ballet dancer friend though next time. She would love it!
Reviewer: Karl Barnsley
Reviewed: 28th September 2016
North West End Rating: ★★★★★