Arguably two of the hardest working men in showbiz; Cannon and Ball are most definitely experienced comedians with 55 years of experience in making people laugh so I was extremely excited to get the chance to see their latest production; Cannon & Ball - The Dressing Room, a play written by Bobby Ball about the behind the scenes/stage goings on that happen that the audience never normally sees.
It's not really a play though, It's a hard show to describe, I would say it's more like a Variety show with a very insignificant in comparison behind the scenes section, but I love a bit of nostalgia and if a variety show is what it really is, that's fine by me as long as it's funny.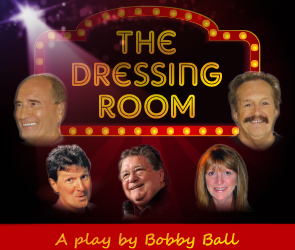 And thankfully mainly it was, along with Cannon and Ball, the cast is a who's who of nostalgic comedians, starring Crackerjack favourite; Stu Francis as Billy Tents, the camp compère and Cabaret favourite; Johnnie Casson playing Jimmy Laugh who bounces on to the stage after appearing depressed when we saw him backstage, a subtle reference to 'show must go on' ethos that all entertainers live by.
Both Casson and Francis perform a routine which however slightly dated and predictable is still funny and the audience loved it, Casson did a particularly humorous set with witty one liners and anecdotes, it was very dated and a lot of the material wasn't politically correct but it was all taken in good spirits.
After the interval, the second half was very much all about Cannon and Ball and with 55 years of bouncing off each other, the banter and chemistry is just brilliant, they maybe a little older, have a bit less hair but they've not lost any of their comedic power, picking up right where they left off with fan favourite moments such as the memorable 'Rock on Tommy' skit and a hilarious version of 'The Ballad of Molly Malone' while also getting the audience involved and engaging with them and having a laugh together.
It's not the show that I thought I was signing up for, but I do have to admit that I did enjoy this nostalgic club style night, I was half expecting Peter Kay to come out at any minute as Brian Potter, but let's be honest, who hasn't wanted to go to a Phoenix Nights style club and just enjoy it, there was no fancy tricks, it was simple in its execution with a very simplistic stage and props but that's all it needed, this is a funny comedy show which guarantees to bring a smile to your face.
Verdict: Good Old Fashioned Fun!
Reviewer: Max Eden
Reviewed: 8th February 2017
North West End Rating: ★★★★