Just over a year ago if you mentioned Hope Mill Theatre to somebody you would no doubt have got a blank expression. Now after an incredible first year Hope Mill is firmly on the theatrical map and has established itself as one, if not the most important fringe venue outside of London. This is thanks to the hard work and dedication of owners Joseph Houston and William Whelton and Katy Lipson from Aria Entertainment who has made the venue the company's northern home.
Last year, Hope Mill along with Aria produced the critically acclaimed Parade the Musical which had to be extended due to popular demand, and Hair the Musical which has just been given a West End transfer. So how do you follow that? With a relatively unknown musical called YANK! and the inclusion of third producer Ben Millerman!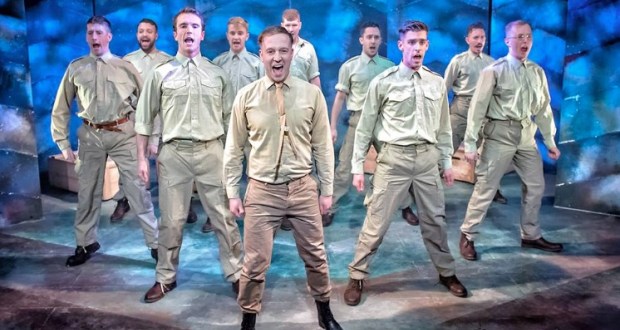 Walking into the theatre this evening I was fascinated to see if this team could transfer the success of their first two musical which are relatively well known to this lesser known piece. Any worries I may have had in the back of my mind were dispelled as soon as the show began and I knew I was watching yet another 5-star gem playing before my eyes.
The musical begins with a young man in present day San Francisco who finds an old diary in a junk shop. Through the journal we learn the story of Stu (Scott Hunter), a scared Midwestern kid who gets drafted in 1943, and who, like most guys spends Basic Training wrestling with fears of whether he "has what it takes" to make it in the Army. But unlike most guys, Stu also falls in love with a fellow Private, a handsome All-American guy named Mitch (Barnaby Hughes).
YANK! tells Stu's, Mitch's, and Artie's (Chris Kiely) stories, as well as the stories of the other men in Charlie Company. It explores what it means to be a man, and what it is to fall in love and struggle to survive in a time and place where the odds are stacked against you.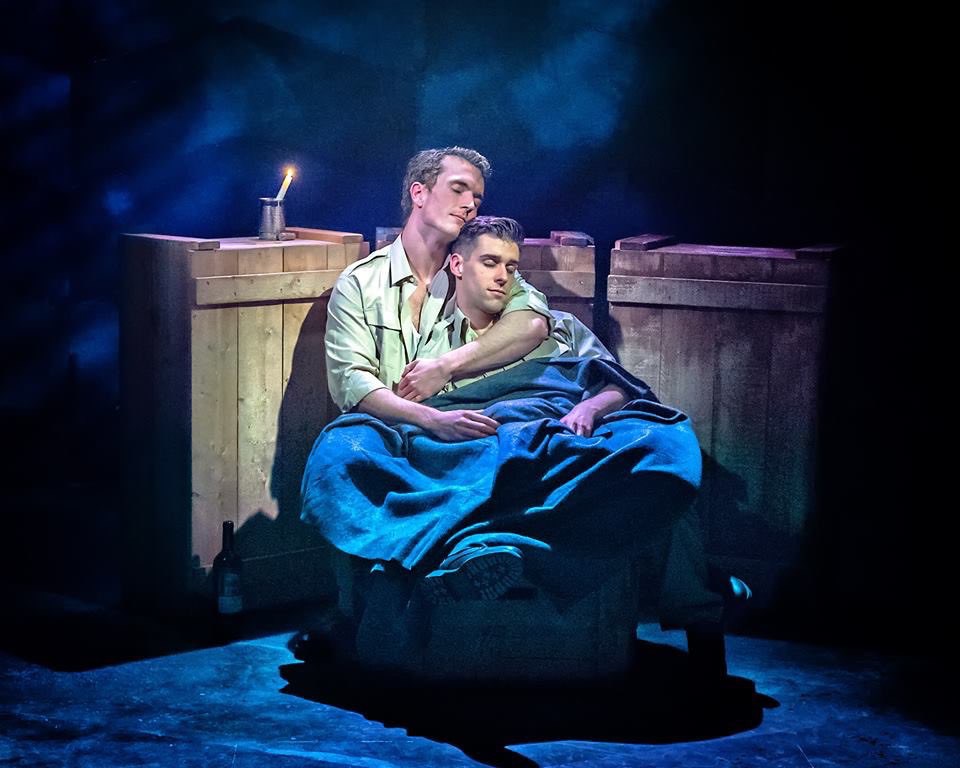 Huge credit for this piece should go to casting director Benjamin Newsome, he could not have picked a better pairing in Hunter and Hughes. Their chemistry on stage was perfectly judged and utterly believable. Kiely as Artie is also superbly cast and leads a talented ensemble. Sole female Sarah-Louise Young completes the cast playing a variety of roles throughout and provides some of the more memorable musical numbers.
The set by Victoria Hinton was effortlessly simple, yet striking and incredibly versatile with shadows of the Army ranks woven within. Clever lighting design from Aaron J Dootson and sound from Chris Bogg helped the space feel much bigger than it actually is. Tight choreography from Chris Cuming in such a small space also adds to the grandeur of the production.
Director James Baker has spent a year researching this piece since he was introduced to it by Lipson during the run of Parade last year, and it shows. Whilst appearing initially simple in its presentation it is a completely immersive and multi layered emotional piece of theatre.
Receiving its European Premiere at Hope Mill this musical by Joseph and David Zellnik deserves a life after Manchester, however a transfer to a bigger venue may lose some of the charm this piece delivers.
Reviewer: Paul Downham
Reviewed: 15th March 2017
North West End Rating: ★★★★★
Pictures: Anthony Robling