First performed by John Godber and his wife Jane Thornton as a fund raiser for Hull Truck Theatre in 1992, April In Paris, ranks alongside Bouncers and Teechers as one of the writer's most frequently performed plays. In this production the roles of Al and Bet, a married couple who take their first trip aboard are played by Manchester actor, writer and comedian, Toby Hadoke and Sarah Burrill founder of Little Diamond Theatre, the producer's of this hugely enjoyable and entertaining touring production.
This touching story featuring the bickering Al and Bet is packed with Northern humour and many poignant moments. It begins in familiar territory with Al and Bet living a predictable monochrome domestic life, content to find fault with anything and everything and in particular with each other. The couple have been married for 10 years and have little money as Al, a builder and frustrated amateur painter is unemployed. Bet is obsessed by entering magazine competitions and when she eventually wins one this most unlikely pair of travelling companions find themselves navigating their way round the famous sights and back streets of Paris with only a set of confusing maps and a not very useful phrase book to help them.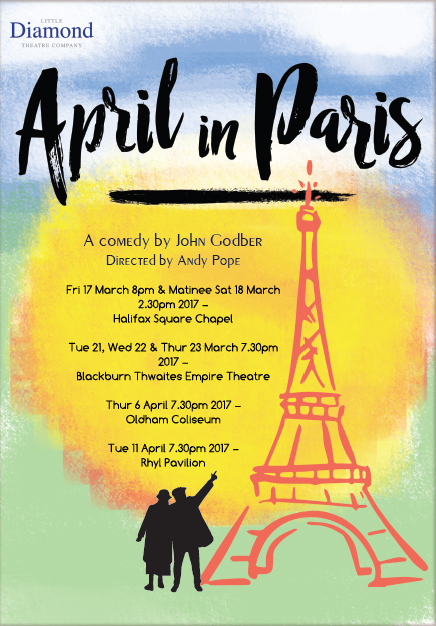 The first half of the play sets up Al and Bet's bitter sweet relationship and concludes with them boarding a North Sea Ferry, to travel to Paris by boat and bus. Played on a simple but versatile set Al and Bet sample the highs and lows of Parisian culture, visiting a range of must see tourist locations including Notre Dame, the Louvre and The Eiffel Tower. Like so many couples before them being in Paris rekindles their relationship and the scenes towards the end of the play where Al and Bet rediscover their true feelings for each other are genuinely movingly and well acted by Hadoke and Burrill.
A natural comedy performer, Hadoke has great fun performing a series of comic set pieces, the funniest being when Al discovers in a chic restaurant that he has been eating horse meat. Burril is a perfect match for Hadoke and effortlessly establishes a confidential and warm rapport with the audience. When she voices Bet's inner thoughts and desires it feels as if she is talking to every member of the audience individually.
Performed in a post Brexit context, lines such as "people on the streets look sad," resonate in much the same way as they would have done when the play was first performed in post-Thatcher Britain. It would be easy given its backdrop for the production to stray into sentimentalism but Director, Andy Pope, succeeds in avoiding this. He directs with a firm hand throughout knowing exactly when to milk the comedy for laughs and step back to allow the drama and the play's underlying themes to come to the fore. This is Little Diamond's second production and it is a real gem of a little show.
April in Paris concludes a short northern UK tour at Rhyl Pavilion on Tuesday 11th April and tickets can be found on their website.
Reviewer: Richard Oliver
Reviewed: 6th April 2017
North West End Rating: ★★★★