When Susie (Rachel Denning) recruits 'Shaun the Handyman' (Reuben Johnson) to help clear her mum's belongings from her home in Skelmersdale (or 'Skem' for short), she doesn't expect it to be her old childhood friend.
Shaun seems happy to be reunited with his long-lost mate 'Dent' (in reference to Countdown's resident 'Dictionary Corner' expert), but Susie seems less enthused.
Their differences soon become clear. She's recently returned to Skem after 10 years away in the 'big city' of Manchester – he's never left. She went to university – he didn't. He thinks meringues are posh – she insists they're not posh, they're eggs.
It also turns out they're not perhaps as close as Shaun seems to think, as Susie accuses him of ditching her in high school to fit in with the bullies.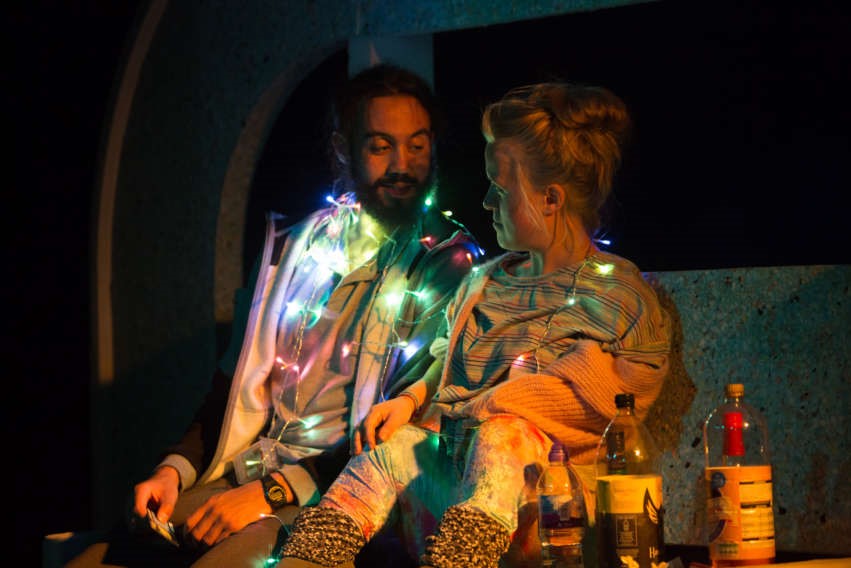 But he's here now – and, seeing her visibly suffering from chronic pain, he's determined to help her sort out her prescription before the chemist shuts, even if it means calling on Dufflecoat Dave to score some dog diazepam.
Writer Jackie Hagan, who herself identifies as a working-class woman from the town the Guardian called "a waking nightmare", has created a tender and funny portrait of her much maligned Lancashire home town, and of a friendship between a pair of odd balls – "wonky shopping trolleys" who, despite the different paths they've taken in life, still experience the same hopes and fears: of the dark, of being alone, of not repeating the mistakes of absent fathers.
As Shaun and Susie reconnect, filling in the gaps of their threadbare friendship, their conversation at points briefly touches upon wider social and political themes, such as austerity, discrimination, the pay gap, and the demonization of the working classes.
But the play really sings when it focuses on the personal – Shaun and Susie sitting in the dark, wrapped in fairy lights, chomping on Space Raiders and necking Irn Bru.
Cosmic Scallies continues at the Royal Exchange until 14th October. http://bit.ly/2xLT7HZ
Reviewer: Alaka Prodhan
Reviewed: 27th September 2017
North West End Rating: ★★★★