Imagine If's production 'You Forgot the Mince' is the thought-provoking play, written by Leeds theatre maker Francesca Joy, that explores a modern-day abusive relationship. 'You Forgot the Mince' is mid UK tour and has recently had a successful month long run at the Edinburgh Fringe Festival.
The 70-minute long drama begins at a house in Leeds, where the 19-year-old Rosa lives with her grandma, Lily (Ursula Mohan) since her troubled mother Claire died some 3 years back. Rosa (played by Francesca Joy) is a bright young woman preparing to leave her home city of Leeds and go off to university in London. Niko (Prince Plockey) is a door-to-door window salesman surviving on commission, who infiltrates their lives after coercing Rosa to accept a 'free, no obligation consultation'. Just as Rosa is looking forward to an exciting new future at University in London and living in Camden, she falls head over heels in love with the local lad Niko (who never made it past year 9 at school).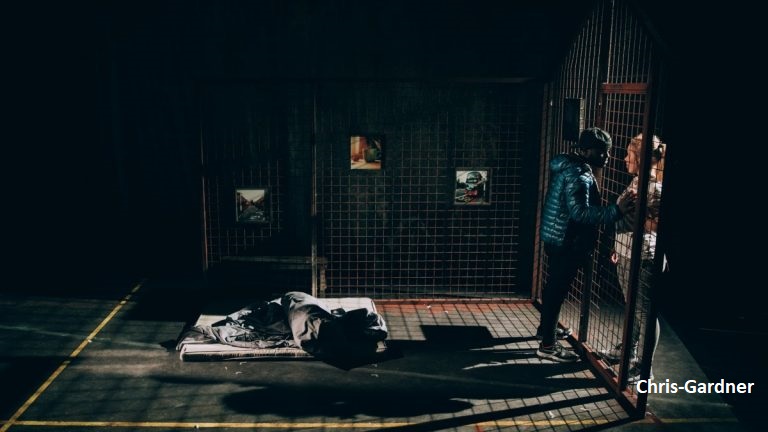 What follows is the couple's tumble into love, which is charmingly portrayed in script and movement. The superb mix of physical theatre and original script brings Rosa and Niko's story to life from the first flush of young love, to surviving separation as Niko is imprisoned for 12 months for attempted burglary and handling of stolen goods, to moving in together, to the inevitable first argument about buying the wrong cakes for Uncles Keith's party.
However, it gradually transpires that their relationship is complex, weighed down by layers of hurt and vulnerability on both sides, and soon spirals into destruction and chaos. Meanwhile Lily is trying to get over the loss of her daughter by baking cakes and not really talking about her grief and loss, until Mick from the stroke foundation gradually helps with the healing process.
It's clear that 'You Forgot the Mince' is a brilliant piece of theatre that is a true representation of the grit of real-life, and all three cast members gave outstanding heart felt, convincing performances tonight. Francesca Joy spent time in refuges and prisons as part of her research when creating the play and as a result the play is rich and very believable.
'You Forgot the Mince' has toured prisons across the country, (5 male prisons, and 1 female prison), performing to roughly 100 inmates per visit, who are incarcerated as a result of violent relationships. Francesca Joy in the Q&A's after the show stated that she hopes that the play will inspire change and make a difference; and there's no doubt it can. The show is deeply moving and hard hitting and I am sure the content resonated with the majority of tonight's audience judging by the palpable emotion in the auditorium.
Imagine If Theatre Company was created 3 years ago and is not co-funded so sadly has its financial limitations to delivering this play free of charge to the people who need to see it most (inmates, young adults in schools, Domestic violence perpetrator programmes and women trying to break free from the cycle of abuse). I personally think this play has the potential to influence and educate those abused and abusers: current, past and would-be. The Office of National Statistics reported that last year domestic abuse in England and Wales was experienced by an estimated 2.0 million adults aged 16 to 59, equating to a prevalence rate of 6 in 100 adults. With statistic so high in this country this show has the potential to initiate a real change. 'You Forgot the Mince' is ground-breaking, cutting edge and poignant and in my opinion was without a doubt worthy of a 5 star rating and should not be missed.
To find out more about the show and its tour dates or even to donate to ensure funding continues to get this play out to those who will benefit from seeing it, visit www.imagineiftheatre.co.uk
Reviewer: Victoria Wilmot
Reviewed: 2nd October 2017
North West End Rating: ★★★★★