Joseph and the Amazing Technicolor Dreamcoat is a musical with lyrics by Tim Rice and music by Andrew Lloyd Webber. The story is based on the "coat of many colours" story of Joseph from the Bible's Book of Genesis.
The show has little spoken dialogue; it is almost entirely sung-through. Its family-friendly story, familiar themes and catchy music have resulted in numerous staging's' over the years, this current tour has kept the originality of Joseph but has managed to inject another dimension that has enhanced the visual stimulation and the ability to hold the audience's attention from the beginning to the end by introducing modern slants, enhanced choreography including fantastic scenery and lighting not forgetting Joseph's phantom mask and golden chariot towards the finale.
Former X Factor winner Joe McElderry was the lead role in Joseph and the Amazing Technicolor Dreamcoat he confidently follows the footsteps of Jason Donovan, Donny Osmond, Darren Day and Phillip Schofield, and adds charm and plenty of sparkle to the Biblical tale of Joseph, the apple of his father's eye who is sold into slavery by his jealous brothers.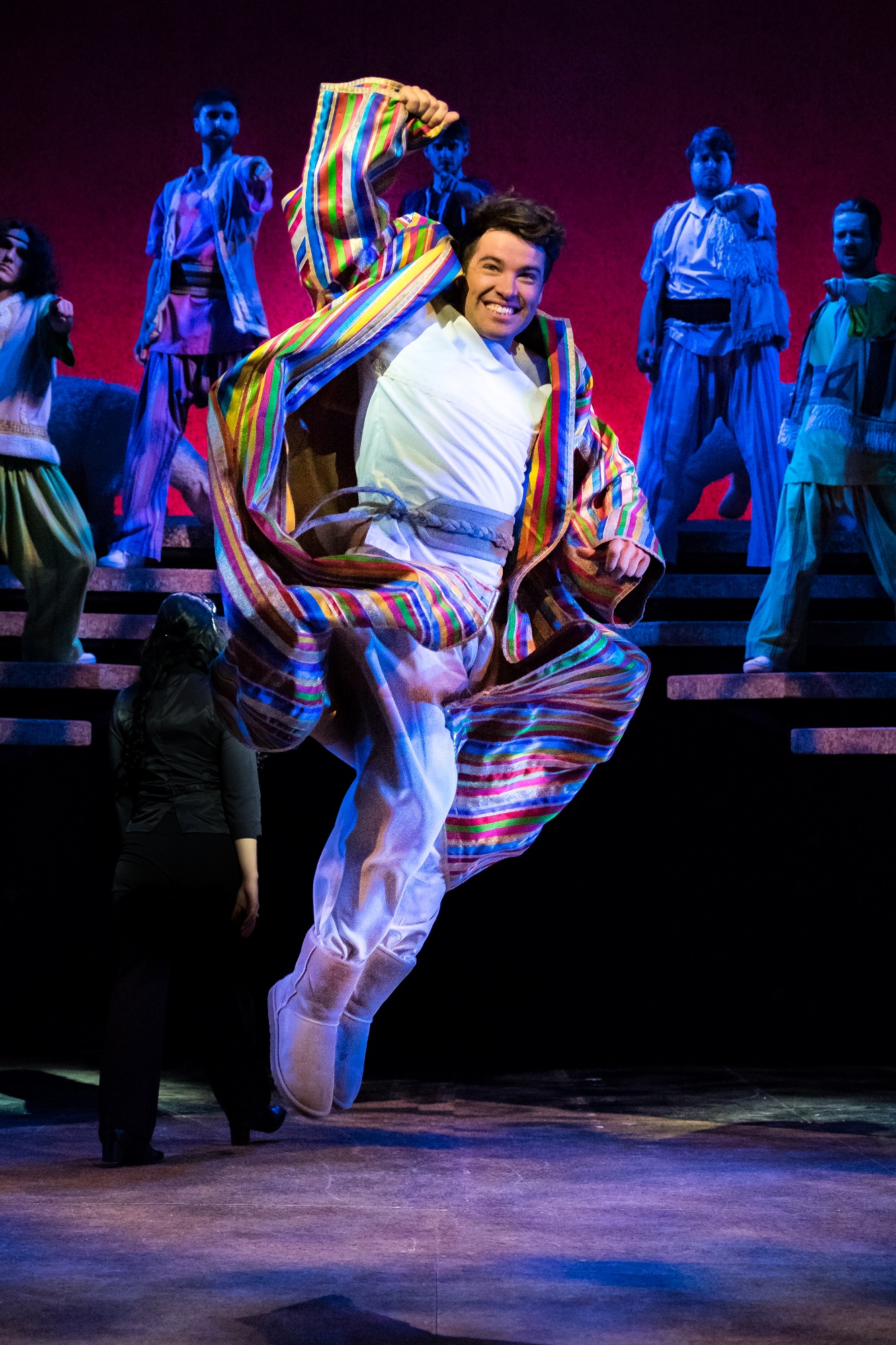 In a role that could have almost made for him - Joe shows off that golden voice that won the votes in droves on the X Factor in 2009 he has successfully reinvented the role of Joseph - the angelic favourite son of Jacob - all for himself.
His captivating rendition of 'Close Every Door', even to the ears of a devoted Donny Osmond fan from back in the day, has to be the greatest version that I have ever heard - Powerful and Perfect.
Joe McElderry may bring the X-factor to his title role performance of Joseph and the Amazing Technicolour Dreamcoat but judging from the reaction of the audience, it was the 'feel good' factor overwhelmingly in evidence as he had everybody was on their feet towards the end of the performance.
Although small in stature with an uncanny look of the love child of Michael Ball and Donny Osmond, McElderry commands the stage and demands the audience's attention that cannot help but be captivated from the moment he begins to sing. It is no surprise that McElderry has been dubbed one of the best Joseph's there has ever been.
The verbal tongue-in-cheek humourous references work as well as ever, but visual pantomime-like techniques such as speech bubbles, one dimensional camels and (unreliable) inflatable sheep made the show appear to be after cheap laughs.
I particularly enjoyed where Pharaoh is portrayed as an Elvis figure his look and performance as Elvis would give any tribute act a run for their money.
Trina Hill almost an unknown born in the UK but grew up in Mississippi did a spectacular job as the narrator - due to the nature of some of the musical composition, Hill was at risk of her vocals coming across as shrill and screechy as I have seen so many previous narrators do so; however, this was never the case Hill's vocals never faltered and she showed an impressive amount of range and vocal versatility that blew me away this young lady was not only stunningly beautiful but had the voice that I won't forget in a hurry.
Both McElderry and Hill are supported by a very strong cast but special mention must be given to the wonderful children's choir of Stagecoach Chester and Wirral who conducted themselves so professionally whilst on stage with vocals that were strong and clear and all with smiley faces were lovely to witness; a reminder of what makes this musical so unique from all others.
Matt Jolly who played Gad shone out as the brightest of stars from all the brothers his acting/singing and facial expressions made me truly a fan as I was absorbed by each of his scenes.
If you're looking for a good fun, all-rounder of a musical you need look no further than Joseph.
Reviewer: Katie Leicester
Reviewed: 17th October 2017
North West End Rating: ★★★★