The Hope Mill Theatre is a fantastic, intimate space, and a perfect place to showcase the wonderful production of 'Little Women'; a story adapted from the American classic by Louisa May Alcott, written as a musical by Allan Knee.
This inspiring story centres around the character Jo Marsh- played by the charismatic, Amie Giselle-Ward - and her extreme zest for writing. She is a young woman, living ahead of her time, writing adventure stories, as opposed to knitting and dancing, like most ladies should in the 19th Century. Her sisters, Meg (Jemima Watling), Beth (Cathy Read), and Amy (Katie Marie-Carter) join in with Jo's imaginary games, and recites extracts of her original stories. They are just young girls, trying to fit in with what little they know of society. As their father is fighting in the American Civil War, their only source of male influence is from their neighbours, Mr. Laurence (Tony Stansfield), his grandson Laurie (Connor Hughes), and Laurie's tutor, Mr. Brooke (Joel Harper-Jackson). Their mother, 'Marmie' is left to bring the girls up alone, played by the elegant Anna Stolli.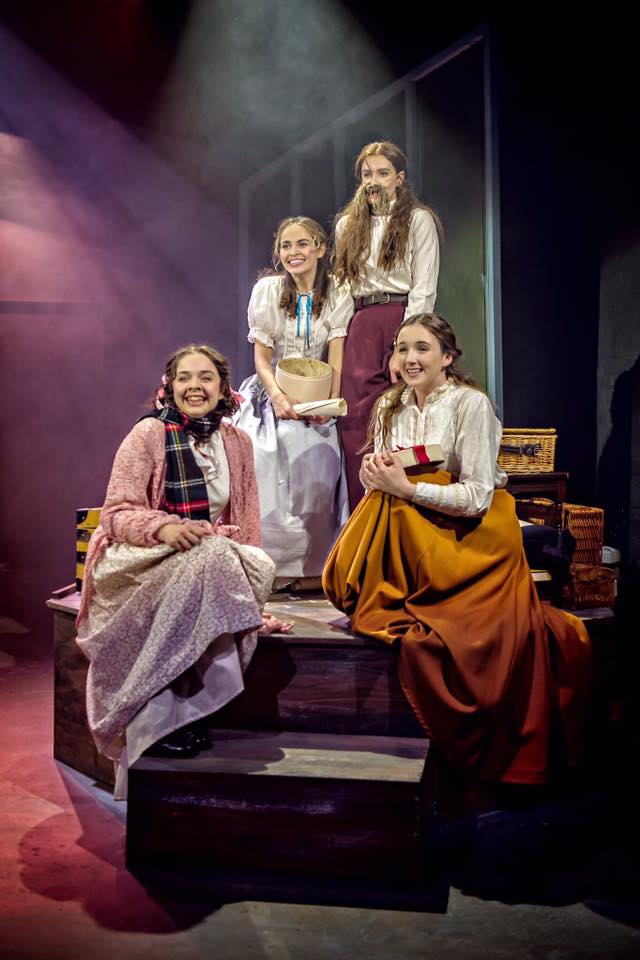 Jo's differing behaviour comes to light when she attends a ball, and mocks the way in which other ladies in society act. I imagine she would rather be smoking a pipe with men, discussing politics! Definitely a woman ahead of her time, which makes her a worthy idol to women in the 19th Century, and a heroine for women today. Her attitudes on life, however, is corrected by her Aunt, a stern and hard-nosed relative that is determined to keep to traditions- a convincing performance from Virge Gilchrist.
Despite her Aunt's efforts, Jo's determination to succeed as a writer shines throughout, proving that no matter what holds you back, you can achieve the impossible. Jo eventually travels to New York, meeting an academic-Professor Bhaer (a truthful performance by Johan Munir) who admires her enthusiasm for writing. After rejections from publishers, slamming her for purely being a woman, she drives through the critique, aided by the love from her siblings, who are the true inspirations to her writing, and shows us the unbreakable bond of sisters.
I have to say, it's not very often I get to see staging done right, but I have to applaud the layout, set design, and lightning- it was spot on. All the scenes were believable, simplistic, and effective, all serving its purpose efficiently. Brilliant choices made by the director and musical director (Bronagh Lagan and Nik Corall), the scene transitions were fluid and precise.
The musical numbers were choreographed effortlessly, aided by a commendable orchestra, and outstanding vocals from all the cast.
The story documents the struggles and loneliness it can be to be a woman living in 19th Century America; learning to obey rules of society. Jo is the heroic outlaw, re-writing the rules that defy women. Amie's take on Jo Marsh was exceptional, bursting with energy and stamina from beginning to end. The cast overall performed impressively, so much so, it rivaled that of West End productions.
A beautiful story, brought to life by the spirited Marsh sisters.
Reviewer: Parissa Zamanpour
Reviewed: 15th November 2017
North West End Rating: ★★★★