Tonight at the Palace Theatre the Big Top was brought indoors. Cirque Berserk is brought to life by the talents of Martin Burton (Founder & Company Director of Cirque Beresk) and Creative Director Julius Green. Regardless of your age you will find something in this show to enthral you. It's packed with Thrills, Glamour, Glitz and Slap Stick.
The performers are from around the world and are all well trained circus performers who come together with a West End Creative team for a few months to showcase their impressive talents, and delivering over 30 different circus skills.
Be amazed by the skills of these performers as apart from one very dangerous trick all tricks are performed without the aid of safety devices. For the one trick with a slight safety device you will very quickly realise why it has to be used.
You would be "Berserkus" to miss this thrilling evening of skills and thrills, that takes the greatest show on earth to another level.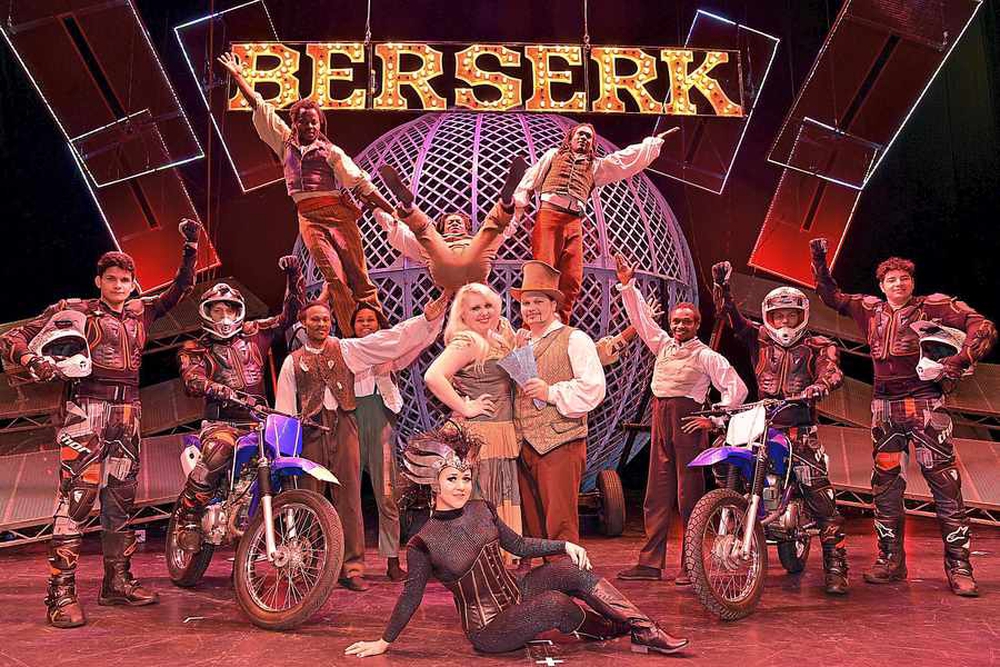 Before the show begins you are actively encouraged NOT to switch off your phone (just the flash), and to Tweet, Facebook and whatever other social media you personally use. Videoing and photography of the show are welcome for personal use but not for commercial use.
Our first performers are the brilliant Timbuktu Tumblers who not only open the show but fill neatly between other performers to help keep the action flowing. We are then treated to some fast paced action from Germaine, Luciano Gabriel and Carina, as they work their magic with Bolas (a throwing weapon made of weights famously used by Gauchos – Argentinian cowboys) after treating us to some special drum work.
We then get our first laughs from the fabulous Tweedy who is not only a clever clown but also a talented tumbler too. Tweedy entertains several times during the evening. We find some fantastic aerial skills being displayed by Jackie as she glides gracefully above the stage. Then Tropicana Troupe with their fantastic costumes treat us to springboard skills that have an element of danger to them. One trick unfortunately went slightly wrong on the first attempt but credit to them for immediately redoing the trick and getting the biggest cheer of the night when they pull it off second time round.
We also see some fantastic aerial silks work from Rosey during an action packed first half.
Watch out for the giant Robot (Laci Fossett – on stilts) spitting out fire as it crosses the stage. We then meet the most dramatic team of the show for the first time. Lucius Team bring the Globe of Death to the stage as they speed round at speeds of around 60mph inside the globe. This first treat has 2 bikers looping the loop and zooming round before they are joined by a female member of the team, would you dare join them? Time for an interval to allow you to get your breath back and send out your tweets.
Following the short interval we again enjoy the talents of Timbuktu Tumblers as they treat us to some fire limbo and super tumbling. Germaine and Gabriel again treat us to their talents with Bolas this time on fire.
The second half also brings us the fabulous contortion skills and flexibility of Odka, the strength and grace of Jose & Gaby, super strength of Laci Fossett with his aerial pole skill. Can you juggle? You can well can you do it with your feet? Well Germaine Delbosq will show you how easily she can. Not only with a large dice, but 6 balls and at one point something that is on fire. Zula gives a whole new meaning to stacking chairs, while Toni from Czech Republic impresses with his knife skills.
The whole of the show is beautifully choreographed by Dede McGarrity on a set designed by Sean Cavanagh, with lighting and sound provided by Mike Robertson and Matthew Bugg. Costumes come from the talents of costume designer Dianne Kelly assisted by costume associate Leah Sams.
Tweedy gives us more second half slap stick laughs and tumbles, and we see more of the Berserk Dancers.
The show comes to a thrilling finale in the hands of Lucius Team and the Globe of Death, this time we have not one, not two, not even three bikes in the globe but Four. Yes that's right we have four motorbikes flying round the globe at around 60 mph displaying a blue light from the underside giving a wonderful light display as they go.
Has this show grabbed your attention, if so why not run away with the circus, visit www.academycircusarts.co.uk for more information.
For more about Cirque Berserk and more tour dates check out www.cirqueberserk.co.uk and don't forget "You'd be Berserkus to miss out on this fantabulous show".
This is clearly a five star show as the performers are putting their lives on the line without the use of safety devices, for your entertainment and enjoyment. In short sit back get out your phone and enjoy yourself. A show for all ages with merchandise also available in the foyer if you feel like treating yourself.
Reviewer: Cory Coxon
Reviewed: 8th March 2018
North West End Rating: ★★★★★