Frankenstein has come to Manchester in an all-guns-blazing production. Having already been impressed by April De Angelis' writing in After Electra back in 2015, I'm not surprised that she's now crafted a brilliant adaption of a weighty and loaded gothic classic. While this modern reimagining remains faithful to the novel, De Angelis masterfully makes it seem like Frankenstein was always intended for the stage.
Opening with the performance of letters, it is at once engaging and surprisingly funny - particularly Ryan Cage's Captain Walton, whose tone and delivery receives frequent laughs. Walton's continued presence on stage visualises the novel's framing device and reminds us of the layers of storytelling that weave and develop through Mary Shelley's original masterpiece.
That said, I did have my reservations about how successful this production could be. A novel that travels so widely and tells such far-reaching, multi-layered stories, a novel that's seemingly dependent on landscape and atmosphere: I thought surely something must be sacrificed on stage.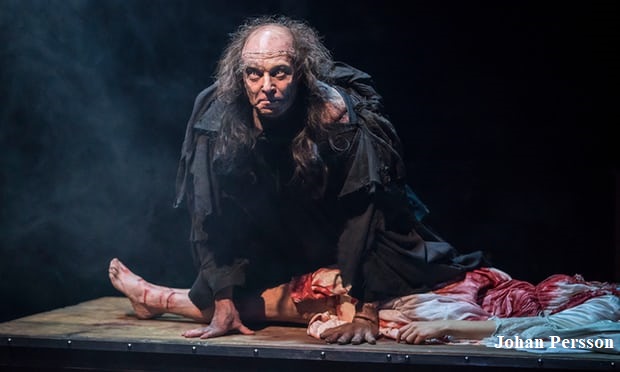 But apparently not. Matthew Xia's extraordinary vision and Ben Stones' complex design create countless fluid transitions between brilliantly-constructed sets. From a ship's deck to Frankenstein's gruesome workshop, from a courtroom to a masked ball, the stage is repeated transformed with impressive speed and detail.
The light and sound design work together with profound effect as they set the scene, dictate the atmosphere, or construct a memory. Nostalgic yellow spotlights and classical piano music signal a fond memory or heartfelt letter, while strobe lighting and electric sparks surround the stage the moment Frankenstein first creates life. With fire, rain, lightning and utter blackness, Xia's production is never short on drama. Genuine tension, shock and surprise is felt and heard around the room at key moments of death and violence, enough to rival a horror film screening.
Avoiding the clichés and inaccuracies of filmic depictions, Xia leans more on a psychological portrait of Frankenstein's wretched creation. What is most memorable is not the Creature's large foreboding figure draped in black rags, or his near-naked deformed body, but his voice. Self-abhorrence trembles through his laboured speech, and anguished cries puncture the moments of loss and extreme disappointment.
Without a doubt the stand-out performance, Harry Attwell commands attention, tossing the audience between feelings of compassion, horror and fear. As we witness Attwell's very human monster plead pitifully, crave love so openly, and kill so instinctively, the full danger of excluding and demonising others is paraded before us.
An interesting and convincingly obsessive Frankenstein, Shane Zaza's performance is also fresh and compelling to watch. His complete commitment to this characterisation shines through in his every move and mannerism, as his growing horror and grief manifests itself in slight madness. The whole cast provide strong performances that maintain the energy and pace of this ambitious production.
Directed with a sensitive eye and crafted for maximum visual impact, April De Angelis' adaption of Frankenstein delivers both an emotional and physical experience that even the most detached viewer will struggle to shake off.
Reviewer: Eve Ryan
Reviewed: 13th March 2018
North West End Rating: ★★★★★