Based on the life of Russian-French painter Marc Chagall and his wife and muse Bella, Daniel Jamieson's The Flying Lovers of Vitebsk is an artistic tour-de-force.
Mixing folk and fantasy, the artistic treatment of this gloriously theatrical production is pure magic; it's everything you'd expect from a Kneehigh production directed by Emma Rice. The biographical basis of this play, first performed as Birthday 25 years ago, floods the stage with Cubist and Impressionist references, while the costumes and songs reflect the French, Russian and Hassidic influences upon Chagall's work.
Rice's renowned wit shines through every move and creative decision, often sparking gentle chuckling from the audience. Romance is communicated through colour, movement, dance and laughter, portraying the exhilaration and physicality of intense feeling. Of course, if this play only enacted sickly happiness it would be pretty insufferable to the average viewer.
Thankfully, the presentation of this lifelong love affair does not ignore moments of frustration and disillusionment between the lovers. Unlike her husband, Bella's care for her family and roots in reality force her Yiddish writings to take a backseat while she brings up their daughter and attends to her parents. It's in these moments when Marc Antolin's characterisation of the egotistical artist are the most convincing.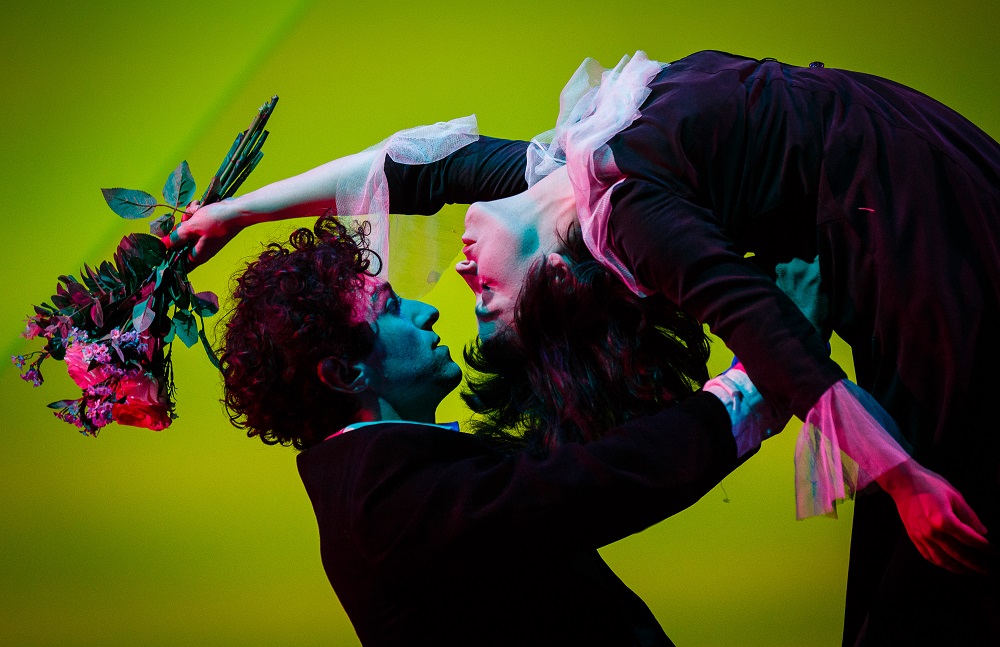 Dreamy and ethereal as he might seem through the rose-tinted glasses of the opening scenes, Marc's free flair and indulgent passion clashes with the global historical events occurring around him. The need to paint remaining the immovable priority, Marc's selfishness is depicted both comically and seriously during the most troubling periods of the Russian Revolution and the two World Wars.
Tracing the horrific events of the 20th century through a personal lens, we see Jewish life under threat from 1910s Russia to 1930s Europe. One criticism Jamieson's play might warrant is that it spreads itself too thinly over decades worth of tumultuous persecution. Marc often seems like a spectator of history, repelling reality with his lofty visions and describing events with a shaky grasp of consequences or awareness of those around him.
Yet this blurred depiction of Jewish history (especially as we move into the 30s and 40s) may be itself a reflection of Marc's tunnel vision. Entirely preoccupied by his personal ambitions and thwarted dreams, Marc only occasionally seems to look up from his inward gaze and recognise the immense grief and insecurity of the Jewish people, whose culture, heritage and very existence is under attack wherever they go.
The weight of exile is felt more tangibly through Bella, however, who's longing for Vitebsk and its safer past is performed brilliantly by Daisy Maywood. Just as the nostalgia for Vitebsk in Chagall's painting "Bouquet with Flying Lovers" is channelled through his grief for Bella, this play is also framed by the old painter in mourning.
Courtesy of Sophia Clist and Malcolm Rippeth, the design is vibrant across stage, lighting and costume choices, as hot pink and emerald green represent Bella's and Marc's vibrant personalities. The angled multi-dimensional set replaces straight lines, flat surfaces and stillness with perspective, height and constant movement or balance. It is the physical interpretation of Chagall's wistful but energetic mind.
At the back of the stage a Cubist-style asymmetrical screen is used to reflect the bright colour palette and also as a surface for Bella's silhouette during sections of shadow-play mime. Russian and French influences crop up in these mime-like scenes; Marc, Bella and the two musicians all wear painted mime-white faces, while the choreography combines mime with dance, evoking the slapstick French comedy of a silent film.
The success of this performance is owed partly to the beautifully composed score and quality of musical talent. Daisy Maywood's voice is particularly impressive, although the four-part acapella sections are the most poignant, even giving me goosebumps on occasion. Original music from composer and Music Director Ian Ross blends seamlessly with the narrative. From Russian love songs to Yiddish lullabies, the eclectic music is the play's driving force.
The Flying Lovers of Vitebsk is a heartfelt celebration of the endurance of art and love through the darkest times of persecution and war. A mixture of song, memory and movement, this performance of playful intimacy is theatre at its most expressive and poetic.
Reviewer: Eve Ryan
Reviewed: 4th April 2018
North West End Rating: ★★★★★