'Parade' is the dramatisation of the trial in 1913 in Atlanta, Georgia of Leo Frank, accused of raping and murdering thirteen-year-old Mary Phagan. Based on the book by Alfred Uhry and with music and lyrics by Jason Robert Brown, it isn't exactly what you might put on your list of "must see" musicals...but believe me, this version by Meighan Youth Theatre is most definitely a must see.
I have seen 'Parade' performed by two other companies: one professional, one amateur. Each version was spectacular and left me deeply moved and profoundly affected. However, without any disrespect to the other companies, the MYT production has surpassed both of them and I don't say that lightly.
The musical has themes running through it of racial and religious discrimination and also very prevalent is the theme of press sensationalisation and the willingness of people to exaggerate and lie to create the story that they want – I suppose you could say that it showcases the "fake news" of the time.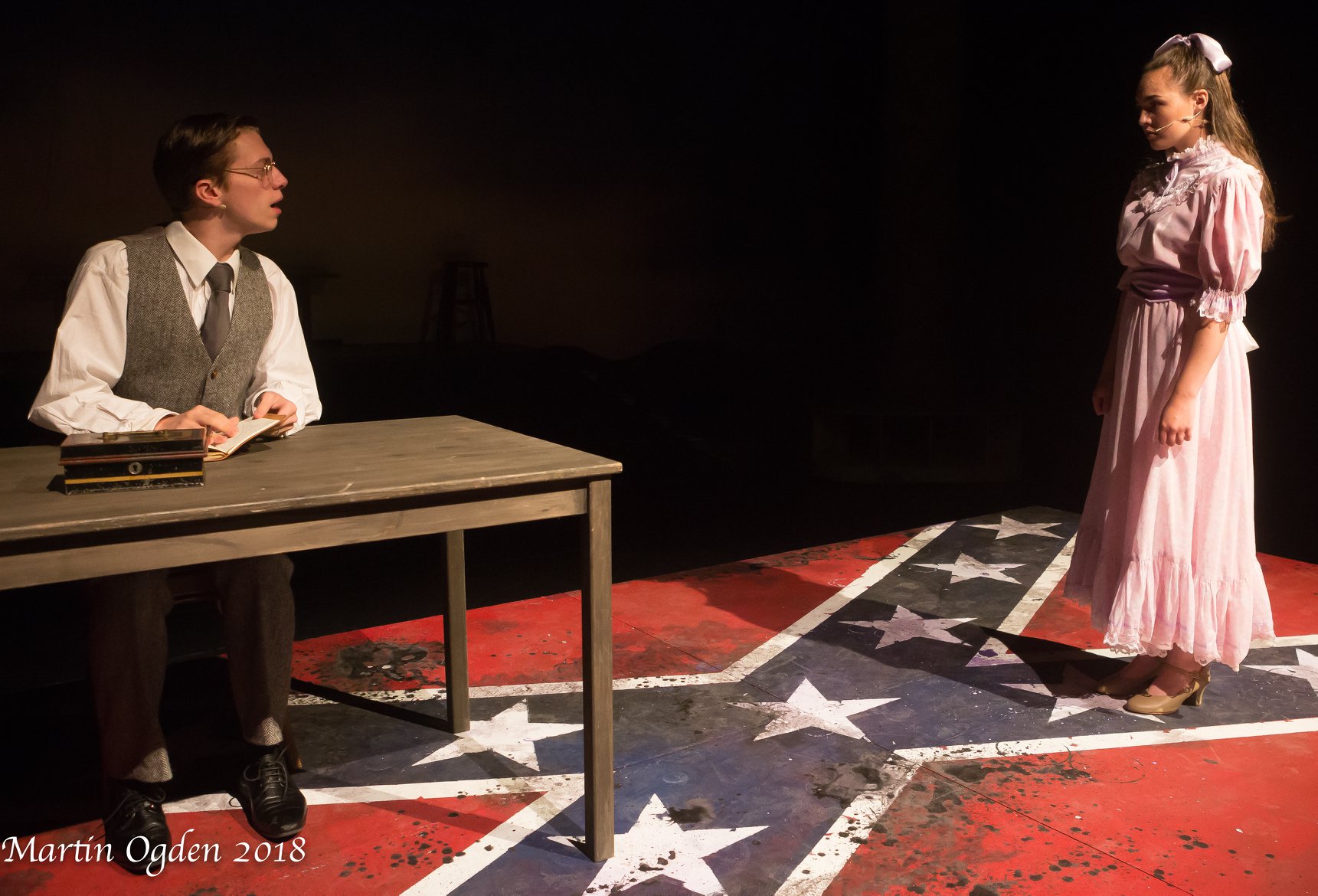 Leo Frank isn't a character who is easy to warm to except in the latter stages. Jack Gibson gives a very strong performance and does manage to engender audience empathy. He portrays Leo's feelings so well, ranging from his wide-eyed loathing of the community he finds himself in, to naked fear and hysterical denial. Jack showcases all these emotions incredibly. One of my favourite numbers is "Factory Girls/Come Up To My Office" in which we see the Leo which his accusers are describing. Jack switches into this version of Leo slickly and fabulously, it was actually quite disturbing to see him being so sleazy and lascivious with the factory girls. I also loved that when there was a spark of hope for him, his energy bubbled up and he became more of a sympathetic character. Hats off to you, Jack, this is such a challenging role and you did Leo proud.
Leo's wife, Lucille, is played by Tara Kitson whose portrayal of this strong and dignified woman, fighting for her husband's life, is quite magnificent. She is calming and sensible, while remaining utterly devoted to saving Leo and fighting for him all the way. Their joint performance of "All The Wasted Time" was quite heart-breaking and saturated with tangible emotion and real tenderness. I found it very moving indeed.
The character of Mary Phagan doesn't actually feature very much but Annie Welsh played her as a confident teenager with just a touch of cheekiness and I loved "The Picture Show" sung by her and Frankie (Lucca Chadwick) which was amusing and entertaining and just enough to introduce Mary's character to us. Speaking of Frankie, Lucca gave a wonderful performance as this angry young man who plays such a large part in Leo's fate. He also opened the show, playing the part of the confederate soldier. This is a lot of responsibility and Lucca was certainly up to the task.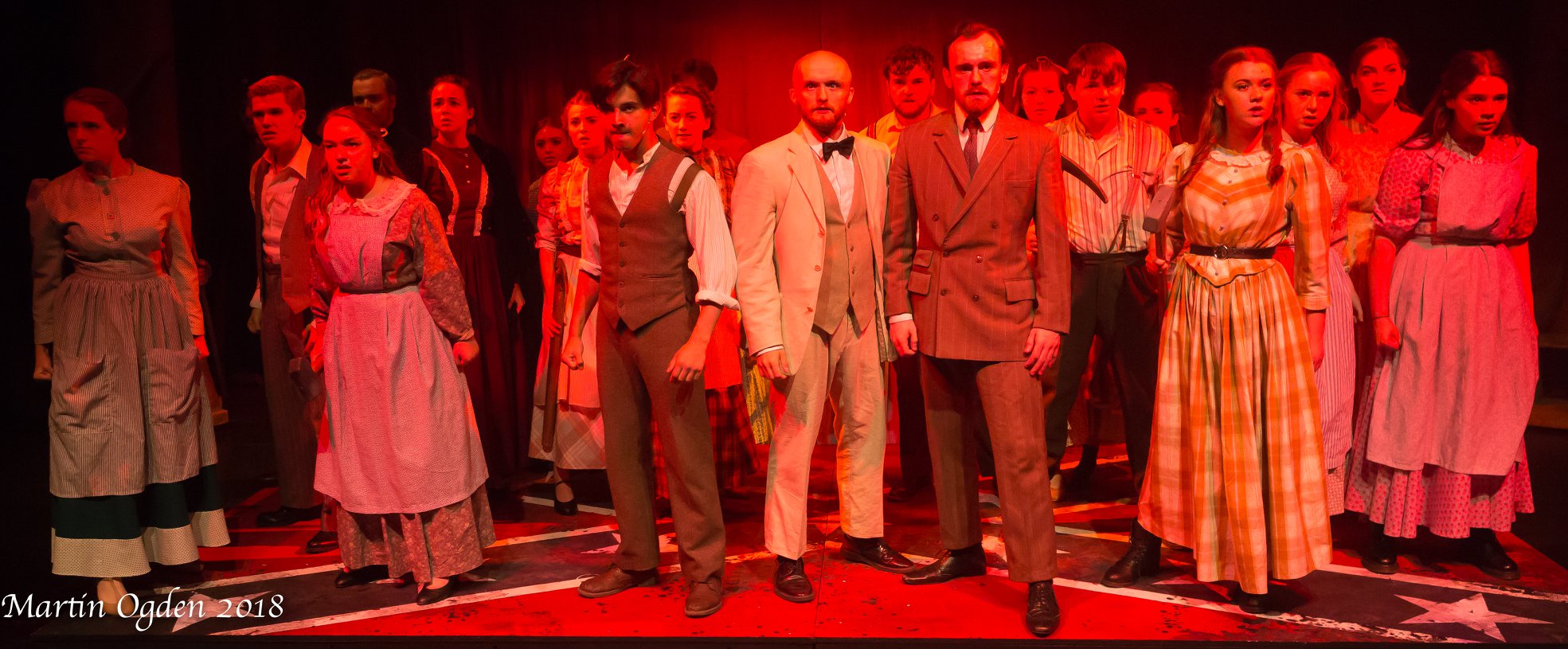 There were also standout performances by Chris Wagstaff as Tom Watson, Rhys Nuttall as Hugh Dorsey, Emmanuel Moro playing multiple parts as Newt/Jim/Riley and David Beeby as Governor Slaton. I was completely mesmerised watching all of them. Chris Wagstaff has intensity written all the way through him and the role of Tom Watson could have been written for him. The brooding, simmering rage and violent hatred just poured out him and it was quite unnerving at times, but I loved it. Rhys Nuttall was utterly convincing as the aggressively challenging Hugh Dorsey and he and Chris Wagstaff together in these roles are a dream team. Governor Slaton is a slimy politician in every sense, wanting to do what is best for him, not what is necessarily right and David Beeby really captured this expertly. I liked the way his character changed when he decided to do the right thing and it was great to see David step out of his usual comedic characters to take on this heavyweight role.
I turn now to Emmanuel Moro...and THAT voice of his. It is rich and soulful, and I was transfixed every time he sang. What a very talented performer. He absolutely shines in "I Am Trying To Remember" and as for the chain gang scene...just...WOW.
I must mention Mason Thomas who plays newspaper journalist, Britt Craig. He provides a little bit of light relief with his drunken performance of "Big News" which was so well done, I did question what was actually in his hip flask!
The emotions of all the characters have really been exploited to the absolute maximum. There is a very raw feel to the anger and grief which is here in absolute bucketloads and is visceral at times.
It is difficult to pick out highlights because the whole show is one highlight after another. The standard of acting and professionalism has astounded me and left me struggling to get across just how mind-blowingly amazing this production is. I want to praise each and every person because they ALL deserve it. The ensemble numbers are outstanding: particularly powerful is "Where Will You Stand When The Flood Comes" - it was absolutely electric.
Congratulations must also go to the band who did a superb job at creating atmosphere and tension with the spine-tingling soundtrack.
Joseph Meighan (Director) has made some phenomenal directorial decisions with this production and is to be heartily congratulated. The story was told much better than I have seen it done before and many things made more sense and were explained with a lot more clarity.
There are no spoilers here, so I won't reveal details about the ending and the way it is done, except to say that the final tableau is an image that will stay with me for a very long time. Joseph Meighan has created something wonderful and as a whole, this is a haunting, atmospheric and unforgettable production.
Without a doubt, this is MYT's finest hour.
Reviewer: Nicky Lambert
Reviewed: 1st August 2018
North West End Rating: ★★★★★ Confederate Stars