This is the first time a play has been performed in a corporate suite at the home ground of Bolton Wanderers but then this is about one of their bygone team's march to the first ever Wembley FA Cup final in 1923.
Lifelong Wanderers fans Les Smith and Martin Thomasson have crafted a love letter to their club, but it is also a warm, witty meditation on how the glorious game shapes lives and communities then and now.
In the same way Dave Peace used the fixture list of his beloved Liverpool to shape his narrative in Red or Dead, Smith and Thompson use Bolton's FA Cup ties to anchor their tale of a bunch of neighbours who define themselves through a shared love of the game.
And Did These Feet was originally created to mark Bolton Octagon's 40th birthday, but as the theatre is closed for a year-long refurb they are on a tour of offbeat venues around town, so decided to revive it in this most unlikely theatre overlooking the modern day theatre of dreams.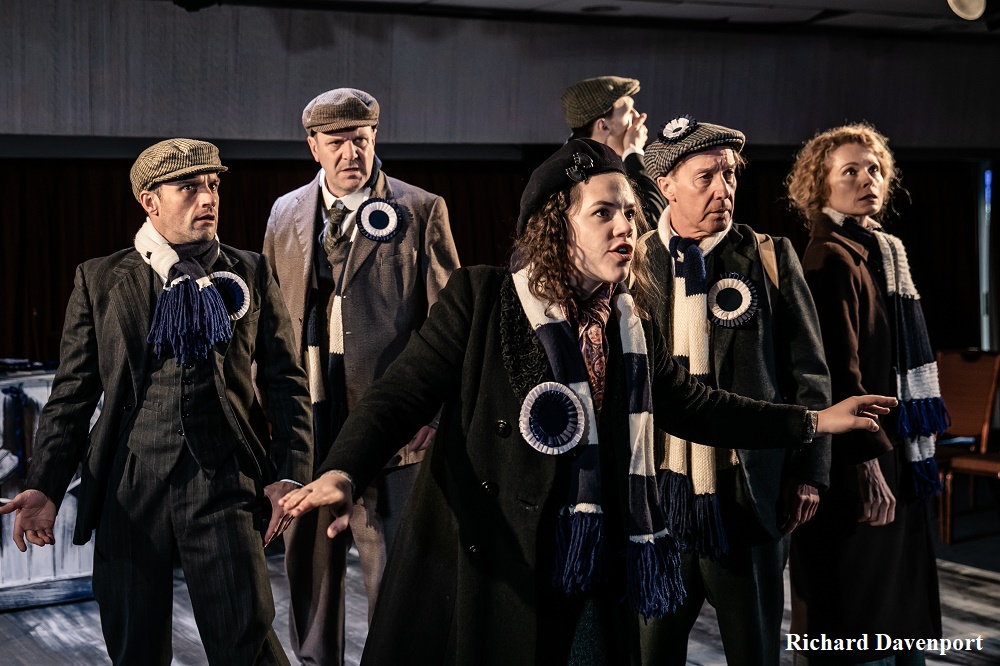 Times are hard as two brothers try to make ends meet in the face of short time at t'mill, a grieving couple being pulled apart by their son's death on the killing field of Ypres and a local newsagent has pledged to walk the 200 miles to Wembley if the Trotters make the final.
Initially this seems like a very Northern piece, and it is even more parochial than that because this play is utterly and defiantly Boltonian, but such is the power of football that even if you were a fan from Brazil you would understand it.
It might be a bit of a spoiler to say Bolton did make the final, where 200000 people crammed into the ground, but did they win the famous trophy? The journey to that moment is wonderfully bittersweet as the writers don't ignore the grim lives of their working class characters making them fully rounded human beings, albeit obsessed with the round ball.
Panto veteran Martin Barrass is back for his third go as Bob the wandering newsagent, and he brings all his comedic gifts to some well-crafted gags. Shameless star Ciaran Griffiths works well with Helen O'Hara as the young couple due to get married on the exact day and time of the final.
Regular Octagon director David Thacker allows the odd moment of sentimentality because that is the nature of football fans, but focuses the mind through the sheer power of Colin Connor and Barbara Drennan's parents who still mourning years after the Armistice. Askew's primal cries of rage at the senseless death of his son who is a ghostly presence onstage is matched blow for blow by Drennan's quiet agony.
Football is built on folklore, so it is appropriate that as tribute is played to a great team from another age we can stare out over the pitch where dreams and legends are being created for a new generation of football fanatics.
And Did These Feet is on until Thursday 1st November. To book www.boltonoctagon.co.uk or 01204 520661
Reviewer: Paul Clarke
Reviewed: 23rd October 2018
North West End Rating: ★★★★