For the first time, Ian Rankin has bought his Edinburgh detective to the stage. Rebus first made his appearance in print in 1987 and the winning formula has seen 19 books published with a 20th on the way. Rebus: Long Shadows was written for the stage with Ian Rankin using playwright Rona Munro to help as the Theatre is unfamiliar territory for the novelist.
Rebus (Charles Lawson) has now retired from the Force, living a solitary life and on the wagon, he meets by chance a girl called Heather (Eleanor House). This coincidental meeting brings back memories of a case that was never solved, the murder of Maggie Towler (Heather's mother) from 17 years earlier. In true Rebus fashion, he hits the bottle again, the memory of his failings torturing him and forcing him into action. His former Police colleague DI Siobhan Clarke (Cathy Tyson) calls on him the next day with questions about another old murder case from 1992, where a girl called Angela (Dani Heron) was killed. Rebus (Lawson) has not been called to appear in court and there are rumours that evidence in the case has been tampered with. She finds him hung over and searching through old files frantically trying to find details of Maggie's case, as his conscience pricks him.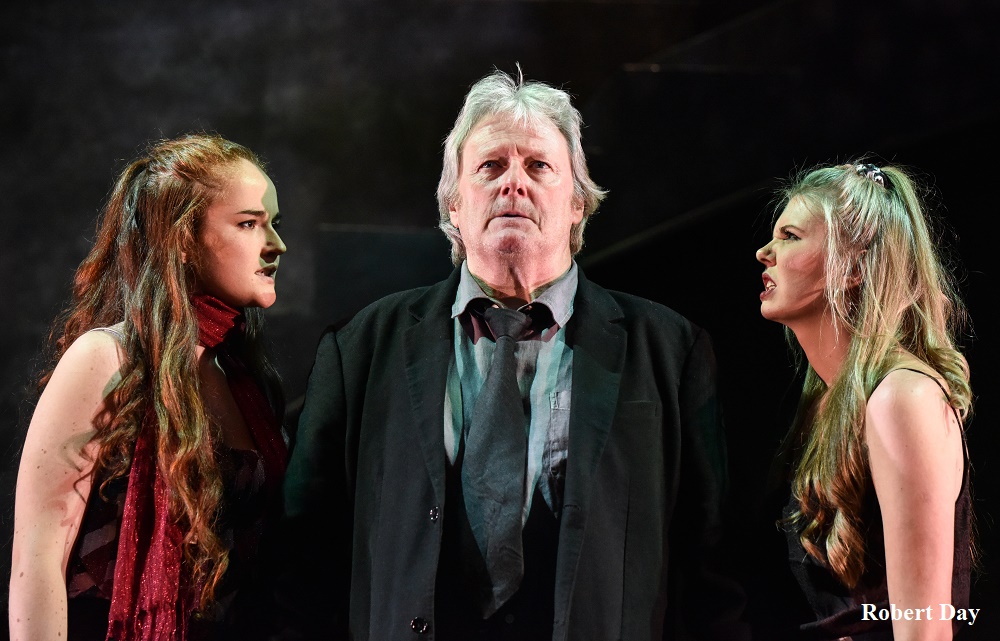 The play sees Rebus (Lawson) in his mid 60's in declining health using his detective skills to close the door on the murder of Maggie Towler (House) in 2001 whilst his ex-colleague DI Clarke (Tyson) tries to ensure the conviction of Mordaunt (Neil McKinven) who is due in court.
'Throwing the cat amongst the pigeons' is understating how Rebus (Lawson) investigates, he stirs things up and after a warning by DI Clarke (Tyson) not to get in touch with his old nemesis Cafferty (John Stahl), he wastes no time in doing exactly that!
The scene is set for old grudges and past mistakes to raise their head again and Ian Rankin's stage play is expertly crafted to offer us a Rebus (Lawson) that is both grizzly and worn down by life, whilst also being able to raise a chuckle from the audience.
Charles Lawson is an impressive Rebus, he portrays the frustration of the detective whilst showing us his human side with his empathy for Heather. Credit can also be given to John Stahl who is menacing but finally vulnerable as 'Big Ger' Cafferty and Cathy Tyson as DI Siobhan Clarke who is convincing as the Police Officer trying to bring another villain to justice.
The stage design seems simple but as we move through the play we can see how clever the designers have been. Each scene sees the set adapt easily to give the impression of different locations. The biggest round of applause goes to the lighting designers who have given this production its ability to tell the haunting story of the victims. Showing the inventiveness of the Director using light to highlight the plight of the murder victims and making Rebus' torment clear.
On the downside, the projection of the actors' voices meant speech was sometimes unclear which could mean missing vital pieces of information. This probably needs addressing for future performances.
This play will appeal to die hard Rebus fans but is equally well suited to those new to Rebus. An accurate portrayal of this life weary detective!
Tickets available from https://www.atgtickets.com/shows/rebus-long-shadows/opera-house-manchester/ The play runs from 30th October – 3rd November 2018
Reviewer: Caroline Worswick
Reviewed: 30th October 2018
North West End Rating: ★★★★