Imagine living in a place where dancing is illegal! Poor Reverend Moore has enforced a law that prohibits people from dancing as he has suffered his own personal tragedy.
Footloose is a classic movie from the 1980s which has been adapted for stage as musical. By the way, here's a bit of trivia for you, the soundtrack for the movie has sold over nine million copies! The cast dance, act and sing their way through the two hour show, with more than just a few bum notes making an appearance.
The story focuses on a teenager from Chicago who arrives in the small town of Bomont where dancing is banned. Ren played by Aidan Burgess is on a mission to show the town what happiness dancing can bring, and also manages to fall in love with the Reverend's daughter Ariel on the way. He also manages to strike up a friendship with local Willard (who in fact is the best character in this production), and even manages to teach him some rhythm and how to dance.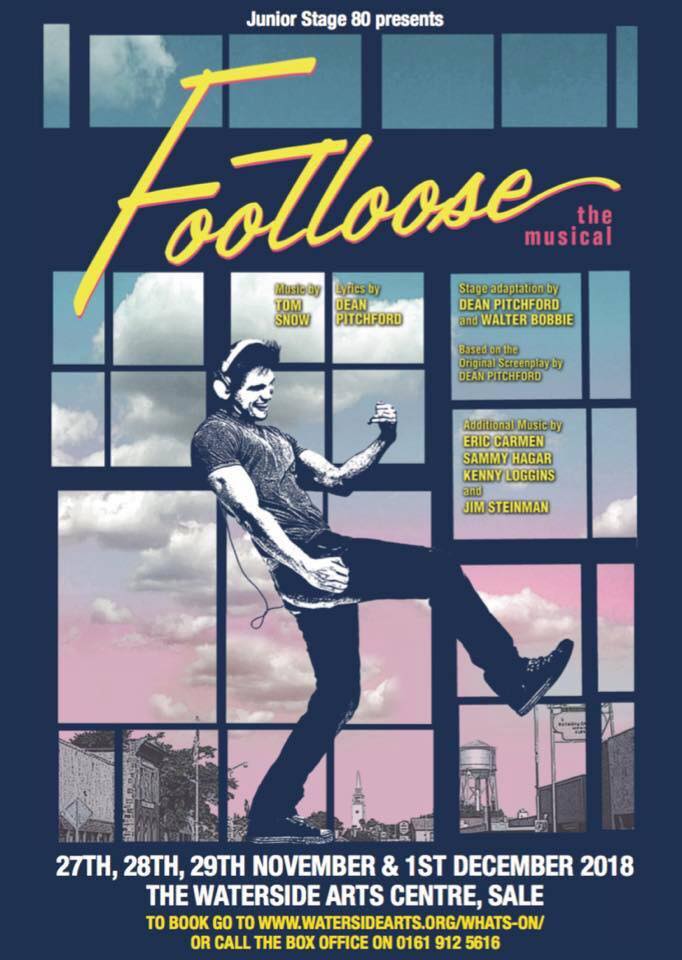 Brought to Sale Waterside by Junior Stage 80, this is a youthful take on the musical, with the majority of the cast being under the age of 18.
Some of the cast with small roles managed to trip over their lines, which is fine, it's live theatre it happens and it happens to people in real life. However, it's how you deal with it that makes the difference. A golden rule of live theatre is never to let the audience know when you've slipped up - they don't know the script. I think some of the cast were suffering from nerves, which is perfectly natural, but they need to be controlled or else they will get the better of you.
The girls did a nice job on the opening verses of Holding Out for a Hero, however when it got to the middle eight it went out of tune. I am questioning whether the cast had trouble hearing the music at times because everyone had a good voice, it's just unfortunate that some of them went into the wrong key at the wrong time. It's the songs that make this show, so it's a bit of a let-down when they're not performed as well as they could have been.
Given the cast was so large and many of them being children, I can imagine it was quite difficult to choreograph this production. It was quite basic in places.
There was quite a large set for a small venue. There was a railway bridge, school lockers and Moore's home to name a few. There were quite a few people moving the set between scenes and at times it looked a bit messy.
Given that this is an amateur local community production I am being more generous with my critique. It is difficult to review this type of theatre because people are doing it to enjoy themselves and the quality is never usually very high.
Reviewer: Brian Madden
Reviewed: 27th November 2018
North West End Rating: ★★★