Wise Children is a production based on the book of the same name by Angela Carter. Set at 49 Bard Road in Brixton, London it tells the story of two elderly twins (Nora and Dora Chance) from 'the wrong side of the tracks,' as they saucily tell us.
Adapted for the theatre by Emma Rice it's an Old Vic and Wise Children production. Emma has started a performing arts company with the same name. Having read the book it's interesting to see how it will be brought to life on the stage.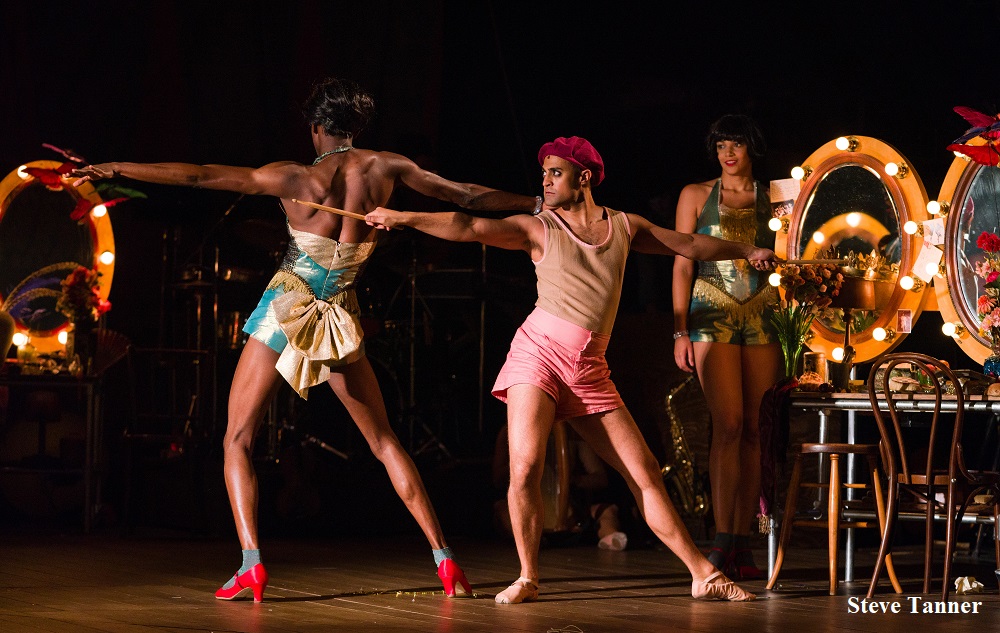 Opening the show the audience are greeted by the most utterly faaabulous set. Created by Vicki Mortimer. There's a caravan and its shabby chic and then some, candelabras, flowers adorn every nook and cranny, and mirrored dressing tables. It's really impressive and imaginative. It definitely feels like a vaudeville circus with lithe performers in hot pants limbering up and prancing around. Every detail has been meticulously designed making it a visual treat. There are butterflies (not real) fluttering around and Mirabelle Gremaud (young Nora) has a voice to die for, so distinct. I had not expected singing, so this was a pleasant surprise. So was the puppetry which worked well, it might sound overloaded but it all worked together spectacularly.
Gareth Snook was sublime as older Dora Chance. What a brilliant performance, he was funny and bawdy in equal measures. Swanking around as the irrepressible Dora in a decadent kimono Snook was the natural entertainer. From reading the book this is exactly how you would imagine an aging entertainer who's lived a very full life. The whole cast were beyond excellent. Katy Owen played Grandma Chance another larger than life character complete with a giant pink bouffant. She played the role so well with a raspy voice and hilarious body suit.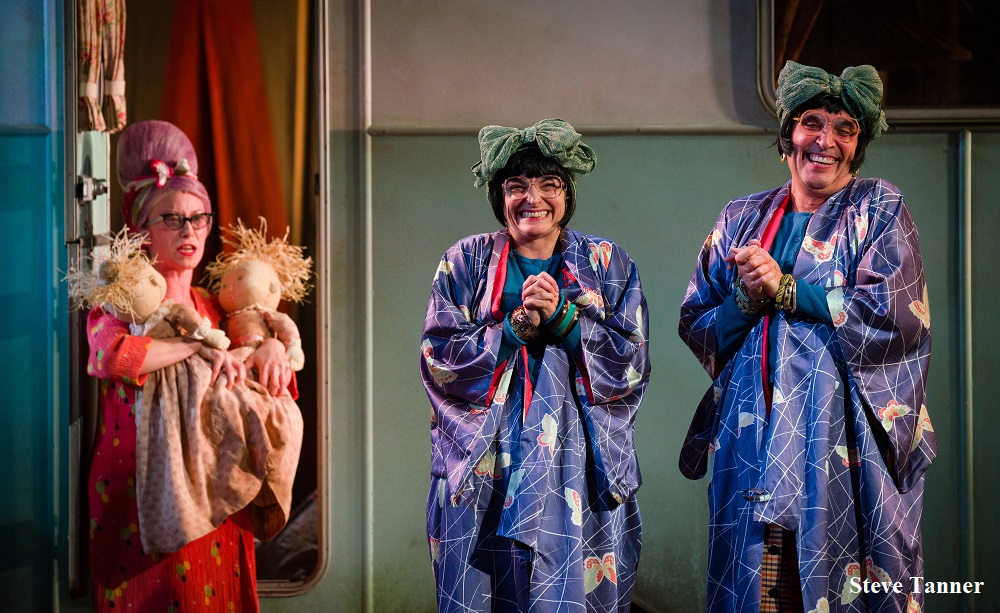 Omari Douglas played Showgirl Nora with a flamboyant and fabulous panache. His timing and every expression were sensational. The cast all excelled in their characterisation.
Paul Hunter played Melchior Hazard and Gorgeous George (comedian); it was so convincing that you felt as if you were in an old time music hall as he rolled out his jokes. Melchoir Hazard is the twins philandering father who has a brother Peregrine. The play develops the tense relationship between the pair who often hilariously come to blows, they real parodies of the lovey actors that existed in the day.
The whole performance rocked, it had every ingredient, and every moment was dazzling. There were some tender heart breaking moments too as we see lovers come and go and shared. Who would have thought Brixton was once such a mecca for artists, comedians, acrobats, actors and entertainers? It shows the sense of community around then where people collected family in the form of other waifs and strays.
A lovely moment where the twins and cast get ready for a party and the whole cast rock out with perfect choreography to Electric Avenue by Eddy Grant.
Reviewer: Rachel Foster
Reviewed: 27th February 2019
North West End Rating: ★★★★★