'Hello, Dolly!' is a comedy musical, with music and lyrics by the great Jerry Herman. The story follows Dolly Gallagher Levi, a self-confessed "meddler", 'some people paint, some sew… I meddle', as she sets her efforts to find a match for the miserly, well-known half-a-millionaire Horace Vandergelder. We're taken on a whirlwind adventure to Yonkers, New York where Dolly manages to match-make a few other couples along the way as only Dolly could do. Ashton-Under-Lyne Operatic Society (AOS) have brought the musical to life at the Oldham Coliseum featuring a fantastic cast.
The stunning set sets the scene immediately, with impressive backdrops and working shops complete even with a hatch for Vandergelder's clerks to come up through, and complemented by Aaron Smith's lighting design.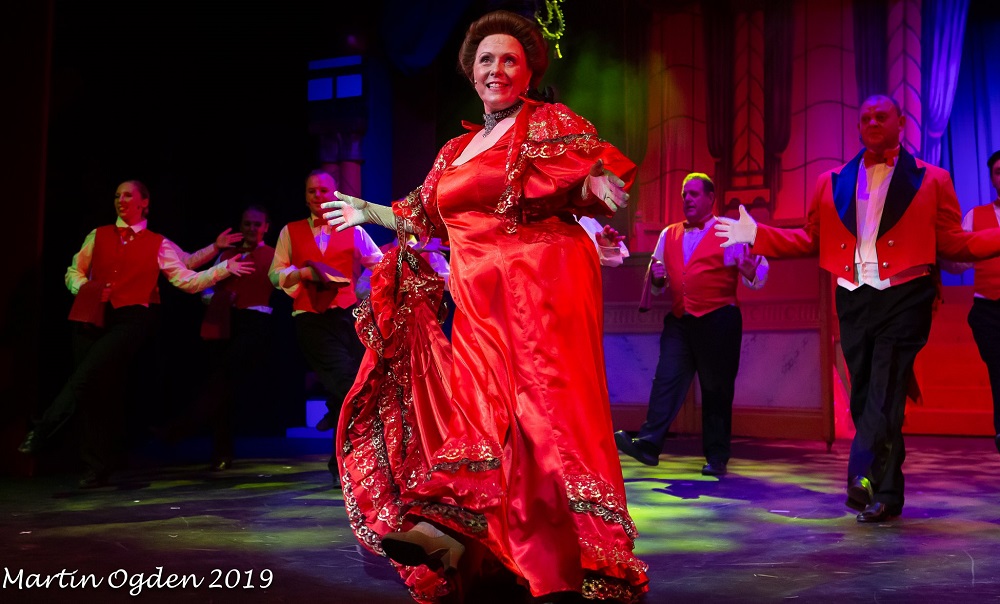 AOS' production of 'Hello, Dolly!' was performed by a large ensemble and a range of ages; full of life and suited and booted in fabulous costumes. The company is led by capably by Vicky Clarkson as Dolly, whose stage presence and poise never wavers throughout. The numbers of the show in particular were staged brilliantly, with choreography by Carolynne Crowder and Kerry Buckley. All the ensemble worked together skilfully and were a joy to watch, however a special mention must be made of one of the older boys in the ensemble (from the programme I believe this is Kieran Lever) whose exceptional dancing didn't go unnoticed by the audience as he stood out in every number he was in.
Vandergelder's chief clerk Cornelius Hackl and Cornelius' assistant Barnaby Tucker were portrayed by Ben Drane and Steven Cheeseman respectively, who worked well together and provided a truly comical partnership. Irene Molloy, the hat shop proprietor, and her excitable young assistant Minnie Fay, played by Kelly Harrington and Elizabeth Parkin, were a breath of fresh air and gave assured performances. The four characters together had great chemistry, and had the audience on side rooting for them.
Comedic laugh-out-loud performances were supplied in abundance by Jessica Morris as Vandergelder's heartbroken niece Emmengarde, and Scott Lees as head waiter Rudolph.
The brilliant live band, directed by Jeremy Slieth, had an assured and balanced sound and didn't miss a beat. They provided a confident backing for the cast who sang well throughout the musical and performed harmonies with ease.
Some stand out numbers were: It Takes A Woman sang by Peter Wakefield as Vandergelder, Put On Your Sunday Clothes showcasing Drane and Cheeseman as Cornelius and Barnaby, and featuring the whole ensemble, and the hilarious Motherhood March by Dolly (Clarkson), Irene (Harrington) and Minnie (Parkin). The staging and choreography of these numbers were incredibly inventive and entertaining, however the high standard never faltered throughout the whole show. Of course the title song, Hello Dolly, does not disappoint. Clarkson's Dolly shines and oozes charisma in this number, mirrored by the all-singing-all dancing waiters at the Harmonia Gardens who were a particular highlight of the show.
The band also provided musical interludes between scene changes that helped create smooth transitions. The only time this effect was missed was just before the bows when there was a few moments silence. However this is only a small quibble in an otherwise brilliantly executed musical.
A charming evening full of laughs. Get a ticket while you still can!
Reviewer: Becky Mottershead
Reviewed: 27th March 2019
North West End Rating: ★★★★