There are some brand new members of Hyde Musical Society taking to the stage this week who may seem a little familiar. Princeton, Kate Monster, Trekkie Monster and a whole host of furry friends opened in Avenue Q tonight and you don't want to miss this one!
Following on from the huge success of Bonnie & Clyde in 2018 this vibrant society have brought something completely different for the people of Hyde to enjoy. Directed by Paul Wilson, Avenue Q tells the story of Princeton (Blair Smith) who arrives looking for a place to rent in New York and ultimately falls in love with Kate Monster (Helena Frances). After a falling out Kate's love for him is tested as he becomes involved with another woman, Lucy the Slut (Victoria Geary). Will true love triumph in the end?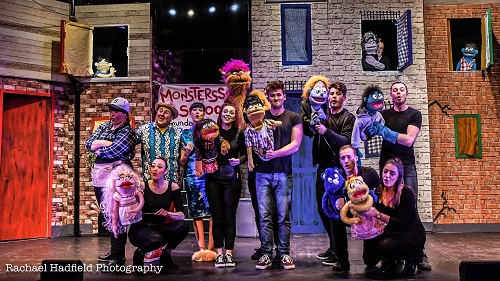 What struck me as soon as I entered the theatre tonight was the set, a street scene with a number of houses dissected by an alley way which gave a feel of the downtrodden New York suburbs. As the show progressed the set showed its full worth as it transformed to reveal various interior settings. Huge kudos to designers Andy Greenwood and Gareth Cox for this.
Smith and Frances led this superb cast with accomplished performances. Frances' singing "There's a Fine Fine Line" at the end of act 1 was one of a number of show stopping numbers.
This show is not just about the two central characters however. Kit Phillips as Rod and Joe Gallogly as Nicky provided a touching partnership whilst Alison Ruck and Michael Baines caused chaos as the bad idea bears, my two personal favourite roles in this show.
Stephanie Mead took on the role of Gary Coleman proving theatre can make you believe. Alex Re gave an impassioned performance as Trekkie Monster delivering probably the show's most famous song as well as I have ever seen it before. The voice, the mannerisms and the gusto in abundance. Gavin Chadwick played the role of brow beaten partner Brian, later husband to Christmas Eve perfectly.
That brings me onto, for me, the star of the show. Bethany Heywood as Christmas Eve stole the show in so many ways tonight. To play and sing with a Japanese accent cannot be easy, but Heywood rose to the challenge and excelled. Her solo "The More You Ruv Someone" nearly brought the house down.
The whole cast was backed by a superb band under the baton of Simon Pickup who sounded sublime throughout.
Avenue Q is a fun, if a little naughty at times romp that cannot fail to send you home with a smile on your face. I tried hard to find fault with it and bar a couple of minor things only someone who has worked in theatre would pick up on I couldn't spot anything an audience would have cause to criticise.
One last thing. Make sure you have some spare change in your pocket. Not wanting to give away any plot, but if any furry monster should approach you during the show I urge you to hand over what you've got!!!!
If the professional cast of Avenue Q currently on a UK tour fancy a night off, I can give you the number of Hyde Musical Society!
Reviewer: Paul Downham
Reviewed: 2nd April 2019
North West End Rating: ★★★★★