I must admit to walking into the Hope Mill Theatre not sure of what to expect from this play. After a warm welcome I read a very well put together programme which also contained information on the gay scene in Manchester, HIV and its drug treatment. I should explain that I am a straight woman with very little contact with the gay community except through Theatre.
The play was written by Adam Zane due to his anger at the NHS for not fully funding PrEP (pre-exposure Prophylaxis). This important drug has been proven to stop people contracting HIV. During his research into PrEP it led him to look at the issues facing the LGBT+ community.
'Jock Night' takes place over a series of four nights and is set in 2018 in Manchester. JOCK I should explain is a type of Club night in Manchester's Gay scene which requires participants to wear any form of underwear and was designed to promote a sense of community with a sense of inclusion and lots of dancing.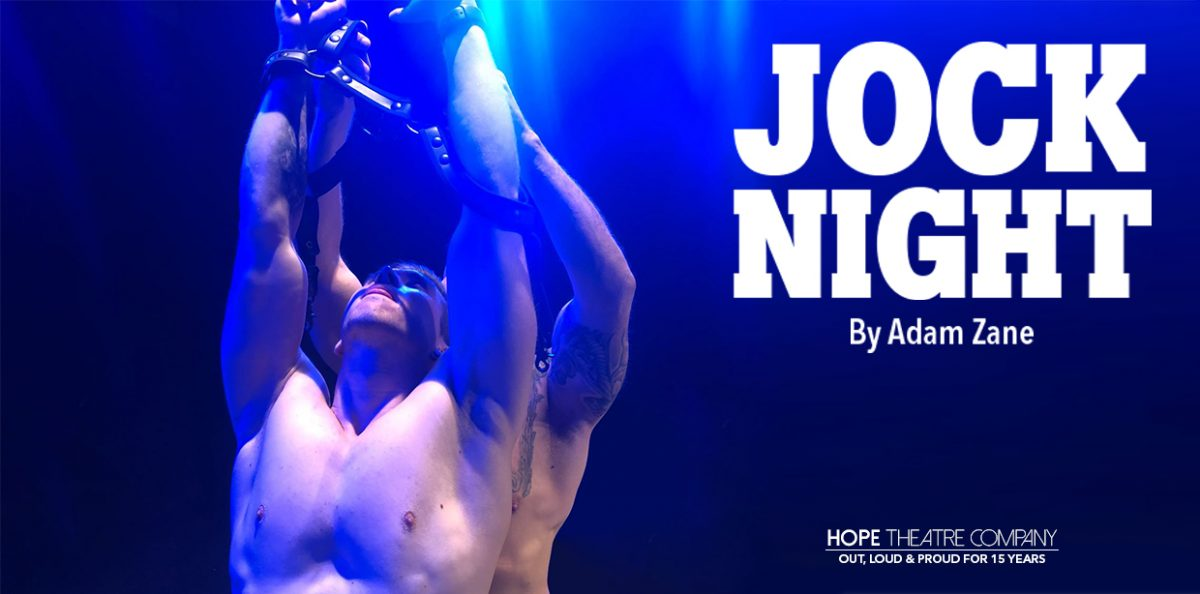 The characters Ben (Daddy) – Adam Waddington, Kam – Sam Goodchild, Russ – Sam Blackhurst, Simon (Hunter) – Daniel Waterhouse and AJ – Levi Payne, all at one point or another attend Jock night.
Through the play we learn that these nights are fuelled by drugs (M-CAT – synthetic stimulant, G – a relaxant and Tina or Crystal Meth – a Class A drug) and that Chemsex is a big part of their lives. The script provides good characterisation so as time goes on we feel that we have got to know the guys and their individual problems.
The play is well written and extremely funny and caters for both younger and older adults, although you must be prepared to go in with an open mind as there are a lot of scenes of a sexual nature which may not suit the less broadminded!
The atmosphere was created (apart from Adam's excellent script), using a disco ball, lights (Alice Longson) and excellently thought out music and even though the set (Dick Longdin and Carl Heston) was simple, it allowed the space the actors needed to be all on set at the same time without it ever seeming crowded. Overall the play is delivered well, and the acting generally was at a good level although there were a couple occasions where lines were fudged a little or I felt that delivery was a bit lazy.
It is always a good idea to look at the audience's reaction which was one of laughter and a sense of greater understanding. I overheard several conversations on the way home talking about how much they had enjoyed the play!
Lesbian, Gay, Bi, Trans or Straight +, should see this play! It's fabulous fun whilst sending an important message.
The play is running at the Hope Mill Theatre, Manchester from 8th to 13th April 2019 and you can buy tickets here https://hopemilltheatre.co.uk/events/jock-night/
Reviewer: Caroline Worswick
Reviewed: 9th April 2019
North West End Rating: ★★★★