Lyceum Theatre Oldham are showcasing the world premiere of a new play by Colin Smith this week, simply titled Play. The play within a play (already proving the title is apt) sees playwright Brian Simpson (Colin Smith) panic-writing a new plot when his original script A Wing and a Prayer goes missing on opening night. The audience are already in attendance and Brian is determined for them to have a good time, but is he really writing the plot, or are things happening outside of his control as the story seems to take on a life of its own? The arrival of Inspector Digby (Jon Cockcroft) sets the wheels of the plot in motion, and what follows is a hilarious adventure with characters and references from every form of theatre you can think of.
The tone of the evening is set from the very start when Brian (Smith) breaks the fourth wall and directly addresses the audience, encouraging them to respond and letting them know that this is an interactive show. All the characters are aware of the fictional world they are existing in, and can physically see the audience which leads to some comedy from Brian's wife Emily (Liz Travis) as she does a double take and wonders 'who are all these people in my living room'.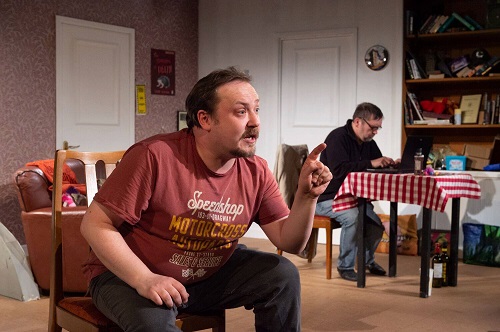 Comedy is the central element of this production; everything that could possibly go wrong does go wrong, and nothing is taken too seriously. For example, if a lighting cue misses the spot where the performer is stood then they shuffle across the stage to be stood in the right place for the lighting. Whether a staged joke or accidental, it got a big laugh from the audience.
As mentioned earlier, as well as comedy the play sees us passing through many different genres: detective thriller, musical theatre, panto, farce, and gangster…to name a few. Complete with these genres come some larger-than-life characters; Inspector Digby (Cockcroft), mother-in-law Peggy (Sue Garlick), gangster duo Hank and Mikey (Nathan Simpson and Peter Dignan respectively), a panto Dame (Mike Lawlor) and more. The actors give assured and entertaining performances throughout the evening, working well as individuals and even more so when worlds collide and the characters meet. Each joke gets a bigger laugh than the last and leaves the audience crying with laughter.
The bizarre turn of events is overseen by Stage Manager Bill (Ian Crickett), who comes on stage with interjections throughout to see what on earth Brian is doing, and to remind him 'we don't do X at the Lyceum' (with a different no-no each time).
Play was written specifically to celebrate The Lyceum's 90th anniversary, so of course during this colourful and chaotic look at theatre there were references to past Lyceum productions, and perhaps some in-jokes for Lyceum regulars. However, this was not exclusive and did not deter other theatre-goers from enjoying the evening.
A joyous evening of fun and laughter - thoroughly recommended!
Reviewer: Becky Mottershead
Reviewed: 9th April 2019
North West End Rating: ★★★★