The George Lawton Hall in Mossley plays host this week to something completely different as The Full Monty musical rolls into town! Mossley Amateur Operatic & Dramatic Society have once again proved they are one of the best in the business with this fun and touching musical.
This version of The Full Monty is the American version, so no Sheffield references, however it does still revolve around the closure of a steel works and the hardships both financial and personal that redundancy brings.
Six unemployed steelworkers, low on both cash and prospects, decide to present a strip act at a local club after seeing their wives' enthusiasm for a touring company of Chippendales.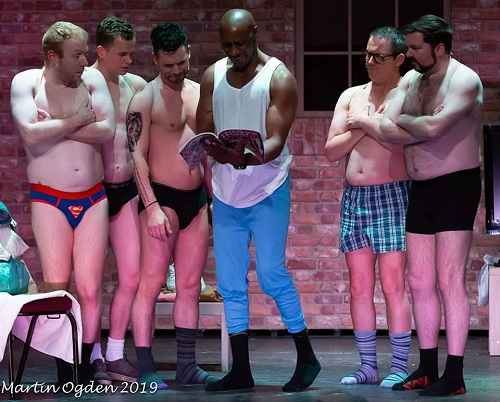 The leader of the group is Jerry Lukowski (Sam Maurice) whose relationship with his son, Nathan's (Max Fletcher) mother Pam (Claire Egerton) has broken down. Both Jerry and best friend Dave Bukatinsky (Ian Bennett) sneak into a "women only" club night by climbing through the gent's toilet window to find out what exactly the appeal of The Chippendales is. Whilst hiding in the toilets a group of ladies decide it would be quicker to use the gent's rather than queue for the ladies and Jerry and Dave are forced to hide in a cubicle and hear some home truths they didn't expect to. Once the coast is clear the men leave the club and Jerry hatches a plan to make a fortune to pay for his child support obligations by replicating the Chippendales show.
In order to recruit a 'troupe' they turn to friends and random strangers they stumble upon either by audition or chance meetings. Eventually they manage to convince a suicidal Malcolm MacGregor (Ben Drane) and former foreman Harold Nichols (Rob Haslem) who becomes the troupe's choreographer. Black man Horse (Nigel Dias) and youthful and Ethan Girard (Liam Bunka) complete the unlikely heartthrob line-up.
All six men, I have to say take bravery on stage to a new level as they go on their journey of discovery. Maurice as Jerry is as ever a strong and confident leading man but it is Drane as Malcolm who steals the show for me. His awkwardness in everything he does is hilarious, even the movement away from the main action is thoroughly thought out to get the most out of the character. Bennett as Dave also shines gaining sympathy from the audience as he struggles with weight and confidence issues.
There is also great support from the ladies. Egerton as Jerry's wife Pam puts in a strong performance as does Emily Clarke as Vicki, Harold's wife from whom he keeps the secret of his redundancy. Katherine Farrow impresses as Jerry's latest younger girlfriend Estelle who does not get on with Pam at all. The star of the female cast however is Elaine Thompson as Jeannette Burmeister a 'been there and done that' piano player who has worked in showbiz for years. Thompson was comedy gold from the moment she walked on the stage.
Musically, there aren't any songs in the show that you would immediately recognise, nor sadly any you go home singing. Particular favourites for me though were "Big-Ass Rock" performed by Jerry, Dave and Malcolm and the beautiful "You Walk with Me" from Malcolm and Ethan. All were accompanied by a huge 12 piece orchestra under the experienced baton of Paul Firth.
One thing that always impresses in a Mossley show is the set, and tonight was no different. John Buckley's design transformed the George Lawton Hall stage into a myriad of different locations and nobody was more shocked than me when a full size car rolled onto the stage in act 1.
This show has a large cast and to name everyone would take too long, suffice to say each and every one gave their all throughout. I do have to mention young Max Fletcher as Nathan. This is a young man with a big future in theatre oozing confidence every time he took to the stage.
I won't give away the final scene, but there is a 'will they, won't they' twist. If you want to see if they really do the Full Monty the show continues at the George Lawton Hall, Mossley until Saturday and tickets can be found at https://maods.org/tickets/
Reviewer: Paul Downham
Reviewed: 15th April 2019
North West End Rating: ★★★★