Ghost the Musical is back in its spiritual home of Manchester this week and judging by tonight's ovation at the end of the show, the belief hasn't ebbed away one bit. This current production of Ghost has split its fans down the middle if you look at social media.
On one side you have those who saw the original big budget production and hate this new version, and on the other, you have those who have never seen the show before and love it.
The difference between the two productions is purely budget. The fact is, the original wasn't suited to touring efficiently or financially. A huge crew and long set up times meant at least 2 weeks were required in each venue and also limited the number of venues it could visit due to its size and complexity. What Bill Kenwright and director Bob Tomson have done is to reimagine the show and redesigned it in order to not only tour efficiently, but to be able to visit smaller venues and reach a greater audience. Having seen both productions it is unfair to compare the two so this review is based solely on tonight's performance.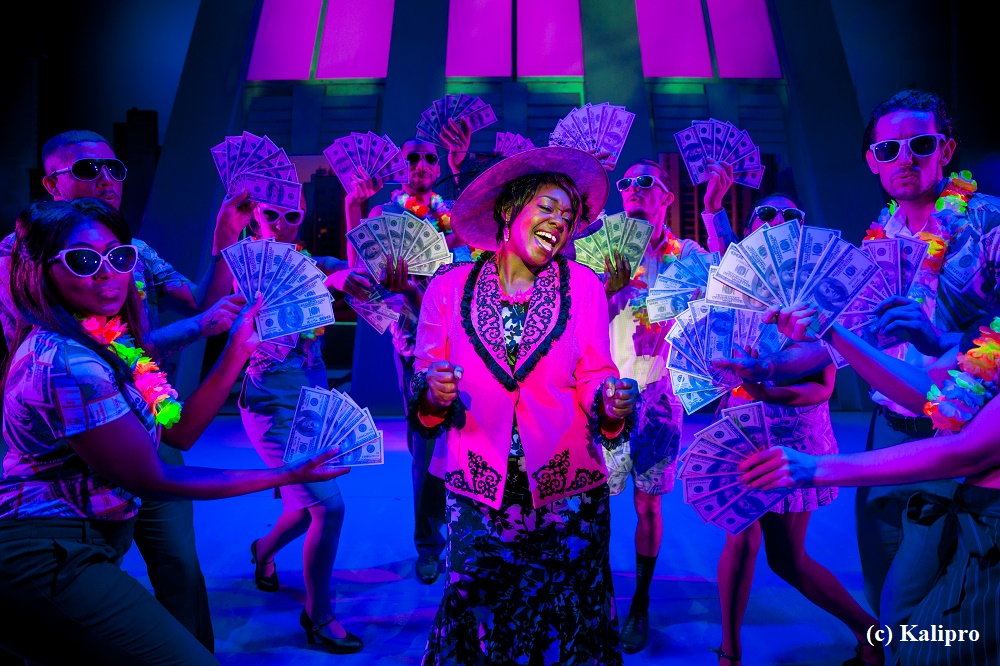 One thing that hasn't changed is the story. Sam Wheat (Niall Sheehy) is mugged on his way home from a gallery opening where his girlfriend Molly (Rebekah Lowings) had a piece showing. The mugging goes wrong and Sam is killed in cold blood and left in the gutter. But his spirit becomes trapped between worlds and discovers that the mugging wasn't all it seemed to be and that Molly is in danger.
Through a chance meeting with phoney psychic Oda Mae Brown (Jacqui Dubois) Sam discovers he can communicate with the world through her and enlists her to help him protect Molly. But things do not go exactly to plan and as every minute passes the danger increases.
Sheehy and Lowings as Sam and Molly are superbly cast and you believe in their love from the first scene as they move into their new apartment helped by their best friend Carl Bruner (Sergio Pasquariello). Both display powerful vocals in this score by Dave Stewart and Glen Ballard.
Pasquariello as Carl shows the two sides of his character as he falls deeper and deeper into desperation with the situation he finds himself in, one of the best interpretations of the character I have seen.
Show stopper Dubois as Oda Mae brings some welcome comedic relief to the proceedings as she battles to understand and deal with the fact she can actually communicate with the dead after years of conning people she could. With killer vocals and pin point accurate comic timing it is clear why she has been invited back on this second tour. Dubois is joined by sisters and stooges Louise (Jochebel Ohene Maccarthy) and Clara (Sadie – Jean Shirley) who both play along with Oda Mae's cons.
A supporting cast of ghosts including murderer Willie Lopez (Jules Brown), Subway Ghost (Lovonne Richards) and Hospital Ghost (James Earl Adair) help Sam to try and make sense of what is happening to him. All three play their roles with passion and determination.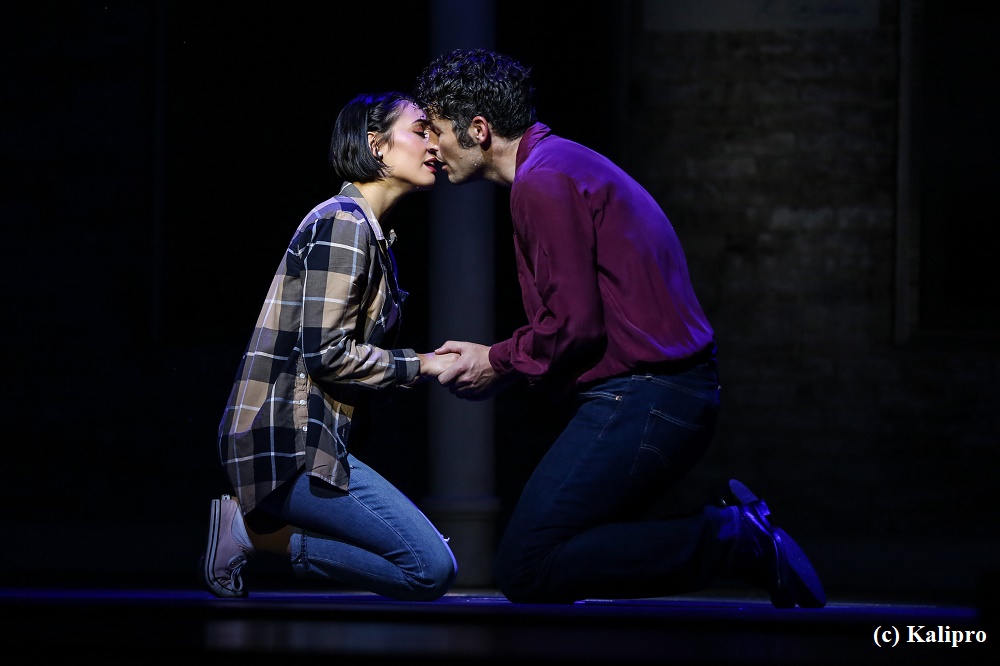 A small ensemble complete the cast and perform Alastair David's modern choreography with energy although at times their small number leaves parts of the vast Palace Theatre stage bare.
Mark Bailey did not have an easy job redesigning this show, doing away with all the technical trickery of the original but he has succeeded in producing a set which serves its purpose well and avoids clunky transitions as the pace of the show zips along.
Creative lighting from Nick Richings successfully manages to differentiate between the living and the dead, especially in the case of Sam who has his own dedicated light following him wherever he went on stage.
Richard Pinner has created some clever illusions throughout the show which add a wow factor and a number of head scratching moments.
Director Bob Tomson has done a good job in keeping the action moving at pace and certainly brought the best out of this talented cast supported by a 7-piece band under the direction of Leigh Thompson.
This show cannot be compared to the original, it is a completely different production with only the story and score being the same, although there are some lyric changes and a new song in this version.
Ghost is a show that will undoubtedly pull at your heart strings, everyone has lost a loved one at some point in their life and this is what makes the show in a way personal to everyone who sees it.
Reviewer: Robyn Stoares
Reviewed: 16th April 2019
North West End Rating: ★★★★