Shrek: the much loved, family favourite Dreamworks film plus Broadway and West End musical about a bad tempered ogre, a beautiful (well, sometimes) princess and a talking donkey. It just works!
Manchester Musical Youth's production of this popular show is bright, colourful and hilarious.
The original film characters (even though they are animated) are huge acts to follow but everyone did a great job tonight. I loved Adi Arora's version of Shrek: he really captured Shrek's bad humour and world-weary cynicism and his voice and accent were perfect. Just like the film, I found myself really rooting for this unlikely hero.
As in the professional musical, it is Lord Farquaad who gets the majority of laughs and Harry Warburton knew exactly how to maximise each comedy moment (if you go to see it, watch him dismount his horse, it got one of the biggest laughs of the evening!) From the moment he made his entrance on the stage, he had the audience in the palm of his hand and shamelessly worked us! I think there may have been a slight incident where there was a delay in the music starting and Harry coped with this in true professional style and wasn't phased in the slightest. My only tiny (no pun intended) criticism is that he did seem just a little bit too nice and the trademark Lord Farquaad arrogance wasn't always visible but he really did steal the show on several occasions.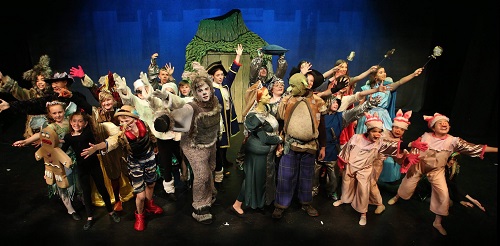 Donkey (voiced by Eddie Murphy in the film) has big hooves to fill. Tom Buls absolutely nailed the physical comedy of Donkey, together with his exuberance and excitement but at times I found him slightly sinister and shouty and a bit lacking in Donkey's needy cuteness but he was extremely entertaining.
Princess Fiona was brilliantly played by Molly Lees (although there were also two younger versions of Fiona – Malaya Fenemore and Ellie Di Sora – who also did a wonderful job). Molly captured the character excellently: she played the comedy very well – and also the tantrums! The song 'I Think I Got You Beat' was superbly performed by her and Adi Arora.
Just like the professional version of the musical, the Dragon (Lula Carr) had an outstanding, powerful voice (and a gorgeous dress!) and Lula also portrayed the strong attitude of our fire breathing friend. I loved the prop of the Dragon's head – she has beautiful eyelashes!
A star in the making is Adali Strayer who was the voice of The Gingerbread Man – she has attitude and talent oozing out of her and she was a fabulous voice for 'Gingy'. My personal preference would have been for her not to be visible in the 'Muffin Man' scene though, as I think it would have made it even more funny.
I absolutely loved the nursery rhyme characters – particularly the three little pigs (Sarah Ali, Amelie Valentine and Zaya Purevsuren) who nearly stole the show right at the beginning and also, Pinocchio (John Richmond) whose anguished shrieking had me in stitches.
As always, I really enjoyed the ensemble songs which are without doubt the trademark strength of MMY productions and the finale of "I'm a Believer" certainly delivered and ended the show on a huge, happy high.
The costumes were all made by the mother of one of the cast and my goodness, she has done a fantastic job – they are colourful and authentic.
The choreography was excellent and well executed by all the cast, particularly Donkey - who can really shake it!
The set was not elaborate but did what it needed to and I did like the use of the trees which was imaginative and interesting.
You don't have long to enjoy this fairy tale which will vanish in a puff of smoke after Saturday 1st June so get down to Duloc (aka Hulme) and witness a little bit of happy ever after!
Reviewer: Nicky Lambert
Reviewed: 31st May 2019
North West End Star Rating: ★★★★