First performed in 1915, Hobson's Choice remains popular and the current production at The Royal Exchange offers a slightly different take, in that the Hobson family are Ugandan-Asian (the patriarch, Hari, having changed the family name from Patel to Hobson, in an effort to integrate) and this incarnation of the Hobson family business is a Tailor's shop in the Northern Quarter in 1987 (or Ancoats as it was known then) rather than a cobbler's shop in Salford.
The story concerns Hari and his three daughters: Durga, Ruby and Sunita. He wishes the two younger daughters to be married to husbands of his choosing, whilst his chosen future for his eldest daughter, Durga, is to remain a spinster who will continue to assist him with the family business and look after him in his old age. Unfortunately for him, Durga is a strong, northern woman and there is absolutely no chance of this happening. She chooses her own husband, Ali – who just happens to be Hari's star tailor – and the couple set up their own rival business.
I was a little dubious as to how this version of such a traditional, well-known play would work but within minutes, I was totally sold on the idea. This production is genius from start to finish, with huge amounts of humour, wry observation and pathos.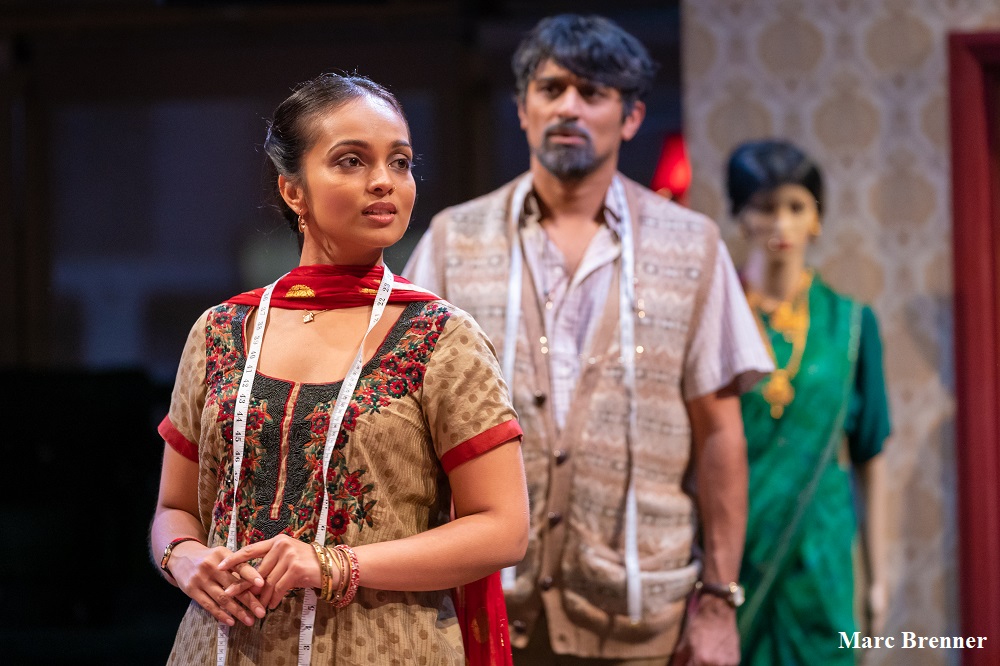 Any production at The Royal Exchange is always fascinating because of being set in the round and this was no different. The set was imaginative and fabulous direction by Atri Banerjee ensured that the actors were well placed around the set so that all the audience had a chance to see and hear them clearly. Tony Jadawardena plays Hari Hobson as pompous, slightly racist, very sexist and quite bombastic....but he's so likeable! He does have darker elements to his character too – when he attempts to beat Ali with his belt because he is marrying his daughter, I found this chilling as it was a sharp change in his demeanour and quite disturbing.
The family dynamic between Hari and his three daughters is realistic and believable, with family squabbling providing a huge amount of humour and also some more sombre moments. There is also real warmth between the characters which is very touching. Interspersed are reflections on the family's troubled past in their own country with historical political references. These are well measured and not overly-laboured, however, so it doesn't become too heavy and take the focus away from the humour.
Shalini Peiris is Durga, the lynchpin of the family who, whether the menfolk acknowledge it or not, is totally essential to the wellbeing of the family and the business. Durga is manipulative but not self-serving as although she is determined not to follow the path her father wishes her to, the welfare of her family is her priority and most of what she does is for their benefit. Durga is like a relentless steamroller: she does not stop until she gets what she wants...and she ALWAYS gets what she wants. Shalini's interpretation of the character was steadily measured with a bit of bossiness thrown in and also very likeable.
The entire cast are completely wonderful but it is Ali Mossop (Esh Alladi) who very gently steals the show, particularly in Act Two. His cowed and jumpy reactions are hilarious, not to mention his trepidation on his wedding night. He is ably assisted in his limelight stealing by Robbie (Gurjeet Singh) and Steve (Raj Bajaj) in Act Two....all I will say is 'illustrated kamasutra' and 'I've Had the Time of my Life'. This section was comedy gold. Esh's acting was amazing – from being a downtrodden nervous wreck, he becomes the (silk) worm who turned...or does he...?
I did like the fact that the audience were encouraged to toast the happy couple once they were married: a little breaking of the fourth wall is always interesting and it worked well.
With its frequent references to local street names and areas, plus strong Mancunian accents from some of the cast, this version of Hobson's Choice could have been made to measure for the Royal Exchange Theatre and is right at home there. Huge congratulations must go to writer, Tanika Gupta and Director, Atri Banerjee, who between them, have crafted a totally hilarious and heartwarming version of an old favourite, with big, endearing characters. It was a wonderful evening of theatre from start to finish – and as for the finish, this featured a fashion show and some Bollywood dancing which was a novel and delightful way to end the evening.
Reviewer: Nicky Lambert
Reviewed: 5th June 2019
North West End Rating: ★★★★★