Christopher Wheeldon's beautifully choreographed ballet of Cinderella graced the stage in Manchester's Palace Theatre on a cold October evening.
Music by Sergei Prokofiev 1945 score under the musical direction of Gavin Sutherland with the English National Ballet Philharmonic Orchestra and Libretto Craig Lucas set the stage for a perfect evening of auditory delights.
There's magic in Christopher Wheeldon's English National Ballet's staging as Cinderella is definitely made for the ballet as it is every girl's dream to watch this stunning fairy story be told in such elegance, but Wheeldon's version is not stereotypical of what you might expect from this synonymous tale. There's no pumpkin or fairy godmother, no glass slipper symbolic of the Grimms' classic fairy tale, the father doesn't die and the stepsisters Edwina and Clementine(Alison McWhinney and Katja Khaniukova) aren't even ugly apart from the comedy pair of old fashioned glasses that one sister sports. Instead Christopher Wheeldon has turned the Brothers Grimm original to create a story full of adventure and animation with sublime elegance throughout.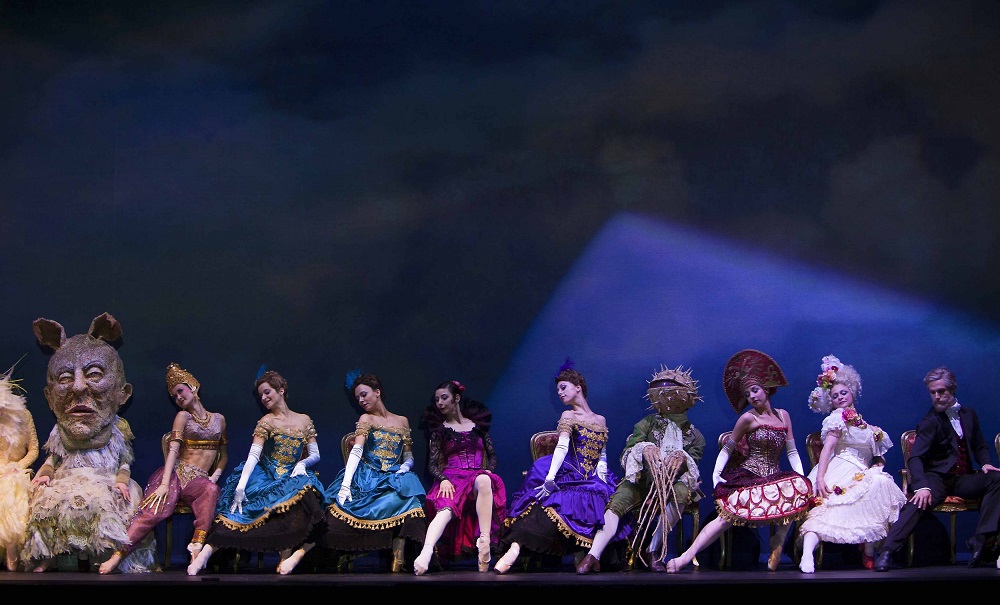 The story opens with young Cinderella (Bonnie Bradford) observing her mother (Angela Wood) succumb to tuberculosis and ultimately dies in the first few minutes quickly followed by her spirit being spirited away to heaven with the help four male Fates (Junor Souza, James Forbat, James Streeter and Francisco Bosch) leaving Cinderella to mourn at her mother's grave under a magic tree that seems to grow from her tears and it's from this is point onwards where the Fates watch over and support the young and then grown Cinderella (Erina Takahashi) throughout the story.
There is no fairy godmother as stated however the four male Fates in petrol blue 'spiderman' looking outfits with golden masks seem to represent that role and conjure the spirits of the seasons to try and help Cinderella attend the infamous ball by entering an enchanting kingdom where growing tree appear to dance in the wind, 'Spring' summons the spirits of lightness (Jung ah Choi, Emily Suzuki, Francesca Velicu, Emilia Cadorin and Isabelle Brouwers) followed by 'Summer' the spirits of generosity (Aitor Arrieta, Tiffany Hedman, Adela Ramirez, Barry Drummond and Skyler Martin), 'Autumn' the Spirits of mystery (Ken Saruhashi, Anjuli Hudson, Julia Conway, Noam Durand and Rhys Antoni Yeomans) finally 'Winter' the spirits of fluidity (Precious Adams, William Beagley, Erik Woolhouse, Henry Dowden and Giorgio Garrett) and with an array of dashing colours and projected imagery the scene creates the magic alongside beaky birds, tree gnome and conker shell headed woodland creatures that Cinderella requires to go to the ball and meet her Prince Guillaume (Joseph Caley).
The coach transformation was magnificent and ingenious of the creative team as it provided a powerful impression of elegance as Cinderella's billowing cloak become the carriage enhanced by phenomenal lighting design by Natasha Katz and projection design by Daniel Brodie.
Wheeldon's choreography mirrors Prokofiev's score as it was played beautifully and delicately by the English National Ballet Philharmonic Orchestra whilst the music carried the exceptionally talented ballet dancers through their plié, releve, sauté, Pirouette, Tour en l'air, Allegro and Adagio moves throughout the three acts of the evening.
Special mention must go to the outstanding costume design by Julian Crouch as he continually dazzled the audience with their dashing colours, quality, glamour and gracefulness which perfectly delivered the beauty expected at the ballet, with particular attention paid to dancers attire and intricate season's costumes created the ambience that only the ballet can provide because 'everything is beautiful at the ballet'.
The stage transformations were amazingly slick and well thought out ensuring that nothing was taken away from the fantastic dancer's performance.
A great infusion of humour and interpretation by Wheeldon gave this classic tale an exhilarating and uniquely exciting feel to this version of Cinderella which was a mixture of old, new and traditional ballet.
Reviewer: Katie Leicester
Reviewed: 17th October 2019
North West End Rating: ★★★★