"Murder Ballads" is described as a "darkly comic cabaret musical" and is adapted from the classic cult album of the same name by Nick Cave and The Bad Seeds.
When undertaking pre-show research, I was a bit worried that I'd never heard of the album and I wondered if I'd be left floundering, not knowing what was going on. The album itself has a lot to live up to, being described as the band's biggest commercial success to date with a hit single in the form of a duet by Nick Cave and Kylie Minogue....and I almost feel ashamed not to have heard of it.
I needn't have worried.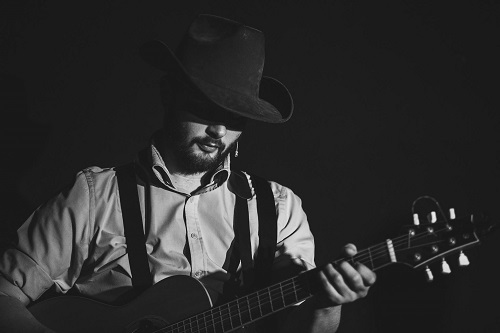 Presented tonight by four extremely talented actors from The B Collective (Laura Connolly, Thomas Galashan, Tom Wilson and Gerry Smyth (who is also the writer)) "Murder Ballads" is completely visceral, exciting, funny and thoroughly entertaining. It doesn't matter if you don't know the album or any of the songs (although if you do, what a fabulous way to see it brought to life...or should that be death?). I thought it might only appeal to fans or a certain niche audience but it really is for everyone (except those of a very nervous disposition!)
The story is set in O'Malley's Bar in West Texas in 1882. We are told the story of Stephen (Stagger) Lee, who, for various reasons, turns into a psychotic serial killer.
"Murder Ballads" the album is recreated by the four actor musicians and each song tells a linked story of tragedy, insanity and death. (By the end of the album, there are apparently 75 murders).
I loved this show because it was so completely insane. They have reproduced the album faultlessly and crafted a wonderful, dark show around it. There was interaction with the audience which worked very well. Although the venue didn't do them justice (it was in a room without a dedicated stage) and meant that unless you were on the front row, you did miss quite a bit of the action (ie: brutal murders), this show definitely benefits from being up close and personal to the audience. It gives it that raw, slightly unnerving feel which really blends in with the album and the stories.
Each song has its own story and this is made real by the amazing acting skills of everyone involved. These are very talented actors and it all felt so believable and authentic. I was quite unnerved by "Stagger Lee" (Thomas Galashan) whose insidious presence really filled the room with murderous intent. He really does have the look of a serial killer...! I was quite mesmerised by him. As for Laura Connolly who played various roles: she was simply spellbinding...expressing wild insanity one minute...and even more the next. Never have I seen madness take so many forms yet she made each character strangely likeable.
There was physical fighting which was made to look very authentic and the murder scenes themselves were realistically brutal. It's not really a show for the fainthearted but it's thrilling to watch and brimming with black humour. The comments from Virgil the narrator (Tom Wilson) are funny and bring the audience into the show so you really do feel part of it.
There was some fabulous staging: during one song Stagger and his next female victim were dancing together joined by ribbons – this was so simple but very effective and then there was a very convincing murder which had most of us wincing. Put together with simple yet pleasing lighting and outstanding acting, it really is a spectacle to behold. Congratulations must go the Director (Ellie Hurt) and all the creative team.
I have never seen anything like "Murder Ballads" and I would absolutely love to see it again as it bears repeated viewing. I was totally entertained, slightly intimidated, very unnerved....I loved it! It really was a Halloween treat and the darkest jukebox musical you're ever likely to see.
Reviewer: Nicky Lambert
Reviewed: 31st October 2019
North West End UK Rating: ★★★★★