'We Will Rock You' has always been a forerunner in a new breed of musical theatre, launched back in 2002; it has become the eleventh longest running musical of the West End and that's for very good reason.
One of the original 'jukebox' musicals, it's popularity and longevity can be credited in part by the awesome back catalogue of Music Legends; Queen - which make up its score; featuring a whopping 25 songs from Freddie Mercury and the band.
The script although quite farfetched and silly at times is perfectly tailored to our British humour, and writer Ben Elton has revamped and refreshed the script over the years to keep the production relevant. This latest incarnation incorporates the smart phone culture and NAME which wasn't present in its original run 18 years ago.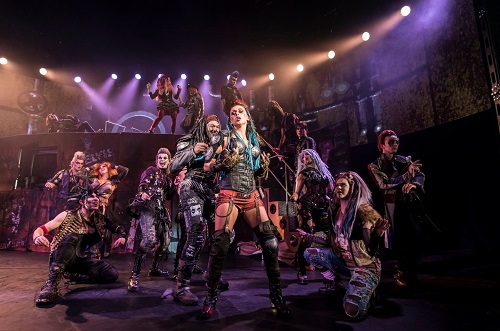 The plot however is and always has been quite flimsy; it centres around a distant time in the future where rock music is banned and the only music allowed comes from a talent contest type format, only for a group of misfits to get together to form a new band to fight the cyber world and create 'proper' music.
The musical numbers which fit into each scene are delivered with rafts of energy by a cast which deliver 110% throughout both physically on stage and vocally, numbers like 'We Will Rock You', 'Radio Gaga' & 'Bohemian Rhapsody are all visual delights to watch.
The dance routines are faultless throughout the show with exciting choreography which holds your attention from start to finish.
The cast look to have so much fun on stage, belting out hit after hit with vocals which any Queen fan would be glad to hear daily.
Ian Mackintosh takes on one of the lead roles of 'Galileo' with lots of personality on stage, joined on stage by love interest Scaramouche played by Elena Skye. Both have a great chemistry with each other and as an audience member, you find yourself rooting for them throughout.
The emphasis is on the cast with a simple staging featuring large LED screens at the back providing an ever changing backdrop with a great lighting rig to compliment, it might not quite be a stadium stage fit for the original band but it leaves a big impression and is sure to impress.
It's an electrifying show which will get you on your feet dancing with a smile on your face, it's not Shakespeare, but Shakespeare not really good hat you want out of a Queen Jukebox Musical!
Verdict: An electrifying, foot stomping musical phenomenon!
Reviewer: Max Eden
Reviewed: 27th January 2020
North West End UK Rating: ★★★★★