The stunning and versatile Hope Mill Theatre along with Hannah Ellis Ryan 'HER Productions' hosted the debut production of 'Welcome to Shangri-La', written by BAFTA Break-through Brit Gemma Langford and presented by 'Broken Biscuit Theatre Company'.
Broken Biscuits are a new theatre company in Manchester championing working class voices under the direction of Joel Parry a director and an actor known for his roles in Coronation Street and Emmerdale. Joel Parry was awarded an Arts Council grant towards the production costs of a fantastic new play however one of the condition of the grant was that they raised a proportion of the costs of the project themselves and Parry took to 'Go Fund me' and social media to help raise the extra funds required.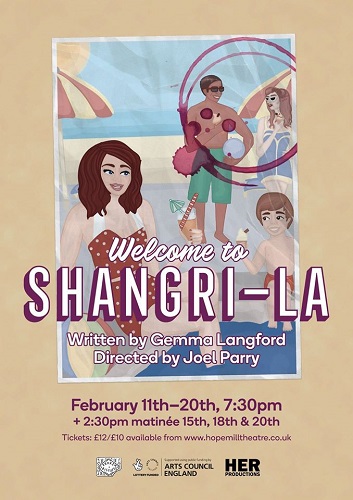 Writer Gemma Longford when recently asked what was her inspiration to write this piece quoted that the reason was because "she never really fitted in and has always been a bit of weirdo and when she was younger she so desperately wanted to be normal", stating "as I grew I learned to love and embrace who I was but that word 'normal' continued to stalk me". She also described how her goal was to write a piece that would make people look at normal and reassess its meaning, In the hope that the audience would take a hard look at that word and what it means to them. Including the audience to ask and reflect individually if their definition is really their own or one that's been imposed on them from as they watch the performance of 'Welcome to Shangri-La.
I was fortunate to be present for the preview evening ahead of the official press night on Thursday 13th February to review 'Welcome to Shangri-La' which is a dark comedy that does as Longford hoped challenges you as an audience member to look at your own definition of 'normality'. The play is set in a small rundown seaside B & B, where its inhabitants have created a lovely family of sorts, as they struggle to survive each of the characters wishfully long to be normal and to be like everyone else.
The cast consists of six strong and actors and actresses that bring the character created to life, 'Cheryl' played by the talented and phenomenal May Kelly portrays a young female striving to escape her life of pole dancing and sexual deviants to live a 'boring life' consisting of an existence with 'Rob' (Dominic Holmes) her long standing boyfriend who runs a local arcade and self-declared person who has never worked a hard day in his life. Both characters filled the stage with moments of comedy and deep emotional dialogue that held the audience's attention as you warmed to each character.
The owner of the depleted and rundown Shangri-La hotel is duped singleton 'Lesley' played by the stunning Marie Friend who has been forced to double her hotel into a 'swinger's club' to get the well needed cash flow to continue to stay open, alongside with having its very own sexual deviant 'Burt' (Rowe David McClelland) as a permanent resident the duo provided outstanding comedy and impressive roles as the flirtatious desperate female and the filthy lazy resident slob dressed in a stained vest with seagull excrement caked on his temple. Both McClelland and Friend had the audience laughing and cringing with their magnificent portrayal of Burt and Lesley throughout the play.
The plot is based around 'George' (Adrian Palmer) a well refined and affluent elderly gentleman who is searching for his absent wife 'Linda' (Robyn Moore) who returns to their honeymoon hotel in hope of finding Linda and convincing her to come back to their perfect lives of normality. George breathes fresh air into the shabby place and offers hope and light in all of the residents' dismal lives however the script provides a few twists and turns in the storyline making it an absorbing watch throughout the whole performance- Palmer and Moore gave sterling performances with exceptional acting and delivery of their characters.
Considering this was the debut performance I must say I have great admiration and respect for the six strong cast for delivering a polished and accomplished professional performance right from the start making the rest of the run highly likely to be immensely triumphant.
I believe writer Gemma Longford has been successful in what she aimed to achieve in this masterpiece of 'Welcome to Shangri-La' and has made the characters likeable, endearing and in equal measures devious and dishonourable.
Well done to the producers, costume design, lighting, sound and set design and all involved for making this a wholesome and splendid show and I wish you every success in future productions.
Reviewer: Katie Leicester
Reviewed: 11th February 2020
North West End UK Rating: ★★★★