The Sons of Pitches were one of the acapella choirs who featured in Gareth Malone's television programme The Naked Choir in 2015. They won – and rightly so.
Tonight's performance was sheer joy from start to finish and the level of talent this group possesses is completely off the scale. It is a long time since I have willed a show not to end but I did tonight.
During The Naked Choir, they came across as six really likeable lads with talent. Tonight they came across as six really likeable lads with phenomenal talent and the ability to hold an audience in the palm of their hand and leave them begging for more. I don't think I have ever been in an audience which has thrown out so much warmth and enthusiasm but then again, I've never seen a show quite like this.
Every single one of 'The Sons' (Jamie, Joe, Josh, Joe, Midé and Joe) has a fantastic ability to relate to the audience and chat as if we are all old friends.
It goes without saying that they are all incredible singers. However, they don't just sing: they also choreograph their songs and inject well measured humour into their interaction with the audience as well as into their performance. The choreography is stunning – it's relatively simple but amazingly effective and really takes them into a league of their own.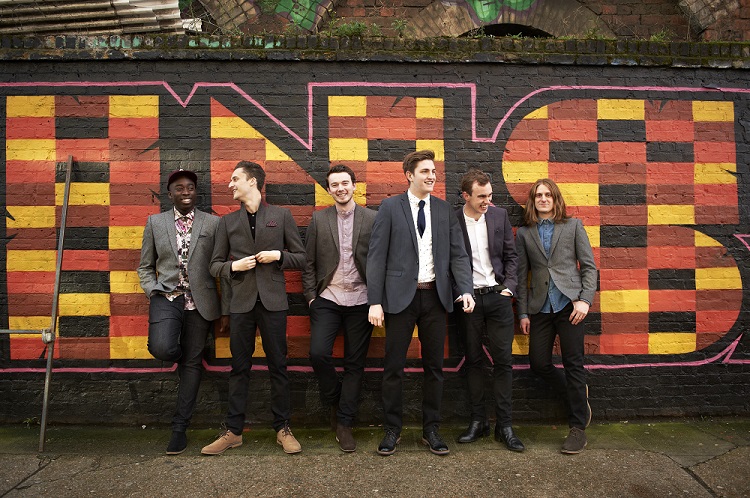 As for the singing and the beatboxing...it is almost impossible to believe that they are singing without any accompaniment whatsoever because the sound they produce is like nothing you have ever heard. It is flawless, impressive and captivating. What is also really appealing about them is that there is no front man and no-one hogs the limelight – everyone is equal and they also give the impression that they are having as good a time as the audience and enjoying what they do.
In the first half, they said they were going to sing us a song about Salford – made up on the spot – but they wanted to know what Salford was famous for so they could choose what to sing about.
After various audience suggestions including Media City, Paul Scholes and Coronation Street, they plumped for Eccles cakes. The next task was to decide the genre in which to sing the song. Cue more audience input, including suggestions of Bollywood, Death Metal and Northern Soul...but Opera was the final choice.
They then just did it, there and then. A song about Eccles cakes sung operatically. Surreal but oh so good! How many X-Factor participants could do anything like that? In the second half, they repeated this process but the subject matter was the last line of a text message from a random member of the audience. Very random as it turned out, as the line was "the teddy should be called Rhubarb McCustard". Two genres of song were picked this time: Madchester and Disney. I can't even begin to describe how this panned out but seriously, to be able to improvise like this takes REAL talent – which they have in bucket loads.
The choice of songs was quite mixed – I didn't know all of them but even the ones I didn't know I found mesmerising, simply because of how they were performed. The Sons never stand still, each one of them is performing all the time and there is almost too much going on to be able to take it all in. Tonight they sang all of the songs they sang in The Naked Choir - "Wuthering Heights" possibly being their signature song. If you haven't seen the clip of the programme showing them doing this, then you should seek it out. The Kate Bush original version is quirky and strange enough but TSOP take it to a whole new level of eerie...combined with impeccable performance. I actually think they could sing anything and make it their own instantly by giving it their own special brand of magic.
Another song given TSOP treatment was "Heart of Glass" by Blondie. It was nothing like the original version but I think I liked this version more...it was jaunty and cheeky with some fantastic choreography but also sung by Jamie with just a little bit of menace mixed in with hilarity. Utter genius!
The Sons have also written their own songs and treated us to some of them in the second half. Their song, "Foundations" really showcased their wonderful voices and the purity of the sound they produce. It also demonstrated their perfect timing and the flawlessness of their performance which is quite astounding to experience.
The Sons are humble, appreciative and all in all a great bunch of entertainers who you would be mad not to go and see if you get the opportunity. Tonight was an unforgettable experience: it was thrilling, exhilarating and fun from start to finish. The level of anticipation and the buzz of excitement from the audience was tangible and when The Sons initially came onto the stage singing...well – to almost quote a line from the film, 'Jerry Maguire' - "you had me at 'Hello, Salford'".
Reviewed: 24th June 2016
Reviewer: Nicky Lambert
North West End Rating: ★★★★★