After the sudden death of David Gest in April 2016 there was uncertainty that the tour would go on but fortunately for fans of soul it has....and what better tribute to a man who himself chose the name of the tour. This was after a mix up on TV's reality show, Celebrity Big Brother, Angie Bowie had been given the news of David Bowie's death and as David Gest was unwell in the house at the time, a housemate misheard that David was dead and mistakenly thought it was him. Of course Gest would find this highly amusing, hence the tour name.
The show started with film clips of Gest, highlighting his love of soul music and also his love of Britain, where he made his home. In his words, "You can make people laugh at you, you can make people laugh with you,"...tonight there was no doubt, the people were all with you. Taking over as host and also starring is Freda Payne, who amongst many of the other guests related tales of first meetings of Gest in 1973 and his 'believable' tales and you can tell each and every one holds fond memories.
Payne kicked off the show with the fabulous 'Band of Gold' a 1970 UK number one, reaching number three in the USA and for which she was to achieve her first gold record. Many of the audience were up on their feet from the start, which would have been fine had they all danced at the back but many went to the front or danced in the aisles or seats which did spoil the enjoyment for those who prefer to remain seated, I saw many people change seats (and there were a lot available, this show was not sold out).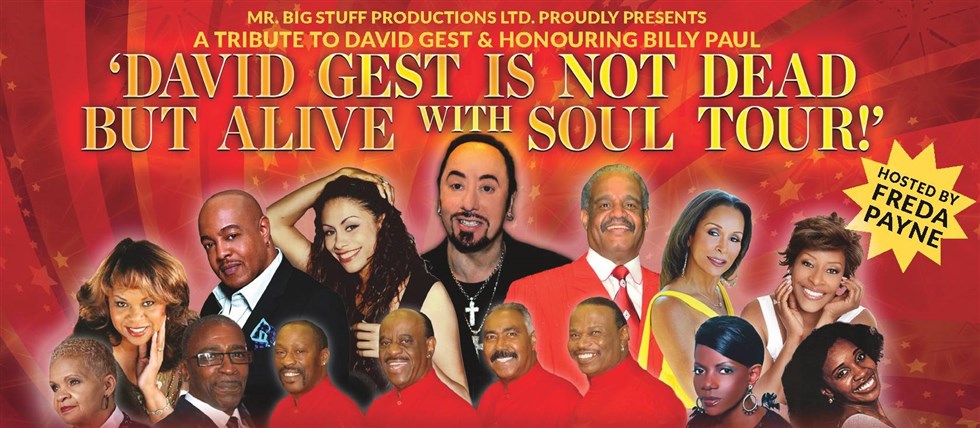 Melba Moore was next to appear with 'This is It' sounding as good as it did in 1976. Urging the audience to stand up, was British born Junior Giscombe, who despite many hits of his own chose to sing a Stevie Wonder song 'Superstition' which was followed by 'Mama Used To Say' one of his own most popular hits. Giscombe was one of the first British R & B artists to be successful in the United States. The fabulous and elegant lady, Fern Kinney gave a stunning performance with ' Together We Are Beautiful' and I would have liked to hear more from her.
Dancing in formation, The Tymes, (now known as The Original Tymes) performed with two of the original group members, Albert 'Ceasar' Berry and Norman E. Burnett with 50 years of experience together, Jimmy Wells who joined them 10 years ago and recently Russell Gore Jr. They brought the house down with hits 'Ms Grace' and ' You Little Trustmaker'. Billy Paul, who was to appear in the tour, sadly passed away in April just 12 days after Gest, but he was not forgotten in the show and the Tymes gave a fitting tribute with a poignant rendition of his well known 'Me and Mrs Jones'.
Highlight of the evening for me was Russell Thompkins Jr. the original lead singer of the Stylistics. Bringing the first half to an end, singing many of the Stylistics hits such as 'Betcha By Golly Wow' and rounding off with a medley of so many hits, this man was simply superb, with his unmistakable falsetto voice, a true gentleman and performer.
After a short interval Payne returned wearing a stunning silver gown and treated us to more anecdotes about Gest and fabulous songs, before introducing Deniece Williams. After a couple of songs, Thompkins returned to join her in a beautiful duet of 'Too Much Too Little Late'. Williams left the stage singing 'Lets Hear it For The Boy' picking on different audience members to their delight.
Dina Carroll relates how she was pursued by Gest for over 7 years to appear in his tour and was sad that after finally consenting he was not around for her performance and dedicated 'The Perfect Year' to him.
Peabo Bryson introduced one of the backing singers Desrinea Ramus, who performed two duets with him, 'A whole New World' and 'Tonight' truly outstanding performances from them both. Although billed, Anita Ward (of 'Ring my Bell fame') did not appear and no explanation was given.
The three hour show was brought to a close with everyone returning to the stage and singing 'Ain't Nobody' with the whole audience joining in. I was disappointed to see that although the ladies had remained in their gowns the men had all changed into casual gear which was a shame and not the way we know them.
The David Gest Band supported all artists throughout and were absolutely brilliant and special mention should be given to the two backing singers Desrinea Ramos and Matthew Allen who could both front the stage.
The entire evening has been amazing and moving and it is truly a statement to the talents of all of the artists that age has not changed their sound, with songs from 30, 40 and 50 years ago, they have stood the test of time and sound as good as they did then and are as popular too. A remarkable achievement.
Reviewer: Lorna Weekes
Reviewed: 7th July 2016
North West End Rating: ★★★★