I have never been to the Waterside Arts Centre before, and before starting this review, I wanted to say what a lovely little theatre it is! I have also never encountered the two groups that performed tonight, nor did I really know much about their music, and so it was something of a baptism of fire to review this performance. But it was a thoroughly enjoyable evenings entertainment.
Starting with the "support" act, Artful Voices. This is an amateur choir that could probably be classed best as a "fun" choir; their website advertises that they don't audition members and therefore anyone that wants to sing is welcome to come down, pay their fee and join in. This could be a recipe for total disaster, but I am pleased to say that there was no disaster evident tonight. Under the expert direction of Siena Lloyd and accompanied on the piano by Rebekah Hughes, Artful Voices presented three songs just after the interval. The first, "Joshua fit the battle of Jericho", seemed a little at odds with the musical offerings throughout the rest of the night and I was unsure if the remainder of the set would also be leaning towards the choral which would not be wholly in keeping with the rest of the night. We were then presented with "Hush-a-bye Mountain" which was a lovely soft piece, sang with good harmonies. The strongest offering from Artful Voices was their last song, "Mr Sandman" which was cleverly arranged and well performed.
Yes, Artful Voices are not a professional choir – but then again, they don't claim to be. They are not as crisp or clean with the vocals as you would want from a professional choir – but what they are are a group of adults who are clearly enjoying singing and performing together and who produce a good product.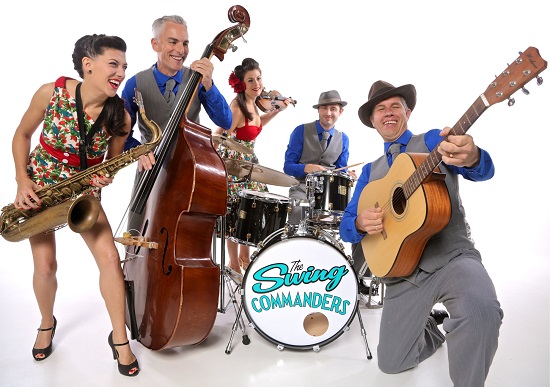 Moving to the main attraction of the evening, "The Swing Commanders" promote themselves as Europe's Number 12 Western Swing Band, with a tag line of "If it swings, they can and will play it". Big boast but wholly justified on tonight's performance. They are a five-piece band comprising Peter Riley (Double Bass, Harmonica and Vocals), Daisy Thurkettle (Vocals, Violin and Double Bass), Daniel Smith (Guitar, Shakers, occasional Vocals and gurning), Stuart Smith (Drums and Vocals) and Siena Lloyd (Keyboards, Tenor Saxophone, Clarinet, Accordian and Vocals). The sound that they manage to produce with only five musicians is nothing short of amazing; beautiful vocal harmonies and intricate instrumentation throughout. Somehow, they also keep going – the performance started at about 8pm and we were still going at 10:30!
The amount of material they got through was astonishing. Act 1 opened with "In The Mood" and set the stall out for what to expect over the next couple of hours. Stand out tracks during Act 1 included "Papa Loves Mambo", "Chattanooga Choo Choo", a very interesting take on a classic "Charleston" and the interestingly named "Hootenanny". All the songs were strongly performed and there was much toe tapping to be done. It was just a shame that the theatre style layout didn't really lend itself to dancing – this is a band that needs to perform in a space with a dance floor to let the audience really feel the music.
Act 2 brought along some more standards "Tuxedo Junction", "It Don't Mean A Thing", "That's Amore" and "Alabama Junction" were stand out numbers, although I would never have thought that the Beatles' "Can't Buy Me Love" could be turned into a swing song – I was proved wrong tonight!
Stuart is an exceptional drummer with heavy jazz influences who kept the tempo up all night and produced some lovely fills and solos. It was a particularly nice touch to watch him perform a complete drum solo whilst being prevented from seeing any of his kit!
Peter is the frontman of the group and performs the bulk of the lead vocals. His vocals are strong and his vocal range huge. He also spends most of the time attached to his double bass, although where he really shines is when he has a harmonica in his hand. Peter also handles most of the linkage with the audience, some of which felt a little stilted and laboured tonight, but this is only a minor criticism.
Daisy is a classically trained violinist with beautiful vocals. Her harmony work with Siena was an absolute pleasure – a real "Andrews Sisters" vibe. "La Vie En Rose" was a gorgeous number and handled very capably by Daisy.
Dan is clearly a very gifted guitarist. The fret work was effortless, perfectly executed and blended to great effect with the rest of the band. When given the opportunity to solo, the solos were fantastic – fitting perfectly with the feel of the music.
Siena is clearly an exceptional musician. To move around the variety of instruments that she did tonight is an achievement in itself. Her saxophone playing was stunning, as was her clarinet. As stated above, her vocal harmonies with Daisy were beautifully executed.
At the end of the night we were presented with the return of Artful Voices for a "mash up" of "Bugle Boy from Company B" and "Johnny B Goode", which was challenging but well executed. I couldn't help feeling that I wanted the Commanders to jump in and take over – and they duly obliged, playing and singing with the Choir – one of the highlights of the night.
Swing Commanders are exactly that – commanders of their art. They delivered an excellent nights' entertainment, exceptionally pleasing on the ears (and, gentlemen, pretty pleasing on the eyes too!). They make a big boast – but they more than achieve it.
Reviewer: Paul Wilson
Reviewed: 15th July 2016
North West End Rating: ★★★★