Tonight's show is in celebration of what would have been Buddy Holly's 80th birthday on September 7th and is performed at the Stockport Plaza with its wonderful art deco style and equally wonderful and friendly staff.
In 1959, the year of 'the Winter Dance Party' tour, Buddy Holly, chartered a four seat light aircraft to take Ritchie Valens and J.P. Richardson (known as The Big Bopper) to a concert venue instead of travelling in their usual cold and unreliable tour bus. Originally other band members were scheduled to be on the plane but after a toss of the coin Ritchie Valens took the place of Tommy Allsup (guitar) and Waylon Jennings (electric guitar) gave up his seat to the Big Bopper who was feeling ill. Tragically during bad weather and soon after takeoff the pilot, Roger Peterson, lost control and the plane crashed killing all aboard.
American Pie is played before the curtains rise, a song dedicated to Holly by Don Mclean, as his death was described as 'the day the music died', a lyric in the song.
Marc Robinson launches into 'Rock Around With Ollie Vee,' a track taken from Holly's second Album 'That'll Be the Day' followed by 'Blue Days Black Nights' from the same album. Despite his many own compositions, this was released as Holly's first single and was written by Ben Hall. (It failed to chart)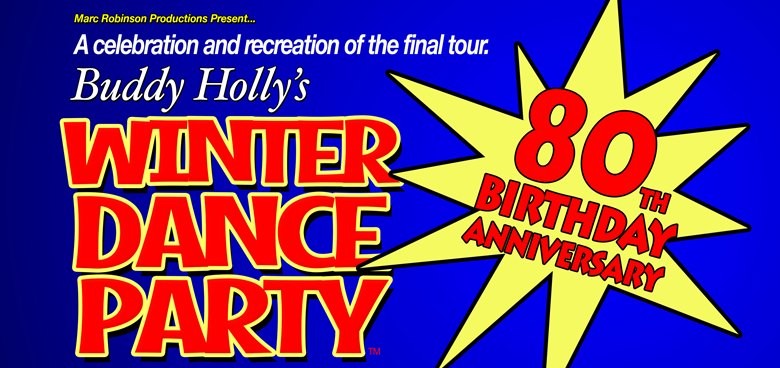 Robinson's performance is a fitting tribute as he captures the voice the look and the actions of Holly in every way. Supported by a brilliant four piece band, the Counterfeit Crickets, with Paul Docherty on drums. Sadly due to the well deserved applause I could not catch the full names of the other band members and despite research have not been able to identify them. Suffice to say, they are all fabulous and the sound is totally authentic. Docherty went onto perform a couple of numbers using 'diverse' instruments, slapping his knees as was the way recorded on 'Everyday' and using a cardboard box in replacement of the drums for 'Not Fade Away'. Absolute magic.
The Big Bopper (Rick J McKay) then takes to the stage with favourites 'Chantilly Lace' and encouraging the audience, (as if we need it!) to sing along to 'Running Bear', there are plenty of Indian whoops along to this!
On to the next performer and be prepared for the hip swivelling Latino sound and moves of Ritchie Valens (Tim Harwood) who gyrates seductively throughout. Harwood is an instant likeable character and as such his moves are a hit and taken in good spirit (when they could have appeared sleazy) by the audience who cheer him along. Hits such as 'Come On Lets Go', Bony Moronie and the memorable 'La Bamba' are all well received and there is dancing in the aisles from many of the audience with couples jiving along. He is joined on stage by the Big Bopper and they give a fun demonstration of dance moves before Valens leaves the stage and the Big Bopper continues with even more hits. Holly returns with 'Peggy Sue and Raining in My Heart' and really gets the audience going with 'Rave on'.
Joining Holly and the others on The original Winter Dance Party tour was Dion DiMucci and tonight he is represented by Steve Halliday in this tribute. Who can forget 'Teenager in Love' or 'the Wanderer'? I recognised Halliday from other shows that he has performed in as an Elvis Tribute and half expected him to appear as him but although Elvis was mentioned for his influence to Holly by Robinson and a song was performed, it was not as Elvis.
The second half of the show features much more of Holly, who continues to delight with more original songs and some covers of other artists such as Elvis's 'Baby I Don't Care' from Jailhouse Rock. Staying in character throughout the whole evening, as do the other artists, makes the whole show more authentic. Valens returns with an energetic 'Do You Wanna Dance?' guaranteed to keep the party atmosphere going and then there is smooching in the aisles to the ballad 'Donna'. The Big Bopper and Dion also return and along with Holly treat us to 'Great Balls of Fire'.
Despite a last minute arrival due to travel problems, these performers literally unloaded and went onto stage in 20minutes, showing what true professionals they are and were determined not to let their audience down. Tonight was a great show and a fitting tribute to those who lost their lives and its performances like these that keep their memories alive.
For tour dates see: https://www.ents24.com/uk/tour-dates/buddy-hollys-winter-dance-party
Reviewer: Lorna Weekes
Reviewed: 8th September 2016
North West End Rating: ★★★★