Now many people knock TV talent shows, but thanks to the X Factor and Britain's Got Talent, tonight we were treated to the incredible voices of G4 who were supported by the equally amazing Vox Futura. Margaret Keys, a beautiful Irish Soprano, joins them and admits to also being a contestant on a talent show 'How Do You Solve A Problem Like Maria', which enabled her to work alongside Andrew-Lloyd Webber. Also appearing are ' The Rock Choir', a phenomenal choir with over 23,000 members (about 80 performing tonight) from 320 nationwide communities and is open to anyone who just loves to sing. They too have appeared at major concert halls and a documentary in 2011 was made by ITV about them, 'The Choir That Rocks'. G4 and Margaret Keys are also backed by a brilliant four piece band with A J on guitar, Zak on drums, Jamie on Keyboard and Ben on Bass.
G4 are a male classical quartet who found fame when they were runners up on the X Factor in 2004. They met at the Guildford School of Music and Drama and this is where they get the name 'G4,' standing for 'Guildford 4'. Tenors, Jonathan Ansell and Ben Thapa are joined by baritone Mike Christie and Nick Ashby, who has probably one of the deepest bass voices I have ever heard! Despite achieving three albums and sales of over two million copies, plus five sell out tours, the group split up in 2007 as each member followed their own successful career paths. To mark the 10th anniversary of their appearance on X Factor they reformed for a ' One Night Only' show at London's Barbican Centre, with the exception of original bass, Matt Stiff, who bowed out of the reunion and Ashby joined the group as replacement. Such was the demand from fans of the four that 'One Night Only' has become 'Back For Good' and they announced a full reunion in 2015.
First impressions disappointed, G4, you simply do not need gimmicky, glow in the dark, lapels on your jackets. Yes, Preston is not far from Blackpool and the illuminations are on, but it ruined your image for me and instead of your incredible voices I was focusing on your ill- fitting attire, even with a change of outfits after the interval, you simply did not look the part, unlike the superbly stylish new comers, Vox Futura. I'd have a word with their tailor! Sorry guys.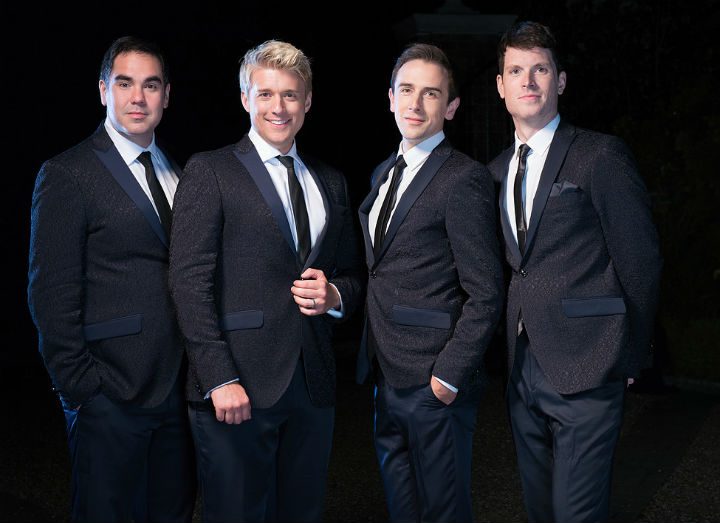 Anyway on with the show and what a start, with, 'I want You Back' it was obvious from the audience reaction that this was indeed a fitting opening song. Followed by a medley of Queen hits, there was a standing ovation at the end of 'We are The Champions'. 'My Way' was given the G4 treatment and the applause was deafening and so deserved. At this, they left the stage just 15 minutes into the show and the first guest artist, Margaret Keys took over, treating us with her beautiful pure voice to a couple of songs including the ' Sound Of Music'.
With mention of Louis Walsh, their mentor on X Factor, G4 return to the stage and perform their own versions of several boy band hits before the Rock Choir join them on stage and together they had the audience singing along with arm waving (almost compulsory) to 'You'll Never Walk Alone' which again brought the house down. Continuing into a fabulous medley of musical theatre classics such as 'Love Changes Everything, ' I Dreamed a Dream,' 'Music of the Night and the iconic 'Bring Him Home' before a rousing emotional mix from 'Les Misérables' when they were joined on stage with Keys and our first glimpse of Vox Futura. This brought us to the interval and again another standing ovation.
Perhaps, as it followed the interval, we got the 'ice cream' version of 'O Sole Mio' when G4 returned to the stage. Ansell and Christie delighted, when for the next song they came down into the audience and shook hands, danced and genuinely thanked people for coming along to see them.
Once again turning a couple of songs into their own, this time Ed Sheeran's, proving how they can add their own magic to anything,( I'm sure they could turn a weather forecast into a classic!) Demonstrating his deep voice 'Hold Back the River' is the perfect song choice for Ashby. Again G4's touch turns 'Up Town Funk' into one of the memorable songs of the night with a lively and upbeat rendition, showing the versatility of their voices. These guys have the perfect balance as their vocals completely complement each other throughout the evening. I have to mention here the sound system, although sat near the front and by the speakers, the sound was perfect, no distortion and set at a comfortable level to enjoy the show, unlike many shows I have attended when it has been spoiled by being too loud.
Introduced onto the stage then was Vox Futura, and what can I say? Just wow, they blew me away with their stage presence and vocals. For newcomers they are going to go far and I would definitely go to see them if they had their own tour. Originally a five member group and appearing under the name Vox Fortis when they appeared on Britain's Got Talent earlier this year, the band have gone from strength to strength and I look forward to seeing more of Rodney Earl Clarke, Thomas Goodridge, Julius P. Williams and Elias Hendricks who now form Vox Futura (translates as Voice of the Future,) and if tonight's performance is anything to go on, they certainly will be!). The only downside to their performance is they sang to backing tracks and not a band.
A raffle was held and the winner got the chance to be serenaded on stage and we are informed of the 'Album Project' which G4 is offering the chance for fans to be involved in, by pledging a contribution towards their new album. Details of this can be found at http://www.pledgemusic.com/projects/g4lovesongs
Rock Choir returned to the stage and when the backing track fails halfway through, show their professionalism by continuing and proving it wasn't even needed.
For the finale G4 and Keys brought the audience to their feet again with 'Barcelona' and then Vox Futura joined them for an unforgettable and show stopping 'Nessun Dorma.'
The encore just had to include 'Bohemian Rhapsody' as performed by G4 on the X Factor which many of the audience had obviously been waiting for judging by the cheers and feet stomping which continued into 'Living on a Prayer!
There is no doubt that G4 are as popular as ever and have a loyal fan base and Ansell interacts throughout the evening with them, but there is little of the other members personalities showing through. Each have successful careers outside of G4 and maybe performing as a group again has taken a back step as I didn't feel they quite gel 'together'. Time will tell.
The tour continues and for tickets and further information: http://www.g4official.com/tour-dates-1
Reviewer: Lorna Weekes
Reviewed: 17th September 2016
North West End Rating: ★★★★